Teachers take Extracurricular to a New Level
Although students only know them in the classroom, Hockaday faculty and staff take on many roles outside of their day jobs. This issue, the Fourcast goes "behind the scenes" to take a look at the secret lives of teachers off-campus.
Jessica Kramer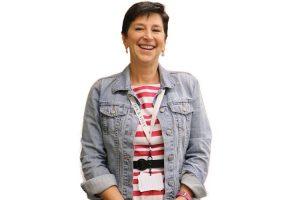 Upper School Attendance Coordinator Jessica Kramer's swimming school, Swimmers by Jessica, is heading towards its 25th year of classes, and she has a lollipop wrapper-covered bathroom in her house to prove it. After each lesson, as one of the ways the school approaches their belief that "every child learns better when they are having fun," Kramer gives her students a lollipop and keeps the wrappers. By now, she's accumulated enough to make a colorful, candy-coated wallpaper.
Kramer found her passion for teaching kids to swim long before the start of her business. When she was just 16 years old, Kramer asked if she could help at a swimming camp associated with the Visual Impaired Center in Dallas. Her father, a pediatrician, would let the center use their pool during the summer to teach blind children how to swim.
After helping out one summer, Kramer knew she wanted to pursue it in the future.
"I loved it, and I told my dad, 'I wonder if I could do it and make some money,'" Kramer said. "He had a patient who taught [in Dallas] for almost 12 years and he called her for me and said, 'Hey, would you ever hire an assistant?' and she said she would."
After working as an assistant for three years, Kramer's boss moved, leaving then-SMU senior Kramer the business.
Now, Kramer runs it all. She opens registration in February for her small, two-week group classes that she divides by age range. Each has an average of eight students with two CPR and lifeguard certified instructors in the pool. With her evening classes starting in May and her June and July days reaching 11 hours of teaching, Kramer sees lots of students while she rotates through her 45-minute sessions, many of which happen to be part of the Hockaday community.
"I have had a lot of Hockadaisies who I have taught and who have worked for me, including my daughter, [sophomore] Bebe Sullivan, who has taught with me since she was teeny tiny, but this summer she was actually lifeguard certified and taught with me," Kramer said.   
Although it takes a lot of hard work, which Kramer says sometimes makes her feel like she is "running around like a chicken with her head cut off," she still finds the job rewarding.
"When you have that kid who comes in on the first day who is screaming and crying and doesn't even want to put their face in, and then on the last day, which is Show Day [when] the parents get to come watch, they jump in and swim across the pool, it still gives me chills every time," Kramer said. "You look at it and go, 'Hey, I did that.'"
Andre Stipanovic 
Although Latin teacher Dr. Andre Stipanovic has educated students at Hockaday for 16 years, he has also spent many years educating and influencing young men through his involvement with the Boy Scouts.
Stipanovic first got involved with scouting as a supportive "parent pal" when his oldest son Luke became a cub scout almost seven years ago, but his role in the system has become much larger since then. The next year, Stipanovic led a small group of cub scouts called a Den.

He continued to be the Den Leader until Luke moved on to become a Boy Scout at age 11, but Stipanovic stayed a leader at the Cub Scout level because his younger sons were still involved. He took the position of Cub Master, the leader of a Cub Scout group made up of many Dens, three years ago. His role as a  Cub Master is to teach the scouts certain tasks and help them earn their badges as well as planning a year's worth of activities to keep them active in their communities, something Stipanovic thinks is important for them to do.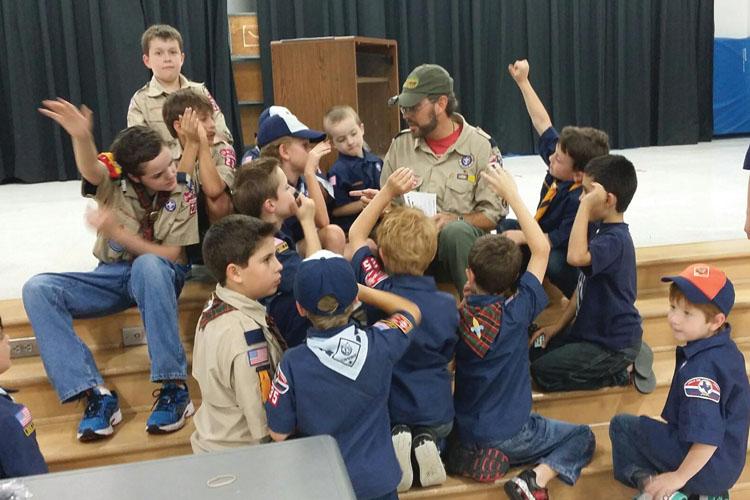 "No matter how far they go in scouting, even if they said 'I've had enough,' everything they've done up to that point, I feel, is important stuff that we should do as parents with our kids anyway," Stipanovic said.
Even with his hands full regarding the Cub Scouts, Stipanovic still makes sure to be involved with his two older sons' Boy Scout troops as a committee member and by helping with merit badges.
For Stipanovic, being involved with his sons' scouting journeys has been special.
"I've been involved in Cub Scouting with all three of my sons in various ways, and I really love it because we go camping, we do all sorts of fun things I think are fun like tying ropes and knots and building things and just having fun," Stipanovic said.  
Sarah Traphagen 
Everyone deals with stress in a different way, but Upper School English teacher Sarah Traphagen chose to become certified to help women during a stressful event in their lives to relieve her own stress from an overwhelming school workload.
Traphagen is a birth doula, a non-medical companion who aids the mother during birth,
In 2013, while she was completing her doctoral dissertation, she began the certification process in order to take her mind off the stresses of school and help others.   
"I decided that I wanted to become a birth doula because I really believe in serving women. I am very interested in birth and midwifery," Traphagen said.
Although Traphagen is still waiting for her certification to be approved, she has completed all of the requirements of the program she took with Doulas of North America. Traphagen is a support system, in all aspects besides medical, catered toward what the mothers she works with need of her.
"If they need verbal reassurance, or I can show their partner how to help them, and also to just give them a sip of water or running an errand, or I was at a home birth, so while I was there I did the laundry and helped make food and things like that," Traphagen said. "I'm there to help."
Traphagen gets to play a role in a special moment in her client's lives.
"Being a part of that moment with a parent is a miraculous feeling. That's all I can say, is that it's just miraculous," Traphagen said. "I've stepped back just as babies are born and just [had] tears coming down my face because it is just such a wonderful moment."
Working as doula has been just as rewarding as Traphagen imagined it would.
"I think the most rewarding part is making someone feel loved and cared for, and, you know, enhancing their birth experience, because they are always going to remember that," Traphagen said. "It's really about their story, supporting the narrative of their birth."
Although the unpredictability of childbirth prohibits Traphagen from working as a doula during the school year, she hopes to be able to work during the summer, specifically with low-income mothers and teen moms.