Northpark Celebrates 50th Anniversary
The Nasher-Haemisegger family continues to contribute to the community.
Although their name is sprawled against a backdrop of leaves on the way from the main building to the science building, you may not know much about them. However, along with contributing 6 million dollars to the construction of the science building, the Nasher-Haemisegger family has made an enormous impact in the Dallas community in both philanthropy and the arts. Recently, the Nasher-Haemisegger family celebrated a very special birthday.
As the owners and operators of Northpark Center, they, along with other members of the Dallas community, celebrated the center's 50th anniversary on Aug. 19.
In addition to festivities, this day also marked the beginning of Northpark's 50 Days of Giving. From Aug. 20 to Oct. 28, Northpark is donating to 50 different charities that have contributed to the Dallas community.
But philanthropy is nothing new to Hockaday Board of Trustees Chair David Haemisegger and wife Nancy Nasher. Each year, Northpark contributes to various charities and allows them to host events on the premises – including many that their daughter, sophomore Isabelle Haemisegger, helps with, such as the Salvation Army.
"I love the smiles that it puts on people's faces when you are helping them directly or indirectly," she said. "It's also very rewarding to know that you are making a difference in someone's life."
For Northpark's half century birthday, however, Northpark and the Nasher-Haemisegger family decided to do even more.
"What we did this year was really try and extend that list and so every day a different charity gets honored," David Haemisegger said. "[Northpark's 50 Days of Giving] is a way to give back to the community because the community has been so positive and appreciative and helpful of everything we have ever tried to do."
The charities range from the Dallas Opera to the Susan G. Komen Foundation to the Dallas Public Library. Each organization was asked what type of contribution they required to fit their needs. For example, twenty wigs were donated to patients with breast cancer at the Baylor Scott & White Medical Center in Irving on the twelfth day.
To ensure that their gifts are long-term, Haemisegger sought out the help of the Communities Foundation of Texas, which helps donors achieve philanthropic goals and meet the needs of the community.
"We definitely want to understand what they supported, how they worked, how they operated and really try to find those charities that were what we thought the most important for the region," Haemisegger said.
The Communities Foundation of Texas also contributes in significant roles that involve Northpark.
Since 2009, the foundation has hosted the annual North Texas Giving Day. This year, it took place on Sept. 13. This day allows community members to research nonprofits doing good work in 16 counties around Dallas and be able to contribute to causes that they feel passionate about.
This year, participants of North Texas Giving Day can donate to 2100 different charities. Carol Goglia, Director of Marketing and Communications at the Communities Foundation of Texas, believes that giving on one specific day can be meaningful.
"On North Texas Giving Day, when we give all through one site, we are able to aggregate the giving that day and make a really powerful statement about the amount of giving that we do in one day," Goglia said.
In addition to making contributions online, participants of all ages are encouraged to donate at fairs and celebrations around town. One of these locations will be the Northpark Center, where several organizations will be present.
North Texas Giving Day is the nation's single largest day of community benevolence.
"Nonprofits are doing work behind the scenes and aren't really celebrated," Goglia said. "This is a way of bringing awareness to the power of the nonprofit sector to make our region a great place."
Haemisegger hopes that North Texas Giving Day and Northpark's 50 Days of Giving will shine light on Northpark as something more than just a shopping mall.
"The center was always viewed as not just a place for shopping but a place for partnership with the community," Haemisegger said. "We've always been very active, whatever the needs were over the years, and sharing the art and trying to make it a cultural experience as well as a retail experience."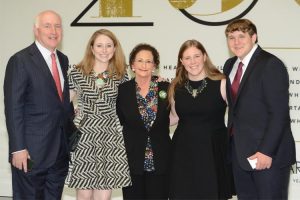 The Haemisegger-Nasher family also shares their love for the arts with the city.
For Haemisegger and his wife, Nancy Nasher, contributing to both the visual and performing arts, along with education, is vital. Each holiday season, Northpark hosts hundreds of performing groups. Apart from the Nasher Sculpture Center, helping the Dallas Symphony is another way they have contributed.
"Whenever [performing and visual arts] can intersect with educational institutions, that's kind of a plus for us," Haemisegger said. "We live in such a world that is scientific – it's quantitative, it can be financial, and I think these qualitative issues and dimensions like this are vitally important if one really wants to be well rounded."
As for the next 50 years, Haemisegger believes that Northpark will change with the world and that it will continue to impact the community in a positive way.