Boarding and day Student Relations At Hockaday

In

Focus
How Hockaday students feel about the divide between boarding and day students.
From group projects to form meetings, when it comes to student opinions, it's often difficult to get everyone to reach a consensus. The odds of reaching a unanimous opinion become even slimmer when dealing with the entire Upper School. But 98 percent of the Upper School student body agrees on one thing: There is a divide between day students and boarding students at Hockaday (October survey of 202 Upper School students by The Fourcast).
The student body has noticed that boarding and day students do not interact as much socially as boarders do with fellow boarders and day students with  fellow day students.
For both day and boarding students, the division comes naturally because of the time boarders spend together.
"Honestly, it's pretty reasonable that boarders tend to have boarder best friends—they get to know the boarding department before the rest of the school, and they spend a great deal of time on the hall," says senior boarder Sarah.
As senior day student Emily says, "It makes sense…."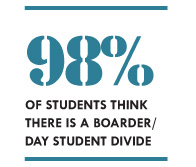 Director of Boarding Danielle Ferguson agrees, saying, "I think it is natural to want to be with people who are like you. And that's something that we support."
"I don't know that there was always a separation but there was always some apprehension on both parts," Dean of Students Meshea Matthews says, "I think most students in Upper School have a tendency to be so busy and so focused on what they're doing, it's hard for them to look outside and see what others might be involved in. Unless you have made a great connection with a boarding student, then you may not have hung out down there."
Boarding students appear to find the divide more prominent: the majority of boarders surveyed noted a definite divide, whereas the majority of day students said there was somewhat of a division.
Sophomore Anastasia has a unique perspective as a former day student and current boarder. "I have noticed a significant difference in the way I am treated as a boarder by boarders than I was treated by them as a day student. Although I did have friends from boarding before, now I have a better and closer relationship to them."
But if the divide comes naturally, is the divide something that we need to fix? The opinions are mixed.
"I don't think it can be fixed. I think that boarders just tend to be better friends, which isn't a bad thing," senior day student Julia says,
Boarding senior Lily agrees. "Honestly, I don't know if we need a solution. I don't know if there is a solution. Boarders are comfortable with themselves, and some boarders reach out to day students… while other times they realize that they… stop approaching them."
"Making a solution such as having an activity or other things 'to fix boarder/day relations' make things so awkward," she says.
But other students, like junior Claire, think the gap between boarders and day students is something the school should work on. "I really want more boarders and day students to become closer than now," she says.
If Hockaday were to bridge the gap, how would it do so?
For both boarders and day students, branching out can be difficult.
"Being around a group of boarders is… not necessarily a bad thing, but you can totally tell there's something different and awkward about the situation, and eventually you just get used to it," explains a senior day student who wished to remain anonymous.
"We… remind the girls that they are here to share their cultures and get to know lots of different people," Ferguson says.
Head of Upper School, John Ashton says there are benefits of having day and boarding students interact.
"There is certainly an aspect of students from other parts of the country and other parts of the world bringing their experiences to Hockaday that we wouldn't have otherwise," he says, "I think it makes Hockaday more interesting than to just have students from Dallas."
The majority of surveyed students suggested two methods to try to bridge the gap. First, 62 percent suggest that the school "focus on grade unity rather than boarder/day relations." And second, 52 percent say Hockaday should work to "integrate all new students better."
Senior Sarah believes that shifting the focus toward grade unity could work because of the experience she had at the senior retreat this fall.
"Grades divide naturally into cliques, some of that involving day students hanging out with day students and boarders with boarders.  But at the senior retreat, it wasn't about bridging a boarder/day student divide; it was about bridging the divide of all friend groups and simply becoming united as a class," she says.
Only 15 percent of students surveyed say that implementing mandatory bonding activities could work.
"If you have 'mandatory bonding activities,' I think that will backfire and tensions would begin to culminate where there were none," says one student, who wished to remain anonymous.
Another thing students can agree on: there is certainly a lot to learn from each other.
"You've got this really unique experience right there under your nose and you haven't stepped into it to see what's going on," says Matthews.
—Katelyn
Crossing Over
Day student Kristy experiences residential life
There are few conceptions amongst day students about what it's like to live in the Hockaday boarding department: "It sounds awful"; "They are so strict";"I don't know how the boarders do it."
And while notions about the boarding experience might not be a major factor in boarder/day student relationships at Hockaday, they certainly contribute to the divide between those of us who live on campus and those of us who live at home.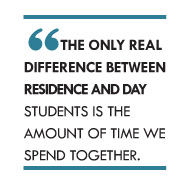 In an effort to understand the boarding experience and how it might differ from life as a day student, I spent three nights in Residence. While a little under a week isn't enough time to understand everything about being a boarder, the experience gave me a new perspective on residential life.
As a senior, the rules were easy to handle. I didn't have to turn in my phone at night; I didn't have mandatory study hall; I could watch TV and roam the hall in the evening. Had I been an underclassman, my "boarder experience" would have been quite a bit more stringent, and my regular lifestyle would have had to change more than it did as a senior.
The only tedious requirement I faced was that I had to sign in and out whenever I left my hall, letting my hall director know where I was going, with whom, and when I expected to be back, even if I was going to another part of boarding. Of course, this is an important safety/liability precaution, but I can see how constantly checking in and out would become wearisome.
Perhaps the hardest thing about my stay was that at times I felt out of place. As an outsider in the boarding department, I was not always sure where to go or with whom. I didn't feel as free to walk around as I do in my own home.
But despite the awkwardness of initially stepping outside my room and hoping to find someone I knew in the lounge or at dinner, I found everyone in boarding welcoming. People whom I had never spoken to during the school day started conversations with me. A junior on Upper Trent candidly warned me in the bathroom: "you don't want to use that shower; it's really gross right now." As I laughed and said thanks, I thought about how easy it would have been for her to just smile, keep her shower preferences to herself and walk out the door.
Ultimately, playing "boarder" for just three nights doesn't give me true authority on the boarder experience. But my stay did allow me to get to know some classmates I hadn't spent time with before. Of course, not everyone can spend a week in boarding, nor is this the answer to decreasing any sort of divide. But my experience proved that the only real difference between residence and day students is the amount of time we spend together. For me at least, the boarder/day divide has narrowed. Everyone in boarding was genuinely interested in making me feel welcome, and as a result I really enjoyed their company and my stay.
Day by Day
Wednesday night
My first night started out pretty uneventfully. As a senior, I was exempt from the mandatory 8pm-10pm study hall required for freshmen, sophomores, and juniors, so I ate my takeout dinner in the Lower Morgan kitchen with a few other seniors before withdrawing to my room to shower and write an English paper.
Thursday morning
Thursday morning I discovered one of the best perks about living in boarding: sleeping in. My alarm went off at 7:20, giving me a extra 40 minutes sleep. After getting ready, I went down to the dining hall.
At home, breakfast is a bowl of cereal. Here, I chose between eggs, bacon, pancakes, fruit, and more. The dining hall was eerily quiet compared to the loud chatter of conversation at lunchtime, but it was a somewhat peaceful way to start the day.
We put up our trays around 7:55 and hurried to our lockers. I sped into my morning math class just as the bell rang. I now understand why it is so easy for boarders to have difficulty getting to class on time.
Thursday night
Thursday night was the weekly hall meeting at 10. As someone who likes to be asleep by 10:30 when I can, this seemed a little late for a mandatory meeting, but nobody else seemed to mind. After the meeting, the Lower Morgan hall director provided yogurt parfaits as a fun nighttime snack.
Friday morning
Friday morning was pretty much the same as Thursday morning. I left the dining hall a few minutes earlier since Mr. Kramer doesn't look too fondly on late students.
Friday night
The school week was over! With no sports practice, I finally got the chance to eat dinner in the dining hall. The cafeteria was pretty empty since many girls had gone out to eat for Friday night, but a few of us remained on campus, where we ate chili and Frito pie.
At 7:30 I boarded the Hocka-bus for a trip to H-Mart, where I ate some dumplings and frozen yogurt from YogurtLand. Next time maybe I will work up the nerve to try kimchi.
When we arrived back at campus around 9:30, I tried out my moves with some Lower Trent juniors playing Wii Just Dance. After that, I watched the end of "She's Just Not That into You" in the Lower Morgan lounge before dragging a blow-up mattress into Meredith and Claire's room for a sleepover.
—Kristy