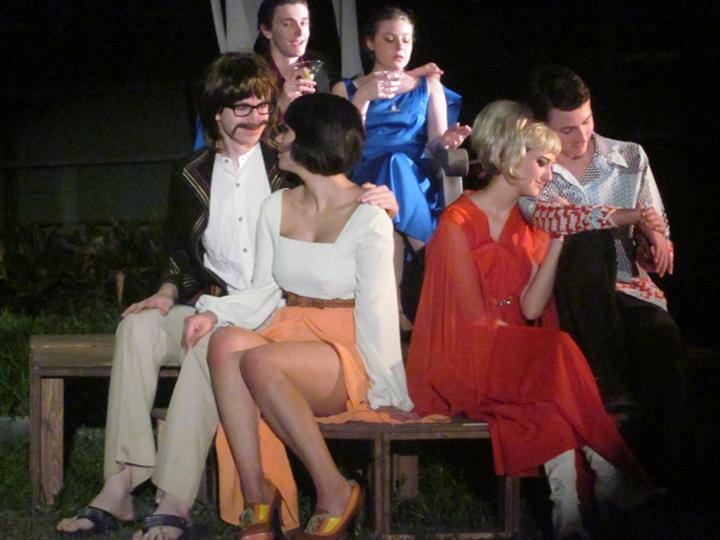 The majority of Shakespeare's A Midsummer Night's Dream takes place in a forest. Constructing a convincing forest set could potentially pose a problem for a school's set crew, as a cardboard tree looks considerably less tree-like than a real tree. But for the Hockaday/St. Mark's set crew, there was no issue at all—tasteful set designs and the outdoor location, Hockaday's Hoak Garden (which made cardboard trees unnecessary ), brought the 400-year-old play to life.
The 60's twist allowed the set crew to have a little fun with the stage design. Strips of torn and knotted cloth hung from the trees. Strings of Christmas lights wove through the bushes in the back. Painted panels at stage left and right created a psychedelic "backstage" for the actors. And Bottom, Quince, and friends entered and exited via a mock VW hippie van. Stage manager Kendall, attributes the set design to Lizzie and Leia.
"They really took charge and produced something that was really cool for the space that we had," she says.
Kendall notes that the girls intentionally kept the design "pretty simple," partially to facilitate a quick move inside if the weather took a turn for the worse and partially for effect.
"The garden itself provides such an awesome space to perform that… we didn't want to go completely overboard," Kendall says. The set crew's designs, though minimal, enhance the space and give it a whimsical feel, fitting to mood of the play.
– Caroline
[nggallery id=10]