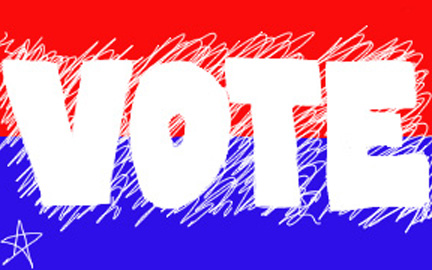 Here at Hockaday, we're taught from an early age to participate in government. The entire school votes in mock presidential elections. The government classes write editorials to the Dallas Morning News. Political forums like Race Relations, GSA, Young Democrats, Young Republicans and Model UN are some of the longest-running and most respected clubs in the Upper School . So why not vote in an actual election? Here's your chance.
Polls are open for the Dallas civic elections until May 14.
If you haven't been following the races, here's a fast cheat sheet.
The Position: Mayor. Dallas has a council-manager style of government, so the mayor does not have a lot of power. The job is more one of coalition-building within the city council than of running the city.
The Candidates:
David Kunkle
 Career: Police.
Civic Service Highlight: During his tenure as Dallas Police Chief, crime was reduced by 32%.
Campaign Focus: improving civic services.
Ron Natinsky
Career: Small Business Owner.
Civic Service Highlight: Only candidate to serve in elected office. Current District 12
Representative to City Council.
Campaign Focus: unclear; talks a lot about "consensus building."
Edward Okpa
Career: Real-Estate.
Civic Service Highlight: Previously run (and lost) in 2007 and 2008 mayoral elections.
Campaign Focus: unifying North and South Dallas.  
Mike Rawlings
Career: CEO of Pizza Hut, other companies.
Civic Service Highlight: as Homeless Czar, headed the project to build the Bridge, the
new homeless center.
Campaign Focus: economic development and education.
For more information on the candidates, see this link: 
http://www.thevoterguide.org/v/dallas11/candidate-detail.do?id=220492111
Two other positions, those of the City Council and Dallas County school board, will also be decided during these elections.
The candidates for City Council depend on your district. Find your district here: http://gis.dallascityhall.com/EnterpriseGIS/documents/StaticMaps/council_members_11x17.pdf)
The candidates for Dallas County School Board can be found here:
http://www.pegasusnews.com/news/2009/apr/24/preview-dallas-county-school-board-election/