Since the AM: Leftover Halloween Candy Cookie Cake
Lots of Halloween candy laying around? Don't know what to do with it? This is the perfect recipe for you! Loaded with your favorite Halloween chocolates, the leftover Halloween candy cookie cake is spooktastic! Inspiration provided by Little Spice Jar.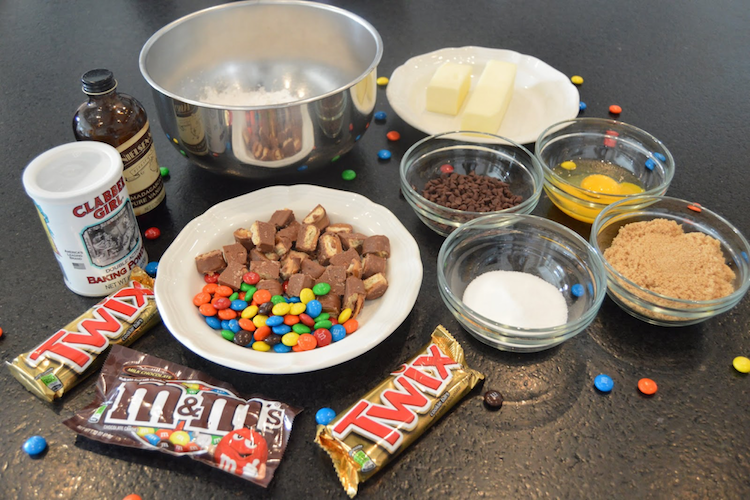 Ingredients
–    12 tablespoons (3/4 cup) salted butter
–    ¾ cup light brown sugar
–    ¼ cup granulated sugar
–    1 large egg, room temperature
–    1 egg yolk, room temperature
–    2 cups all-purpose flour
–    2 teaspoons baking powder
–    1 tablespoon vanilla extract
–    ¾ cup chopped chocolate (we used m&ms and twix)
–    ½ cup chocolate chips (we used semi sweet)
Instructions
Preheat the oven to 350 degrees F. Spray a 9-inch pie dish (or cake pan) with nonstick cooking spray. Set aside.

In a medium bowl, combine the flour and baking powder. Set aside.

In the bowl of an electric mixer, beat the butter for 2 minutes on medium speed until completely smooth and creamy. Add the brown sugar and the granulated sugar and continue to beat on medium speed until creamy, about 1 minute. Add in the egg, egg yolk, and vanilla on medium speed until just combined. Stop the mixer, scrape down the side and bottom of the bowl. On the low speed setting, slowly mix in the dry ingredients until just combined. Stop the mixer, using a rubber spatula, fold in ½ cup of the chopped candy bars along with most of the chocolate chips (reserving about 1 – 2 tablespoons for the topping).

Press the cookie dough evenly into the prepared pie dish. Top the cookie cake batter with the remaining ¼ cup of chopped candy bars and the 2 tablespoons of chocolate chips.

Bake for 25 – 30 minutes or until the cake is lightly golden brown (could be up to 35 minutes depending on your oven). Cover the cake loosely with aluminum foil after the first 15 minutes of baking to avoid excess browning. Remove from the oven and set the pie dish on a wire rack to allow cookie cake to cool completely. Use a sharp knife to slice, once cooled.

Serve with ice cream or whipped cream!
---
– Aurelia Han – Staff Writer – Maria Harrison – Asst. Perspectives Editor