Cafeteria Adds New Drink Options
It's the first day of school, and sophomore Victoria Pyle grabs a cup of ice ready to get some water to accompany her meal, but then she sees two new iced tea machines, one with sweetened and unsweetened teas and the other with peach and green teas. She puts her cup underneath one of these new dispensers and then takes one satisfying sip of the sweet tea.
This year the dining staff decided to cut costs and switched to a different ice tea provider. After investigating the benefits of switching to the same company that provides the coffee, Director of Food Services Torie Reynolds and Director of Catering Katie McKnight-Williams decided to make the change.
Some of the benefits include quicker cleanup time and a greater variety of flavor choices for the girls. 
According to McKnight-Williams, the switch has seemed to have no negative effects, as most girls are very happy with the wide variety of choices, and the staff has an easier time making the tea.
"It is a lot easier because Tina [an employee in Food Services] does not have to brew the tea." McKnight-Williams said. "It comes in a bag in a box that has the tea syrup in it. Then you just drop it in, and it mixes the tea syrup with the water."
Everyday at lunch, girls, like Pyle, grab a cup and fill it up with iced tea. According to McKnight-Williams, unsweet tea is the most popular.
"Before this year I never really drank the tea." Pyle said. "But now I have at least cup of unsweet tea with lunch every single day. I really like it."
A lot of girls hold the same sentiment as Pyle and report that the switch has positively impacted their view on the cafeteria.
"It really like it because it gives us more options of drinks," sophomore Tiffany Bai said. "And it really tastes good whenever I drink it."
---
Having an Iced Tea Party
Unsweet
When the first drop of the unsweet tea hit my lips, I knew that it needed a little more sweetener. I put some in, and the unsweet hit the spot. It tasted almost identical to the tea that I have at restaurants, and it was exactly what I, as an avid tea lover myself, needed that day.
Sweet
Drinking the sweet tea from the tea machine confirmed my personal opinions about sweet tea. It was a good mixture of the syrup and tea, but just had too much of the artificial sugar taste that is present in most sweet teas. If you do like sweet tea, then this is the drink for you, but as someone who has never liked sweet tea, it did not satisfy me as much as the unsweet tea did.
Green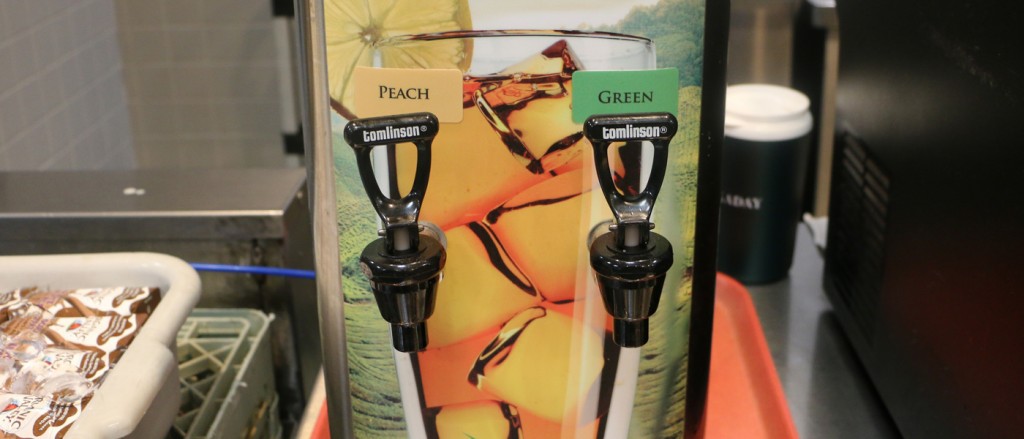 After hearing from some of my friends that the green tea was amazing, I set my expectations for this flavor relatively high. As soon as I drank a little sip, something seemed off, as there was a very syrupy taste to the tea. I continued to drink it until I came to the conclusion that this was just an off-day for the green tea, and I had just caught it in a weak moment.
Peach
Words cannot express my love for the peach tea from the machine. If I had walked up to the counter at Starbucks, even they could not make a peach tea to rival this one. It had all the right elements from an authentic taste as if it had just been brewed to the perfect color. If you can only choose from one of these iced teas, then drink this one.
[socialpoll id="2312403″]
---
– Katie O'Meara – Asst. Photo and Graphics Editor –