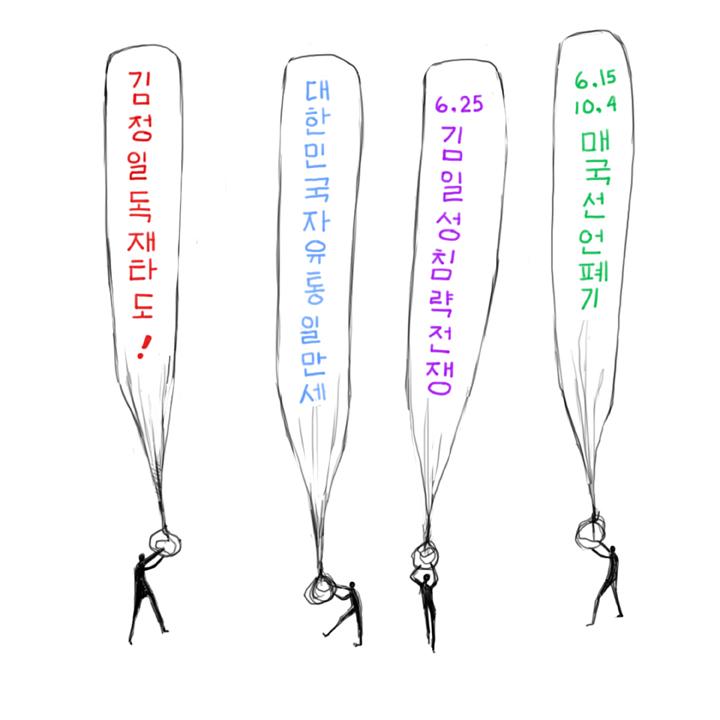 North Koreans are unaware of their extremely low life standards and ridiculous government, but they should be informed and rise for reform movements, though I bet more people are being informed now than before," says senior Lily.
In South Korea, 40-foot tall helium balloons sporting messages such as "Down with Kim Jong-il's Dictatorship" are being floated across the area that separates the North and South.  Certain activists such as Park Sang-hak, a North Korean defector, have taken lead of this strategy of trying to inform North Koreans of the corruption of their government.
As well as slogans, the balloons also carry leaflets denouncing the Kim regime and Kim Jong-il's private life. DVD's showing executions in North Korean gulags, crisp one dollar bills to attract North Koreans towards the balloons and radios whose tuning dials—unlike other radios in North Korea–have not been set to the state broadcaster.
"North Koreans deserve every right to know about the truth of their country and that we, South Koreans, being their closest neighbors, hold the responsibility to help them in doing so," says sophomore Hailey.
While Hailey and her family do not personally know anyone who lives in North Korea, she has "always felt an odd type of connection to North Koreans" and hopes to someday "have an opportunity to personally meet them."
Unlike Hailey, Lily and her family do have a personal connection with North Koreans.  Lily's paternal grandfather was originally from North Korea and escaped to the South during the Korean Civil War, forced to leave his family behind.
"In the past, North Korea and South Korea had a program where families could reunite, but my grandfather was 'too young' –though he was in 70s—so he had to wait. He's still waiting," Lily explains.
Though the North Korean government has threatened to retaliate against the balloon launches, activists are not willing to stop.
The balloons relate to decades of propaganda warfare across the ceasefire line that signified the end of the Korean War, but it was suspended in 2004 in attempt to draw the Kim Jong-il's regime back into the international fold.
Hailey hopes other people will soon realize that North Korea is "much worse" than "another impoverished third world country."
Hailey says, "It is important for us to realize the gravity of the circumstances and find ways to help."
While Hailey does not think that this balloon driven propaganda strategy "will lead to informing every single North Korean in the country," she believes that the activity itself "is a positive step in acquainting them with what has been going on in their country."
"I firmly hope that it will inspire people there and that we will be able to hear about democratic protests and movements occurring in North Korean in the future," says Hailey.
—Erika