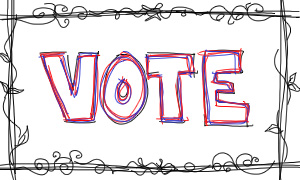 In the recent mayoral election, Hockadaisies express their right to vote
And we have a…runoff. In keeping with the uncertain character of this mayoral race, the May 14 elections did not produce a winner. Instead, on the June 18 run-off, Dallas voters will decide between the two front runners: former CEO of Pizza Hut Mike Rawlings and former Dallas Police Chief David Kunkle.
The candidates share similar views on many issues. Both agree that City Hall needs to cut taxes and its own budget. Both support growth south of the Trinity. Both have emphasized the need for improvement in basic city services. Their positions are so identical that Kunkle's earliest attack on Rawlings was that the businessman had stolen Kunkle's slogans.
These similarities have led to widespread grumbling among Dallas political commentators. Is this "the most boring race of all time?" asks Wick Allison, owner of D Magazine, noting the lack of passion.
Fewer than 14 percent of the registered voters participated in the May 14 elections. That's less than 70,000 people in a city with a voting age population of more than one million.
The truth, however, is that despite the similarities in issues, there are key differences in this race: differences in experience and leadership styles. These are important because Dallas has a council-manager style of government, so the mayor does not have a lot of power: the job is more one of coalition-building within the city council than of running the city. Thus, our mayor must more than just a leader: he must a civic-minded, coalition-building leader.
Of course, each candidate claims to be exactly this type of leader. Looking at their backgrounds, however, reveals a different story.
First, though neither has served in elected public office, as a member of the police force, David Kunkle worked his entire life in the public sector, while Mike Rawlings spent most of his career in the private sector. So, Kunkle arguably has more experience with civic budgets and procedures.
Second, though each has held high level executive positions, their experience at the top has been fundamentally different. While Kunkle, a police officer, spent most of his career in a very hierarchal, top-down organization, Rawlings, a marketing executive, has spent a large part of his career in more cooperative leadership structures. So, Rawlings likely has more experience in consensus building within committees.
Finally, though Rawlings and Kunkle share many goals, their methods for achieving them are very different. Rawlings supports a more aggressive approach of economic development, while Kunkle focuses more on improving basic services.
Both are strong candidates, but who would be the better mayor? That's the beauty of a democratic political system. At Hockaday, we're taught about our political rights from an early age. The entire school votes in mock presidential elections. The government classes write editorials to the Dallas Morning News. Political forums like Race Relations, GSA, and Model UN are some of the longest-running and most respected clubs in the Upper School.
So why not participate in an actual election? If you're over 18 and registered, you can express your opinion by voting. Stand up and be counted.
—Kay