Tis the Season to Celebrate Your Birthday
Many approach the holidays in anticipation of religious traditions, family bonding and the exciting spirit that comes along with them, but for some, this festive time of the year marks another important celebration: their birthday.
Freshman Tosca Langbert, a triplet to her sister Chaucer and brother Christopher, was born on Christmas Day. Her family has four celebrations on Dec. 25. Because of this, Langbert has not always been a fan of the fact that her special day overlaps with an international holiday.
"Think of it this way: there are three of us, so already sharing a birthday with two other people is kind of a lot, and then sharing it with the entire [world] is also a lot," Langbert said.
Holidays can be a hectic time for many families, what with planning holiday parties, family gatherings, buying presents and traveling. When birthday festivities are part of the equation, this chaos reaches new levels.
Although there is a lot going on, the Langbert family makes sure to separate their holiday celebrations from those for their triplets' birthdays.
"One of the sides of my family is Jewish, so that's actually kind of nice because then they are really more focused on my birthday," Langbert said. "Even the other side of my family, while they are celebrating Christmas, will have a little cake, so it's always cute."
According to Langbert's father, Jon Langbert, because December gets so busy, sometimes the triplets' individual celebrations do not always fall during their birthday month.
"As they have gotten older, they have generated their own identities and so usually the things they want to do for their parties are different," Jon Langbert said. "So we wind up having three separate parties."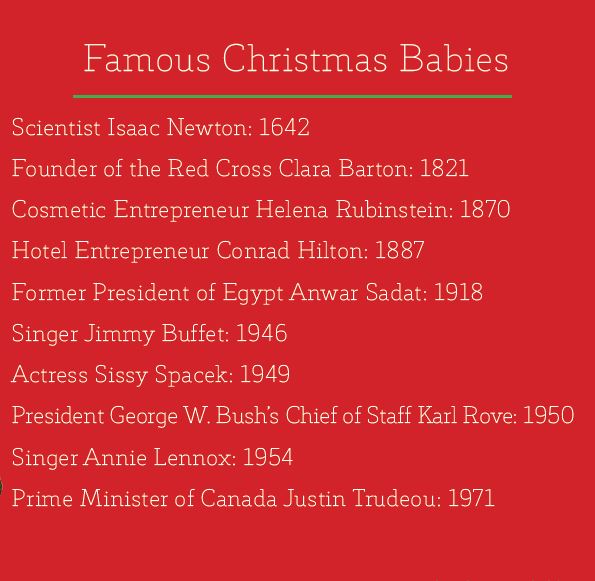 Fine Arts Department Chair Beth Wortley shares a Dec. 25 birthday with Tosca Langbert. Because of the unique date of her birthday, when Wortley was younger her family would have to celebrate her special day differently than most. Instead of having a birthday party on her actual birthday with her school friends, who were likely out of town, her family would throw the party Christmas Eve or the day after Christmas with her neighborhood friends.
As for Wortley's actual birthday, her family always have a packed schedule on Christmas Day.
"It would be Christmas morning, we'd do all of that, have Christmas lunch, and then it would suddenly turn into my birthday," Wortley said. "So, I guess when some people have a lull in the day, we just keep celebrating."
But often, the two celebrations would blend. From the time Wortley was a young age, Wortley's mother would have a cake decorated with a Christmas theme that would have "Happy Birthday to our Christmas Angel" written in icing.
Junior twins Cameron and Erin Blotcky, who are Jewish, share a similar story to the Langbert triplets. The Blotckys' birthday on Dec. 7 normally falls during Hanukkah.
For Cameron, the mix of celebrations can get crazy.
"It's chaotic because family members come in town and a lot of holiday parties are happening," Blotcky said.
But, even during the chaos, the Blotckys get to celebrate their day in many ways.
"I'll have my own birthday celebration, we'll have a Hanukkah celebration, Erin and I will celebrate together and then I'll have a separate party with my friends," Blotcky said.
Although Langbert and Blotcky mentioned it may not be ideal to have a birthday on a day already dedicated to special celebration, they note that the season puts everyone in the festive spirit.
"People are always very excited for Dec. 25, just not because it's our birthday, but it's nice," Tosca Langbert said. "It can be frustrating at times just because people are more concerned with holidays, but at the same time, a birthday isn't really as big of a deal as an [international] holiday, so I don't really mind that much."
And the holiday season is a time when many have some extra cheer.
"It's really spirited. There is a lot going on, so it's fun," Blotcky said. "Even if people aren't excited for my birthday, they're excited for Christmas or whatever holiday they celebrate."
And having a holiday birthday can have some perks. When Wortley was very young, one of her parents sent in a picture of her to a newspaper contest for children who were born on Dec. 25. Santa Claus, Ind. was looking for Christmas babies to hold honorary positions as the"mayors" for their town. Wortley received one of the coveted spots and claimed the title of "mayor" of Santa Claus for the month of October of that year.
"They sent you toys and pictures, so I have a lot of stuff from that," Wortley said. "And I have a certificate that says I was mayor of Santa Claus, Indiana."
Plus, people will notice the special date. Wortley's shared birthday with Christmas comes up in conversations whenever anyone sees it on her driver's license all year round – one reason she doesn't mind the overlap of celebration.
"If [my birthday] is going to be that close to Christmas, the conversation piece that it creates, being actually on Christmas day," Wortley said. "I think I'm glad because at least it's a novelty."