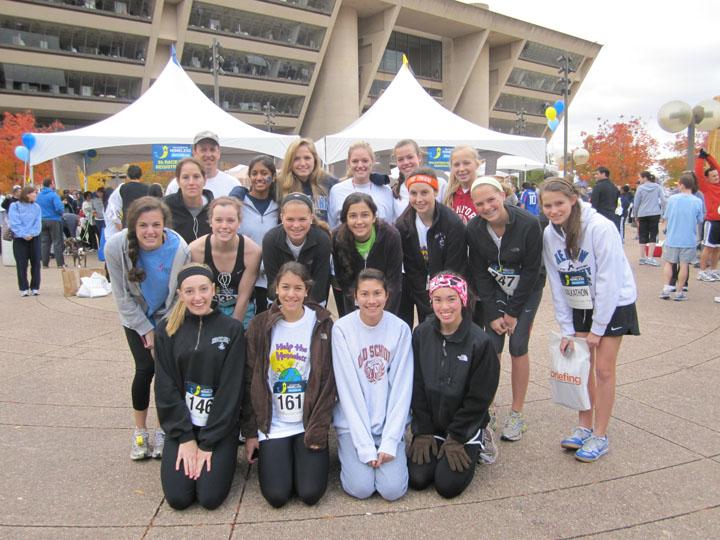 What it takes to start, manage and expand a successful club
It's happened to the best of us. The day of the Club Fair your hands are covered in the names of all the clubs you've impetuously signed up for. Yet, by the end of the year, you're an active member of one. Maybe.
This year, a few clubs worked to change this pattern. They managed to maintain the Club Fair excitement over the course of the entire year.
Many of the up and coming clubs debuted this year.
Sophomore Christine's community service club, Smiles for Children presents its club members with numerous opportunities to work with children through tutoring, art activities or simply playing. Christine found that "activities just seemed to come at the right time," making for an extremely successful year for the club.
Variety was the key to a successful first year.
"We offered a lot of different opportunities," Christine says, "so you could do what you wanted, come to which ones you wanted to."
By conducting a survey of her club members, Christine got feedback for this year and was able to further shape the club for next year. "We really tried to cater events to what people wanted to do," Christine says.
The club expanded the scope of their work over the course of the year, starting with volunteering at Santa's Village, a Richardson community festival that offers the experience of the North Pole around Christmas time.
Organizations like Cottonwood, an arts festival that hosts over 240 local, regional and national artists and contains an "ArtStop" for kids, asked for the club's continual service in many of their events throughout the year.
Christine even gained tutoring opportunities for her club through her old middle school, Dewitt Perry.
What drove her was her desire to "actually make an impact," she says. So when she found out that the middle schooler she tutored at Dewitt Perry throughout the year improved from the twelfth percentile to the seventy-sixth percentile on his MAP test, a school administered diagnostic test that helps measure a student's improvement throughout the year, Christine felt satisfied.
Other club newcomer, Jog for a Cause, got off to a running start.
"We came up with the idea of incorporating community service and running," club president junior Jessie says.
"We liked the idea of having a chance to help the community while running, which is something we all enjoy," she says, speaking of her co-presidents, junior Ellen and freshman Sophie.
Those sentiments proved to be shared among Hockaday students right from the club's inception.
"Obviously it's kind of hard to get it up and running the first year," Jessie says, "but our first race we had a really great turn out. We had about thirty people from Hockaday come, parents and students."
That popularity has not wavered. Recently, about 40 shirts advertising Jog for a Cause were ordered from the club, a clear indicator of the ongoing success.
For them, success came from continual communication. "We sent out a lot of survey monkeys for different things throughout the year," Jessie says, "and got really good feedback."
Jessie believes that "Hockaday has a really active community" and that "as long as people kind of know what's going on, they're really willing to participate."
"Our goal was to try and get as much participation as possible," Jessie says, "and I think with any club, there's the concern that people won't follow through or that people won't actually be able to plan any events, so our goal was to actually keep the club going throughout the year."
It was "keeping it going at a steady pace throughout the year, sending out emails about club meetings" that "kept it in the back of people's minds," ultimately leading to Jog for a Cause's success, Jessie says.
The Human Rights Committee had similar success; however, this club entered the year with experience from previous years.
Yet, this year was different. Defining its year with three major projects, Pennies for Peace, the Write for Rights Campaign and the Patches Campaign, HRC became significantly more active than in years past.
To project manager and future president, junior Tita, the greater involvement came from the "great co-presidents who have tried tirelessly to get everyone involved and to constantly have a campaign or activity going on."
To make that goal a reality, "we tried to never have more than one or two months without a project going on," Tita says.
Agreeing with Jessie, Tita saw the importance of advertisement for the club's activities this year.
"Everyone, from regular committee members to the leadership team, worked really hard to promote the committee and its causes," she says. "We focused on advertising a lot, especially for the campaign, and tried to find campaigns that were exciting for the whole Upper School."
As these clubs venture into their next year, they are setting new goals to continue on their successful paths.
For Christine, next year holds more exciting opportunities with tutoring and her main goal, to create more individual club activities instead of participating in ones set up by outside organizations, namely having their own booth at events like The Cottonwood Arts Festival.
Looking to the future, Jessie aspires to organize the club's own race by picking an important charity and hosting a road race for the Dallas community, "just being a little more involved," she says.
Increased involvement is also a big goal for Tita as she hopes to "continue the amount of campaigns and to make a great Human Rights Journal, maybe even with student contributions not from HRC."
Carrying big hopes into the next year, clubs both new and old are making the Hockaday community a much more engaging one. And perhaps they will inspire new clubs   to follow in the footsteps of their success.
—Caitlin