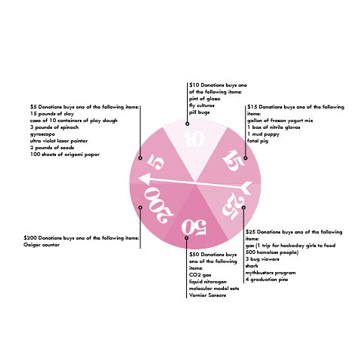 In light of Lyda Hill's donation, a look at contributions on a smaller scale
Marissa Lau '04 loves to know about upcoming alumnae events, so she follows Hockaday Alumna via Twitter and Facebook.
"I'm 'friends' with Ela Hockaday and in a Facebook group for both my graduating class and Hockaday Alumnae," Lau says. "It is a great way to keep in contact with friends and also know what is going in the Hockaday community."
The Hockaday Alumnae Office set up the Facebook pages and started a Twitter to build a relationship with the younger alumnae. They also keep in lower-tech touch through class agents who know what is going on in each of their classmate's lives.
In addition, several seniors in the SECA, the Student, Executive, Committee of the Alumnae Association program, keep in contact with the younger alumnae by sending them care packages during exams and holding phone-athons, thanking alumnae for their contributions.
Director of Annual Giving Keturi Beatty says that it is fun to post on Facebook and try to entertain the alumnae. For example, she says, "I'll post a portion of a teacher, like Mr. Brady, and ask 'Who is this?' And the girls will comment back 'Oh, that's Mr. Brady.' It is really just a lot of fun to keep in touch with the girls this way."
The Alumnae Office has also worked to encourage alumnae, especially younger alumnae, to donate money to the Hockaday School by keeping them connected to the community.  The participation of alumnae indicates Hockaday strength and without it, a Hockaday education would be nonexistent.
"Participation is what matters," says Lau.
Lyda Hill '60 recently donated $20 million to the Hockaday School, with $10 million designated for the construction of new classrooms and research space for science, technology, engineering and mathematics (STEM) and the other $10 million designated for faculty and program support.
Because of Hill's monumental donation, however, some may believe that their money is not needed in Hockaday's community. Beatty, director of annual giving, believes this to be false.  She thinks many young alumnae will now be inspired to donate more.
"One woman alone can't support a school," says Kathryn Francis, president of the Hockaday Alumnae Association.  "It requires the time, perspectives, energy and gifts of many to help Hockaday continue to succeed."
By June 1, Hockaday hopes to have received $2.15 million from alumnae, a goal they are about one-hundredth of a percent from reaching.
"Participation and education are the foundation for getting young alumnae to contribute. It is important to educate the young alumnae," says Director of Development Kathy Limmer, by keeping "in close contact with them."
"I cannot emphasize how important any donation is." says Beatty. For example, "donating $1 can buy a bottle of hydrogen peroxide for an AP biology lab; $5 allows Hockaday to buy a gyroscope, which illustrates the conservation of angular momentum in physics; $15 buys one box of nitrile gloves for all dissection labs. With $25 Hockaday could buy a shark for dissection, and even with $200, it supplies Hockaday with a Geiger counter for measuring radioactivity for a Physics class."
Olivia Eklund '00 appreciates hearing theses figures. "When you hear numbers like that, it makes you think that your money can actually go a long way."
Francis cannot stress how important it is to give back to Hockaday.
"In my mind, I am the beneficiary of those gifts and I want to 'pay it forward' and help another young lady receive the same life-changing education that I was given."
—Gretchen