The Diane Behind the Desserts
The dawn of a new Friday brings many things: excitement for a weekend full of relaxation, a chance to jam out to pop hits in the lunchroom, and of course, a "Dessert by Diane."
But who really is the the mastermind behind Hockaday staples such as chess pie and red velvet cake, whose name appears weekly on the widely shared Hockaday lunch menus?
Diane Hooper, Hockaday's pastry chef, is also ubiquitously known as "Dessert by Diane." The name came about six years ago when Director of Food Services Torie Reynolds was brainstorming a name to call the desserts that Hooper prepared for lunch each day.
"I was joking about the name, but we eventually decided on "Dessert by Diane" because it was cute and catchy," Reynolds said.
Before the name "Dessert by Diane" came about, the name of the specific dessert that was to be served was written on the menu each day. Even though the "Dessert by Diane" name is less specific, Hooper decides what the dessert will be on a particular Friday several weeks in advance.
"Diane tends to plan the desserts out sooner than the day of," Reynolds said. "She keeps a rotating schedule in her head," she said.
Keeping track of the dessert schedule for each Friday is not Hooper's only responsibility, however. She also prepares breakfast trays, cookie trays and special desserts for events such as the annual Sweetheart Tea.
To meet this demand for baked goods from students and faculty members alike, Hooper starts whisking, sifting and baking at 6 a.m. every day.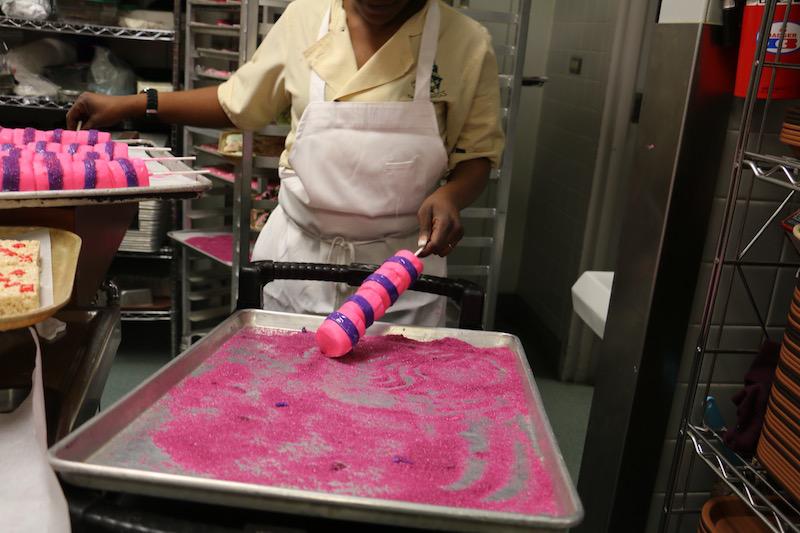 Her creative work does not go unnoticed: Hooper regularly receives compliments from students and faculty. "I get emails and text messages about my desserts from kids passing through and faculty, and that's what I love about the job," Hooper said.
Perhaps Hooper's favorite experience in the entire year, however, is teaching pre- kindergarteners to bake and preparing them for annual pie-baking contests at Greenhill.
"When the Pre-K comes in once a year, I teach them how to bake pies," Hooper said. "I talk them through the process and give them recipes so that they are prepared for the contests."
When Hooper is not interacting with Lower Schoolers or preparing pastries at Hockaday, she enjoys watching TV and spending time with her six grandchildren.
"I have grandbabies that have football and basketball games, so I go to those," Hooper said. "Other times, I like watching shows like 'Family Feud' and 'Say Yes to the Dress'."
Her other favorite shows include cooking shows like "Chopped", as well as cake decorating contests. Hooper's baking skills have even helped her predict whether certain recipes will work on some of these Food Network shows.
"I've memorized some of my own recipes, so sometimes I can critique [the contestants'] recipes and tell if they will work or won't work," Hooper said.
And above all, Hooper has developed a keen sense of the types of desserts that both her family members and Hockaday students enjoy through her 42 years of pastry experience.
"She seems to have a good feel for what [types of desserts] we enjoy the most," Reynolds said.
Photos by Eshani Kishore/The Fourcast.