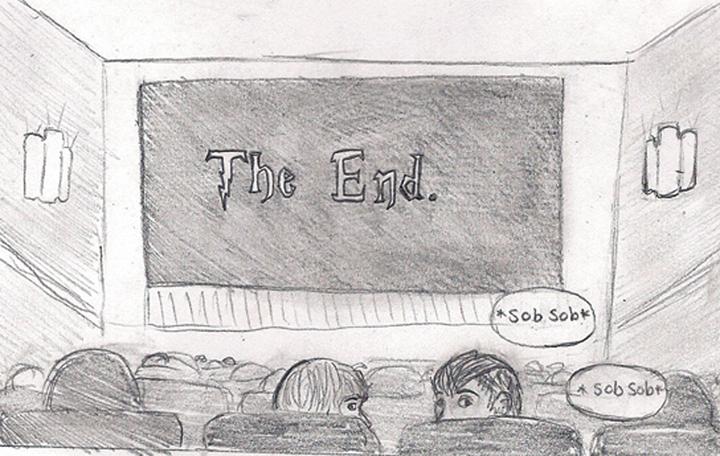 Students anticipate the arrival of the final Harry Potter Installment.
"It must end," thought Harry Potter as he walked through the forbidden forest to confront his fate.
This summer marks not only the end of Voldemort but also the end of the Harry Potter phenomenon that has characterized our generation.
For Harry Potter fans around the globe and at Hockaday, this is the exciting but fearful truth: at midnight on July 15, 2011, Harry Potter and the Deathly Hallows: Part 2 will be released.
With the release less than two months away and new trailers already surfacing across the internet, the anticipation is growing.
"I'm really excited," says freshman Hannah. "I want to buy tickets right now!"
Senior Alison says the most recent Part 2 trailer was "fabulous and the first 15 seconds of it basically completed my life."
Students are planning to celebrate by re-reading the series, preparing "wizard foods" like Butterbeer, hosting Harry Potter movie marathons and dressing up in costume for the midnight premiere.
In past years approaching book and movie premieres, costumes and marathons magnified the exciting atmosphere.
Senior Madison who attended the midnight premiere for Part 1 remembers, "everyone was dressed up, taking pictures with strangers. We even sang 'happy birthday' to someone while waiting for the movie to start. Overall, the energy at a midnight premiere is insane…Everyone gets so into the movie and it just makes it so much more exciting to watch. It's truly a unique experience."
As it is the final movie of the series, expectations for Part 2 are high. "Part 2 needs to go out on a high note," says junior Giovanna.
Harry Potter enthusiasts like sophomore Elena also hope Part 2 will stay true to its novel. "The film makers of [Part 1] did a great job of following plot line, so I expect that they will once again follow through with doing a good job in [Part 2]," says Elena.
The producers' choice to split the final movie into two parts has especially raised fans' expectations.
"In the past, the reason why they haven't followed the books is because they didn't have enough space or time to put everything in," says Giovanna. "Now, they have two movies and they definitely have enough time to tie up loose ends and make it as close as possible to the book."
Junior Audrey agrees, "I am especially excited for the scene at Gringott's and for the final battle at Hogwarts. I am sure these scenes will be really fantastic because they'll have had a lot of time to spend on them."
Previous Harry Potter movies were not split into two parts and therefore packed with action. While many enjoyed Part 1, some did not like it as much partly for the lack of excitement.
"I can see why some people might have thought [Part 1] was boring…it never got to a climax," adds Hannah.
As for the differences in release dates between Part 1 and Part 2 of fall versus summer, freshman Sarah believes that "because it's the last movie…most people will try to go."
However, since freshman boarder Samantha lives in Hong Kong, she thinks that Part 1 "probably won't come out until August [in Hong Kong]. I'll probably end up watching it online instead of going to the premiere in July."
In Nov. 2010, Part 1 drew large crowds and ended up making about $125.1 million opening weekend. "I think Part 2 will draw even larger crowds than Part 1," says freshman Joyce.
The books and movies have kept millions of readers captivated for 13 years, and now that its end fast approaches, fans are nostalgic.
"I'm going to miss the excitement when a new movie or book comes out," says freshman Katherine.
At the end of Part 2, Hannah predicts she will be "crying" at her seat in the theatre. "It's so sad that the movies are ending."
But even though the series is ending, fans will continue to read the books and watch the movies for years to come.
"I hope people won't forget about Harry Potter," says sophomore Marzia. "[It] has been a huge part of my life…it gave me a chance to be a 'book nerd' about something."
—Tiffany