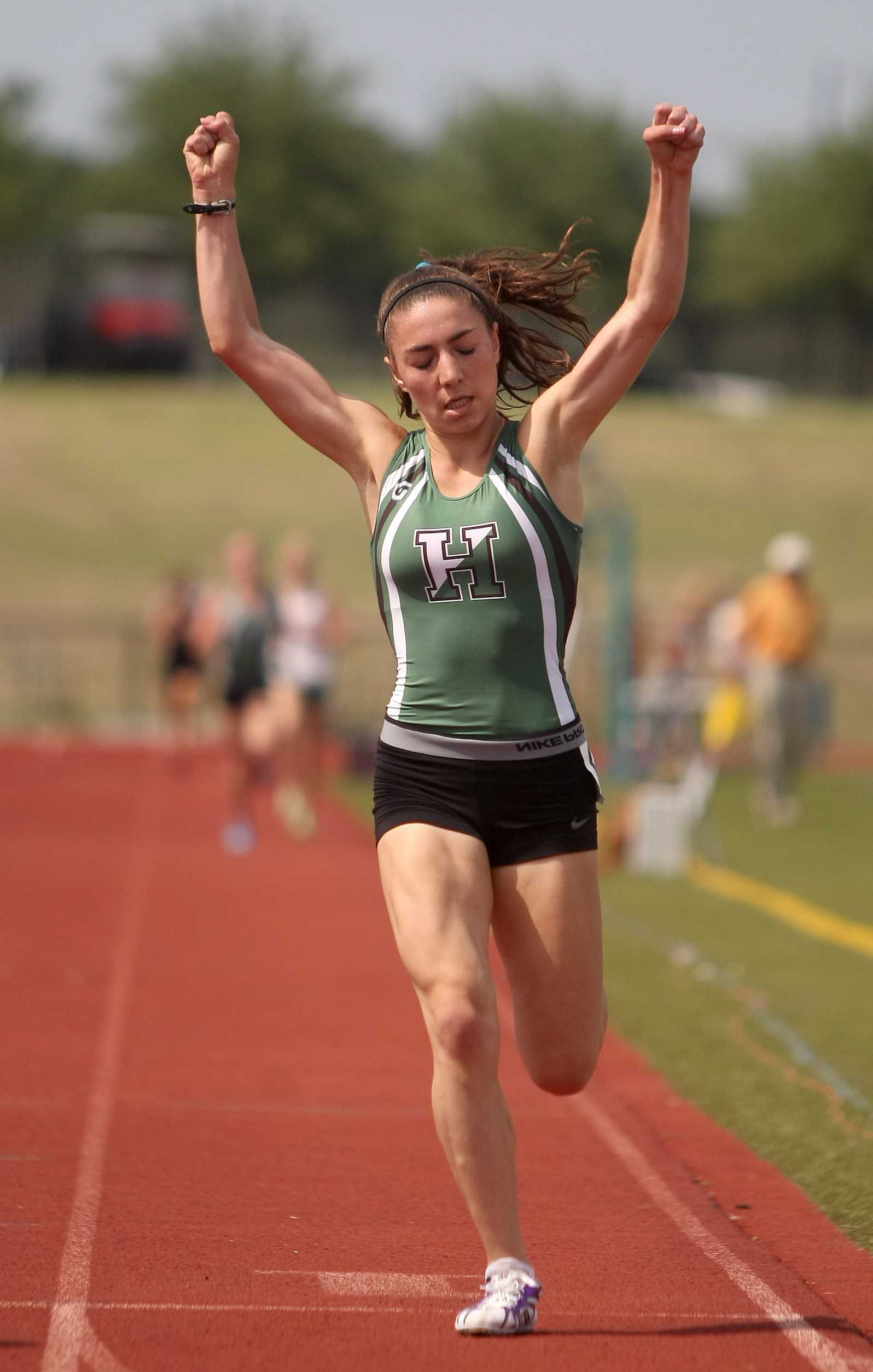 For the first time in Hockaday history, Track wins SPC.
Crossing the finish line in first place, I turned to see Lexie pull ahead of the second-place competitor to obtain the one-two win we needed for Hockaday, one more thing that helped secure our team in a higher position to win," remembers sophomore Jackie.
Placing either first or second place in eight out of the 16 events they competed in, for the first time in Hockaday history, Varsity Track emerged victorious at the Southern Preparatory Confer­ence Championships this year held in Fort Worth on April 30.
Senior team captains Tessa, Katie and Dionne led the track team to victory.
"This year, the group of se­niors was really strong and able to lead the team with so much passion and heart," says varsity track coach Autumn Johnson. "They were a really, really big fac­tor [to our win]. They are so pas­sionate about track and winning."
Team bonding activities that the captains organized also con­tributed to the win. "We recog­nized [that] in order to win SPC, we had to be a team—we had to work together," says Dionne. In one activity, each team mem­ber wrote their strengths and weaknesses on popsicle sticks and broke their "weakness" sticks. The team learned that joined together, their strengths could not be broken.
"Team bonding was a major contributor to our win this sea­son…the team mentality led us to our success," explains fresh­man Caroline.
Caroline was one of the team's most dedicated athletes this sea­son. Aside from varsity practice, she trains 15 hours per week with her club team during the school year and 24 hours per week over the summer. Caroline placed sec­ond in the high jump and in the 4×100 meter relay at SPC.
Jackie placed first in both the 1600 meter race and the 3200 meter race, and she placed second in the 4×800 relay. While not all of Hockaday's 23 repre­sentatives placed, their support from off the track helped bring home a win. "It was exciting for me to be there to support and encourage my teammates in ev­ery event," says freshman Emily, who ran the hurdles but did not place.
Practice throughout the sea­son was split into hard days and easy days so that the team would get an extreme workout one day and then have fun days to recov­er while still maintaining skills. Dionne believed the team re­ally needed to build up their en­durance in order to last for two full days at SPC. "Although [the hard days] were really miserable and painful, they definitely paid off," says Tessa.
Mid-season last year, Coach Johnson became head coach due to some coaching changes and continued to serve in this position with the help of Coach Laboris Bean through this year.
"It's nice having solid coach­es who really care and believe in their athletes," says Dionne. This season, however, was John­son's last, as she will be leaving next year.
"I couldn't think of a better way to finish my career at Hock­aday," she says.
Many see track as an indi­vidual sport. But in reality, each member supported one another, leading the team to victory.
"Each person had a part in making the team better, even if they didn't participate in SPC," says Johnson. "Seeing that con­fidence in the girls and seeing that heart and determination all pay off at the end was the best part for me."
—Anisha