After the Paris attacks on Nov. 13, the world expressed its sympathies to those affected in many ways: Facebook added a feature to watermark profile pictures in the colors of the French flag, and images of the "Peace for Paris" logo circulated on many social media platforms. Here at Hockaday, sophomore Ameya Chavda sought a more personal way to connect with those affected with her own voice.
Chavda asked Upper School French teacher Catherine Berryman to see if she could help her form a connection with a school near the attack sites.
"I wanted to communicate to [those affected] that their lives will be better," Chavda said.
Berryman in fact knew someone who was friends with Nick Chriss, an American English teacher at Grande Chancellerie de la Legion d'honneur, an all-girls boarding school in Paris located just 200 meters from an apartment building raid on Saint-Denis street where French officials searched for suspects the day after the attacks, waking students and teachers at 4:30 a.m.
In an email correspondence to Berryman recounting details of the school's reaction, Chriss wrote, "We woke up to the sound of machine guns. We felt like we were in a war zone. It was horrible."
That's when Chavda knew she wanted to write letters to these girls.
Before the idea of the letters, Chavda had considered making a video, but decided against that plan because to her, the written word is more powerful.
"Those kinds of videos cannot convey our emotions and feelings as well as writing can," Chavda said. "I also felt like writing letters gives a more tangible voice to us students rather than making things."
Chavda wanted both Upper and Middle School students involved in this project and extended an invitation for them to write letters in French or English during the week after Thanksgiving Break. During the holiday break, she, with the help of Berryman, sent 71 letters to the students of corresponding ages at Grande Chancellierie.
"When I was looking through the letters, I was really amazed at how thoughtful they were and thought they were very appropriate and genuine," Berryman said.
According to Berryman, two all-girls school communicating to one another added another element to the intensity of the letters.
"I think because it was an all-girls school, it made it much easier to relate," Berryman said.
In her own letter, Chavda expressed her sympathies and admiration to the students at Grande Chancellierie for being courageous.
"I told them that their situation wouldn't just unite France, but it could unite two schools from two different countries that share a deep caring for each other," Chavda said.
These letters were received by Grand Chancellierie on Jan. 13. Chavda and other Hockaday students who wrote letters have not yet received responses.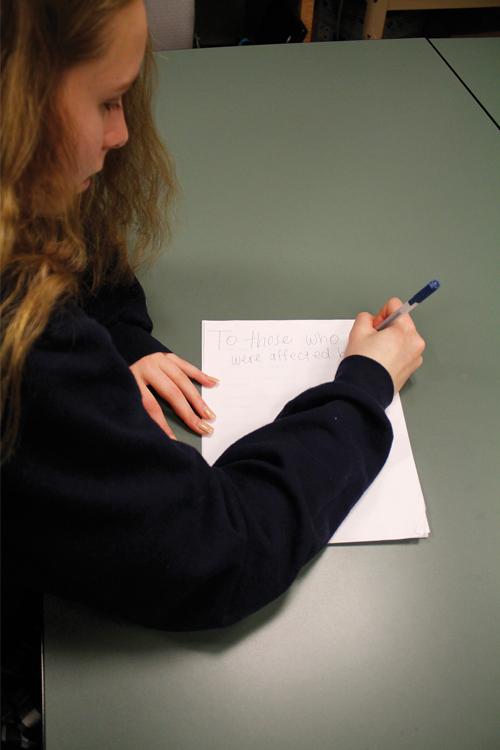 Photo by Molly Waring