Junior Performs En Pointe at Houston Dance Competition
Like many girls last Saturday, the day of Winter Formal, junior Lily Bines was getting her makeup done and putting on a dress—except her dress was a handmade gold tutu and her shoes were a pair of pale pink pointe shoes. Over the weekend, Bines competed at the Youth American Grand Prix held in Houston, Texas.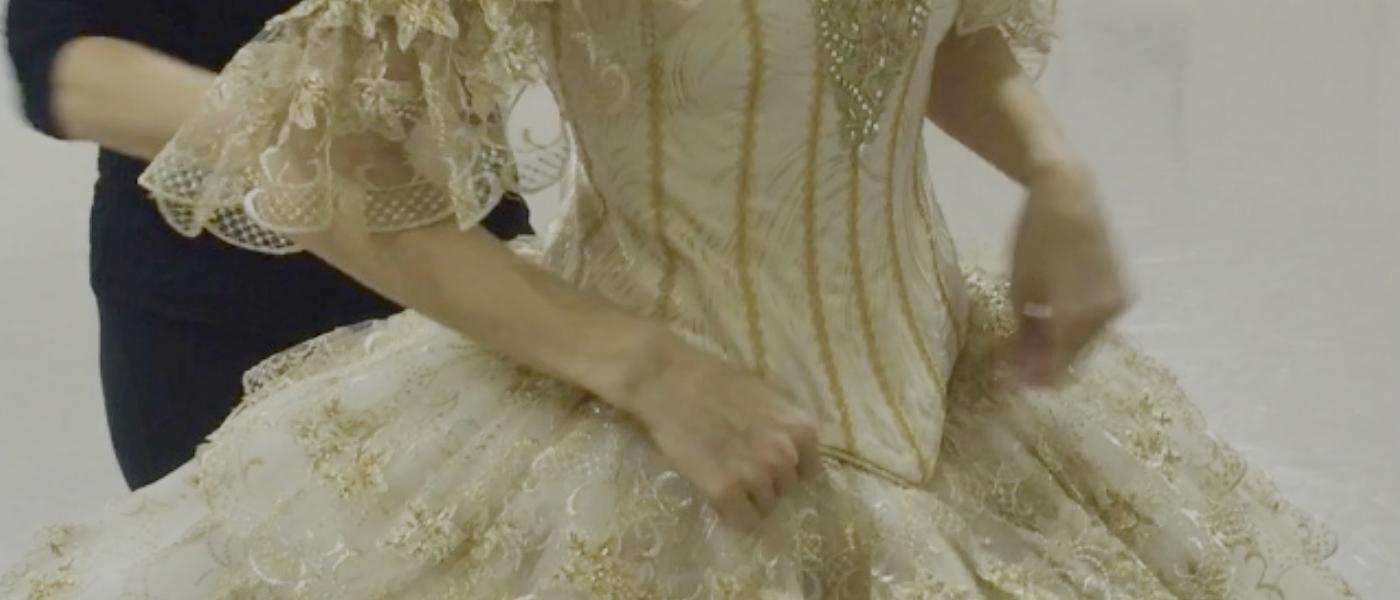 YAGP, an international dance competition that brings together dancers ranging from ages 9 to 19, comprises classical (ballet), contemporary and ensemble categories. Bines placed in the Top 12 in both the classical and contemporary categories in the Senior Division (ages 15 to 19).
The competition lasted from Friday, Feb. 19 to Sunday 21. Bines first performed a contemporary solo on Saturday morning and, in the afternoon, competed in the classical category performing variations from two ballets: "La Bayadère" and "Don Quixote." When not competing, she attended master classes taught by the YAGP judges.
"I performed the Gamzatti variation from 'La Bayadère' and the Kitri variation from 'Don Quixote,'" Bines said. "Gamzatti is a queen, and this scene takes place at a wedding where she's supposed to marry a prince, but he is in love with one of the court dancers. Kitri's variation is from the beginning of the ballet where she's dancing for her friends in the market area."
Jacqueline Porter, the Artistic Director of the The Dallas Conservatory where Bines trains, worked closely with Bines on these variations. According to Porter, they assigned Bines the Kitri variation (Bines had worked on it last year as well) to work on her earthy dynamism. For contrast, they selected the Gamzatti variation to play on Bines' natural elegance.
"I like to see Lily stretch to embody the many characters she is capable of playing while doing difficult dance steps," Porter said.
Bines began training for YAGPA at the end of last summer and spent approximately two hours a week training in addition to 15 hours a week for daily classes in ballet and contemporary.

In January, Bines competed at YAGP Dallas, where she also placed in the Top 12 in classical and contemporary. However, during this competition, Bines suffered from a calf injury.
"I fell out of one of my variations," Bines said. "After YAGP Dallas, I took a week off of dance, and we decided to do YAGP Houston as another chance. This time, I nailed my variations and all my turns and didn't fall out of anything, so it felt a lot better to do Houston."
Even though she had competed in the past, Bines felt  nervous the day of the competition in Houston. After putting on shoes, makeup and her costume, she began warming up an hour before competing. In order to stay warm, she wore warm-clothes and sweatpants, stretching but not tiring herself out before going on stage.
"I do this thing before I go on stage; dancing is all about acting and being a character," Bines said. "So I start being in character backstage. In Dallas, I didn't do this, and I was just freaking out before going onstage when they called my number."
For Bines' variations, this meant portraying a vain, arrogant demeanor for Gamzatti and a flirty personality for Kitri during the minutes before being called onstage. Accordingly, Porter believes that Bines' versatility as a dancer is one of her greatest strengths.
"Lily is elegant, expressive, and well-rounded," Porter said. "She is equally at home in a dynamic role like Kitri from 'Don Quixote', or a soft role like Swanhilda from 'Coppelia', and everything from stark contemporary to musical theatre."
Bines exemplifies her versatility in both ballet variations and in contemporary pieces.
Sophomore Audrey Magnuson, who danced with Bines at The Dallas Conservatory when they were in middle school,  agrees with Porter on Bines' elegance as a dancer.
"Lily's dancing epitomizes elegance," Magnuson said. "She achieves the ultimate goal of a dancer which is to captivate the audience with her technique without showing all the work she puts in."
Additionally, Magnuson, who competed in YAGP two years in a row, agrees with Bines that the YAGP competition is an invaluable experience for all who participate.
"The whole weekend was an incredible bonding experience for our company because we spent every hour together pouring out energy into our performances and enjoying other company's pieces," Magnuson said.
Both the Dallas and the Houston YAGP competitions, as well as competitions in many other cities worldwide, serve as semifinals for the top international competition that will be held in April. In order to compete in New York, dancers have to receive a score of at least 95 at the semifinals, but Bines narrowly missed the cutoff with a score of 94.675. But Bines was invited to go to New York to attend the prestigious intensive workshops being held there.
"There will be scouts for different companies who will invite you to stay at their program," Bines said. "Even if I'm not competing I can take those classes, if somebody is watching I could be invited to their program. It's a great opportunity to get recognized."
And Bines is in dance for the long run, she plans to dance professionally.
"I'm deciding between going straight to college for ballet or taking gap year for dance," Bines said. "There are some great colleges with dance schools associated with them, so when I am not dancing I can take classes too."