As we close the door on January and February and look on to the month ahead (exams…and spring break! are right around the corner), I believe now is a good time to look back and acknowledge Hockaday girls' STEM accomplishments over the past months. January and February are the busiest months of the year in terms of STEM competitions, and I am proud to say that we have done some pretty cool things!
Jan. 26, 2016: 13th Annual Metroplex Math Competition
Sixteen Hockaday students accompanied by Upper School math teacher Jessica Chu competed at the Metroplex Math Competition held at St. Mark's School of Texas and competed in various subjects including Algebra I, Algebra II, Geometry, Precalculus and Calculus, and  a team of six competed in a team test.
The following girls attended the competition: Eva Batelaan, Cirrus Chen, Effie Guo, Elizabeth Guo, Wendy Ho, Meghna Jain, Tanvi Jakkampudi, Jasmine Jin, Kate Keough, Elli Lee, Mira Mehta, Clara Shi, Maggie Ying, Elizabeth Zhou and Vivian Zhou.
Hockadaisies won the following awards:
Elizabeth Guo:  1st Place Geometry Open and 2nd Place Precalculus Closed
Clara Shi:  2nd Place Geometry Open
Effie Guo:  3rd Place Geometry Open
The Hockaday Team, consisting of Elizabeth Guo, Effie Guo, Wendy Ho, Elizabeth Zhou, Jasmine Jin and Vivian Zhou, won 2nd Place on the Team Test.
And overall, Hockaday won 3rd place for Sweepstakes!
Feb. 2, 2016 and Feb. 17, 2016: 67th Annual American Mathematics Competition 10 and 12
The AMC is the largest nationwide high school math competition, and it is the first in a series of qualifying competitions for the International Mathematics Olympiad. Students in 10th grade and under may take the AMC 10 test while students in 12th grade and under may take the AMC 12; all students may take the A exam and/or the B exam.
On Feb. 2, 2016, Upper School students competed in the AMC 10A and AMC 10B in Hicks Meeting Room. On Feb. 17, 2016, Hockaday Math Club girls competed in the B exams in Chu's room.
Students can qualify for the "next level" – the American Invitational Mathematics Examination (AIME) if they perform especially well in the AMC. Every year, the top 2.5 percent of students in the nation who take the AMC 10 and the top 5 percent who take the AMC 12 can qualify for the AIME. This year, we had nine Hockaday girls qualify for the AIME (See further below for more information).
Feb. 9, 2016: Tests of Engineering Aptitude, Mathematics and Science (TEAMS)
Sixteen Hockaday girls accompanied by Upper School science teacher Leon de Oliveira spent the day at the University of Texas at Dallas to compete in the TEAMS competition. Two Hockaday teams competed in their own respective divisions. The 11/12 team consisting of Elizabeth Guo, Jasmine Jin, Violet Li, Gillian Meyer, Alexandra Randolph, Elizabeth Zhou and Vivian Zhou; and the 9/10 team consisting of Kaleigh Beacham, Christine Ji, Lin Lin Lee, Mira Mehta, Elaine Nyugen, Elise Nyugen, Christina Yang and Sharon Zhang.
The competition first began with an 80 minute multiple choice test in which members of a team worked together. This year's competition theme was "Engineering the Tools of Innovation," so the questions were divided into six topics, some of which included Optical Physics and Colonizing the Red Planet.
Next, the second part of the competition consisted of short essay answer questions and a hands-on design challenge, which was by far my favorite part. For the hands-on design challenge, we were given 20 sheets of paper; we could fold them but not rip or cut them, and our goal was to construct a paper skyscraper in 15 minutes that was as tall and cost-efficient (least amount of paper) as possible. My team built a paper skyscraper (with all of the paper) that was 78.25 inches tall! It was definitely the tallest in the room.
The 9/10 team won 2nd place in regionals (UTD), and they are still waiting to find out what their state-wide standings are.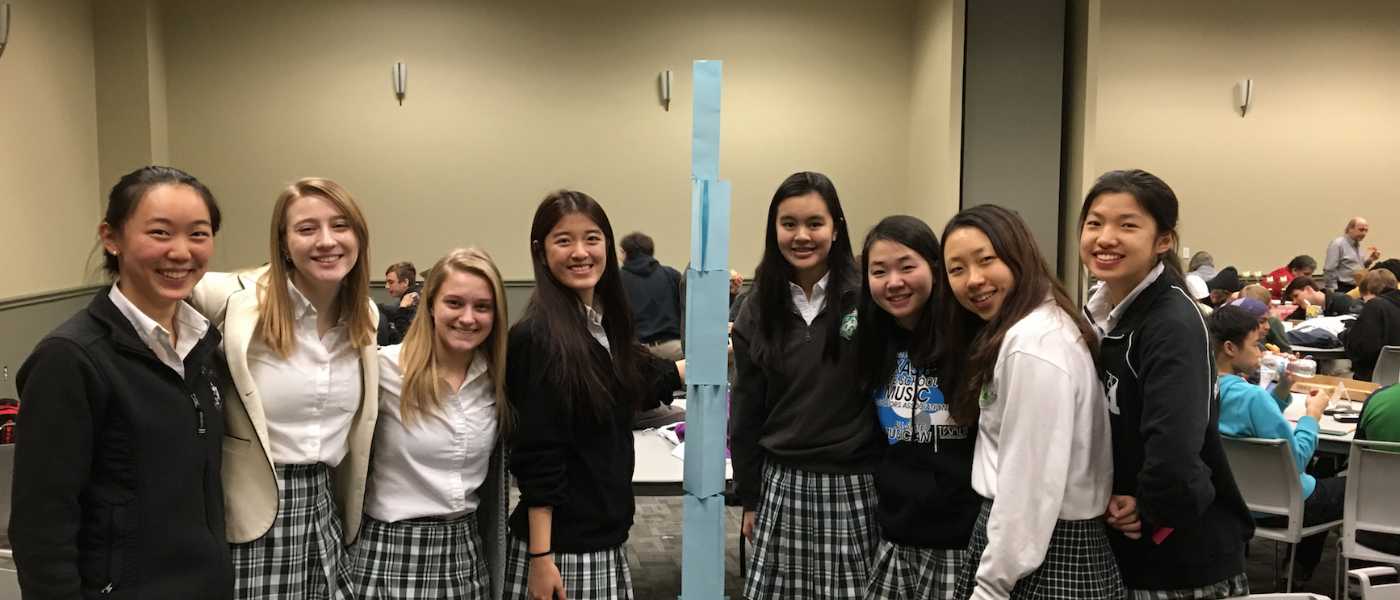 February 20, 2016: Harvard-MIT Math Tournament
See my last blog post! https://hockadayfourcast.org/?p=13320
February 27, 2016: Science Olympiad
A group of 29 Hockadaisies (a team of 15 and a team of 14) accompanied by Leon de Oliveira, Marshall Bartlett and Lisa Dwinal traveled to Tarleton State University in Stephenville, Texas to compete at the Science Olympiad. Students Hallie Gu, Effie Guo, Elizabeth Guo, Wendy Ho, Christine Ji, Amy Jia, Lin Lin Lee, Christine Lee Fatt, Lydia Li, Violet Li, Annie Lin, Lena Peng, Jessica Wang Elizabeth Zhou, Vivian Zhou, Sunita Hu, Tanvi Jakkampudi, Cynthia Ji, Jasmine Jiang, Amanda Jin, Chaucer Langbert, Mira Mehta, Kathy Ni, Angela Shi, Clara Shi, Jennifer Wang, Maggie Ying, Sharon Zhang and Lucy Zhu attented the competition.
Before the competition, the girls prepared for specific tests (such as Disease Detectives and Green Generation) and engineering events (such as Bridge Building and Air Trajectory). Each test/event was completed with a partner. In preparation, Science Olympiad team members spent hours in the JETS lab creating robot arms, wooden bridges and model airplanes as well as researching topics like population growth effects and anatomy.
The team is still waiting to find out the results of the competition.
March 3, 2016: American Invitational Mathematics Examination (AIME)
The following nine Hockaday girls qualified to take the AIME: Hallie Gu, Elizabeth Guo, Jasmine Jin, Lydia Li, Violet Li, Tianqi Liu, Jennifer Wang, Elizabeth Zhou and Vivian Zhou. We took this challenging three-hour, 15-question exam after school (and after eating takeout from Saucy's! Yum).