Exposed: St. Mark's Spring Fling
Editor's Note: Staff member Cheryl Hao appreciates growing efforts to strengthen the great bond between Hockaday and St. Mark's. Hao, in fact, wrote this article to satirize and parody the sentiments that St. Mark's is trying to "sabotage" Hockaday, as she believes that statement is completely and obviously false. Though we recognize the thin line between satire and disrespect, this article was written in genial fun with no negative feelings towards our brother school. Thank you for reading.
---
Staff Writer Cheryl Hao explains her satirical take on St. Mark's Spring Fling on the weekend before exams.
Spring Fling: a fun, spontaneous dance for the boys of the St. Mark's School of Texas. Taking place the weekend before exams, however, this new dance left Hockaday students choosing between 20 percent of their year grade and their social lives.
Though the spring fling was a wonderfully planned and executed dance, this planning left students wondering: why was this weekend chosen, only a couple of weekends after Winter Formal and the weekend before Hockaday final exams, for a spring dance?
I texted a student who attends the school asking for an answer about the planning.
Before anything, I want to lay out my clever, probably true (not) conspiracy theory so we're all on the same page: the St. Mark's Student Council created Spring Fling to sabotage the education of Hockaday students. Perhaps, they wanted to knock Hockaday out of the number two best girls' school in the nation? (Shoutout to Niche).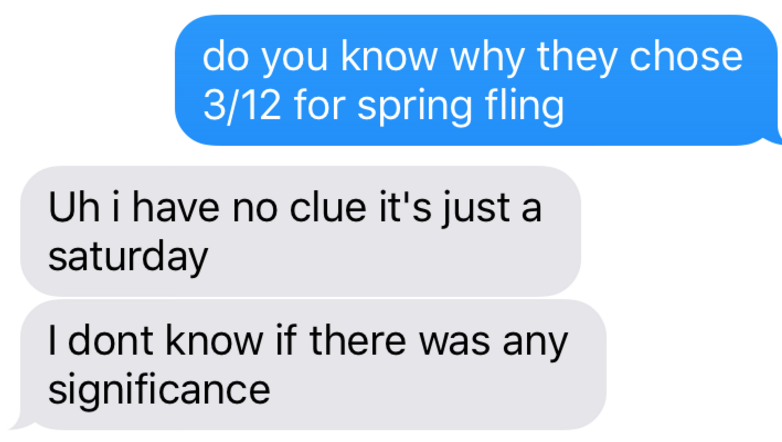 Now, let's analyze these messages.
"Uh" radiates hesitation and also signifies that the student accidentally let me know that he was maneuvering his way out of the real answer and trying to come up with something. The uncapitalized "i" and proper noun "saturday" shows the lack of effort put into the text, sadly connoting that I, as a Hockaday girl, do not deserve his time and energy.
Not only does he not care about our education, but he also don't care about us enough to use proper grammar. Moving on to the next text, the contraction the student creates with "do" and "not," — "dont" in his case, represents another effortless answer and short reply. However, nearing the end of the text, the student becomes aware that I could become suspicious of his short, unmeaningful answers, and does not use a contraction to combine the words "there" and "was," attempting to lengthen the text out and draw my attention away from the insincerity of the reply.
Ending the sentence with no punctuation, replicating the first text, the student then says the phrase that stood out to me the most. He does not know if there is "any significance"? Really? There's always significance. Always.
Lastly, from the St. Mark's' calendar, I found that the week before and after March 12 are free, so they possibly could have scheduled the dance there if they truly cared for Hockaday students.*
*Fact check: On March 5, there was an Upper School play, "Of Mice and Men," that night, the St. Mark's Crew Team was in Austin for a regatta and Varsity Lacrosse had a game against St. John's in Houston.
March 18 is the beginning of St. Mark's' spring break, and there is also a full day track meet planned.
I know, a student from our own brother school trying to sabotage us– it's pretty rough, and I hate to break the news to you all, but this is just a small taste of the real world. This may not settle lightly to some, and some may not even believe me, but here are the facts. Think about it. Sleep on it. Stay woke.
Commentaries are the expressed opinion of the author and do not necessarily reflect that of The Fourcast staff, its adviser or any member of the Hockaday community.
---
Cheryl Hao – Asst. Castoff Editor