Diversity speaker and consultant Rosetta Lee  spoke to the Upper School yesterday about different cultural identities and how we can use our individual identities as a step forward towards inclusion and allyship.
This is the second time Lee has spoken to Hockaday students, the first being on Sept. 30 when she discussed how to engage in courageous conversations with our peers.
Yesterday, Lee began her talk by explaining that everyone has a different identity and experience, which impacts his or her outlook on life.  
"Often times we talk about diversity and cultural influences, but so much of diversity is invisible that we don't realize how much diversity and experience and perspective that we have in the room until we get an opportunity to learn about that," Lee said.
In order for students to visualize the varying diversity identifiers that the Upper School has, Lee led students in an exercise: up-downs. During this exercise, Lee called out specific identifiers within the categories of race, age, religion, sexual orientation, gender, ability, ethnicity and socioeconomic status. Students would stand for as many groups within one category as applied to them, and if they were not standing, they would cheer and applaud the people who were standing.
This activity caused many students to become more aware of the varying diversity within the Hockaday community itself.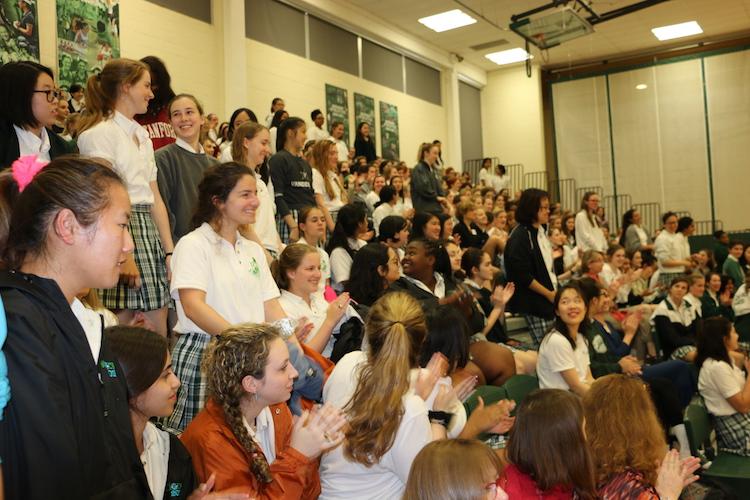 Freshman Trinity Naile thinks this assembly was an effective way to communicate the different identities in the Upper School.
"My favorite part about it was being able to stand up and claim different identities and seeing how many different people identified with so many of the different identities," Naile said.
And junior Audrey Black believes that this activity was especially effective by increasing awareness about the individual experience.
"The opportunity to stand up and represent many different facets of your identity, or to understand why you aren't comfortable representing those facets, is beneficial to the individual growth of the student as well as the students watching," Black said.
Lee continued her discussion by explaining how one's identifiers mold the way one sees the world. Because everyone has a different perspective, she said, one can not get the whole truth just from their viewpoint.
"There is a kernel of truth in everybody's story and we have to be willing to hear each other and our stories," Lee said. "Because I can't see the whole truth just from my lens and you can't see the truth without me."
Lee sees this assembly as a springboard for discussion so that the community begins to have more conversations about identity and, eventually, a closer relationships with one another.
Director of Inclusion Tresa Wilson agrees.
"I think it was a first step," Wilson said. "I don't know if it will change the overall perspective, but the more we have conversations that are meaningful we are down the right path."