Hockaday Says "Thank You" to Kief One Last Time
As of April 15, Security Officer Kifleab "Kief" Tekle will retire the blue security uniform he has worn for the past 30 years while protecting the Hockaday community and brightening everyone's day with his iconic salute and uncanny ability to remember each student's name.
"[Tekle's] the one that says hi," freshman Dominique Buford said. "He always asks me about my day."
On April 3, Abby Hoak-Morton '05 created a GoFundMe page, originally as a retirement gift from the class of 2005 of an initial amount of $2,005. But, then it went viral.
With over 4,300 shares on Facebook and 37,000 people visiting the GoFundMe website, the donations started coming in. First, Hoak-Morton changed the goal to $5,000. Then, $10,000. Finally, she just stopped raising the goal because it was surpassed each time.
"We're really excited that it's gone so far and that so many people feel the same way about Kief," Hoak-Morton said.
In a ceremony on April 11, students, parents, faculty and alumnae from the Hockaday community gathered on Graduation Terrace to share some last remarks about how Tekle impacted their lives and officially present him his retirement gift.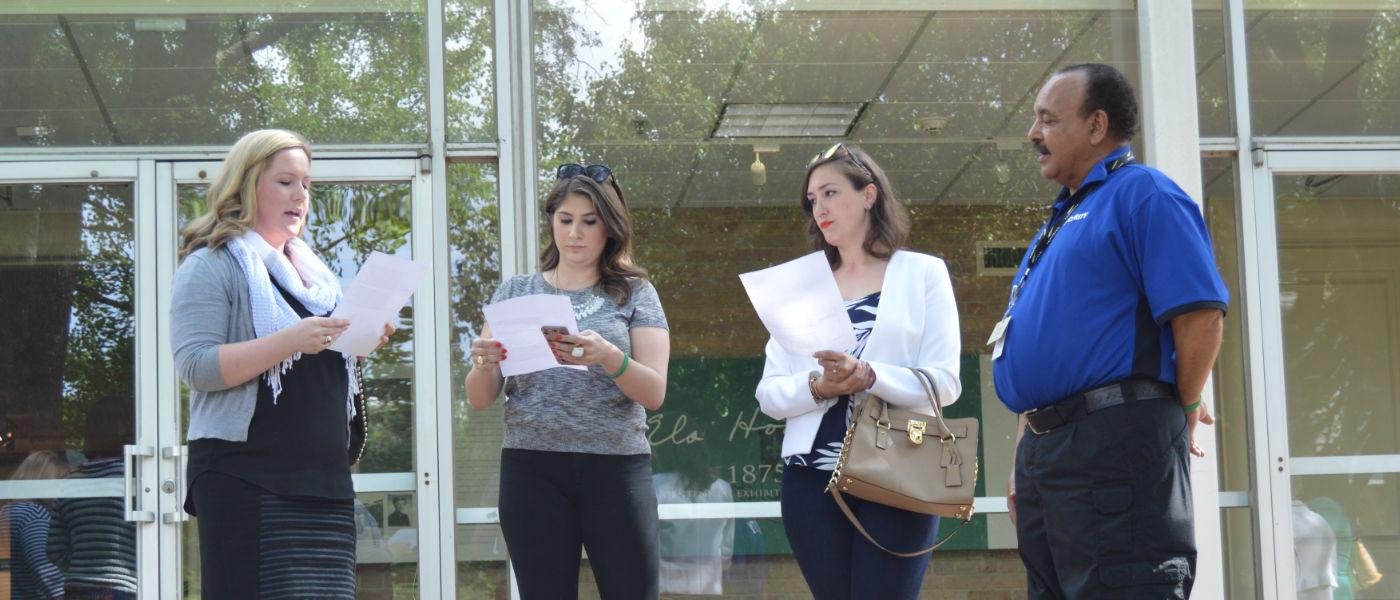 Alumnae read the remarks of several people who left memories on the GoFundMe page to memorialize Kief's 30 years of service. 
After an opening from Eugene McDermott Headmistress Liza Lee and a reading of comments left on the GoFundMe page by five alumnae, Hoak-Morton announced: $179,103.
Enough said, Tekle shed a few tears. Not alone, cheering and applauding, the majority of the crowd's eyes began to water as Tekle touched the lives of most everyone entering the Hockaday community in his 30 years working at the school.
Lizzie Routman '82,  mother of Emily '16 and Regen '12, remembers how Tekle always knew her children's names and never failed to have a smile on his face. Driving down Forest Lane, Routman loved to see Tekle outside his security hut.
"He'd wave and he'd knew who everybody was out on the street. I think he really does represent all the ideals of Hockaday," Routman said. "I'm going to miss him so much."
Once the applause died down and Hoak-Morton handed over a book compiled of all the comments on the GoFundMe page, Tekle shared a few last remarks.
"Hockaday live forever," Tekle said. "I'm retiring, but I'll come back."

---
– Maria Harrison – Asst. Perspectives Editor