Day of Promise Unites Dallas
Individuals from all over North Texas gathered at Village Burger Bar for Hockaday's fifth annual Day of Promise on Monday, April 11.
Originally started by Olivia Karihan '11, who wanted to do something similar to the St. Mark's McDonald's Week, this event continues to not only raise funds for summer programs at Promise House but also raises awareness about the organization and the importance of service.
Promise House, a shelter for homeless and at-risk youth from infancy to age 24, is unique to the Dallas area. The organization provides long-term housing for children and young adults who have left their homes for a variety of reasons, including abuse or neglect from their families. By providing counseling, medical care, pregnant and parenting teen services and scholarships for college, the organization ensures that these teens will become contributing members to society.  
Paloma Belmarze, youth volunteer coordinator at Promise House, was a client at the shelter starting at age 15. After completing high school and obtaining a degree from the University of Texas at Dallas, Belmarze came back to Promise House to support other youth in need.
As a teenager, events such as the Day of Promise provided Belmarze with unforgettable experiences.
"When I was a resident, it really impacted me for the rest of my life because it made me realize that somebody drove all the way from another part of the city, spent four to five hours with me, talked to me in a respectful way and cared about me," she said. "I think that's the most gratifying thing."
Children and young adults from Promise House were also in attendance at Village Burger Bar, which allowed them to engage with the Dallas community and socialize with other people their age.
"It's a chance for them to learn that the community does care. Some of our children have been neglected or abandoned or abused or have run away from less than desirable circumstances, so it's a great event for them," Belmarze said.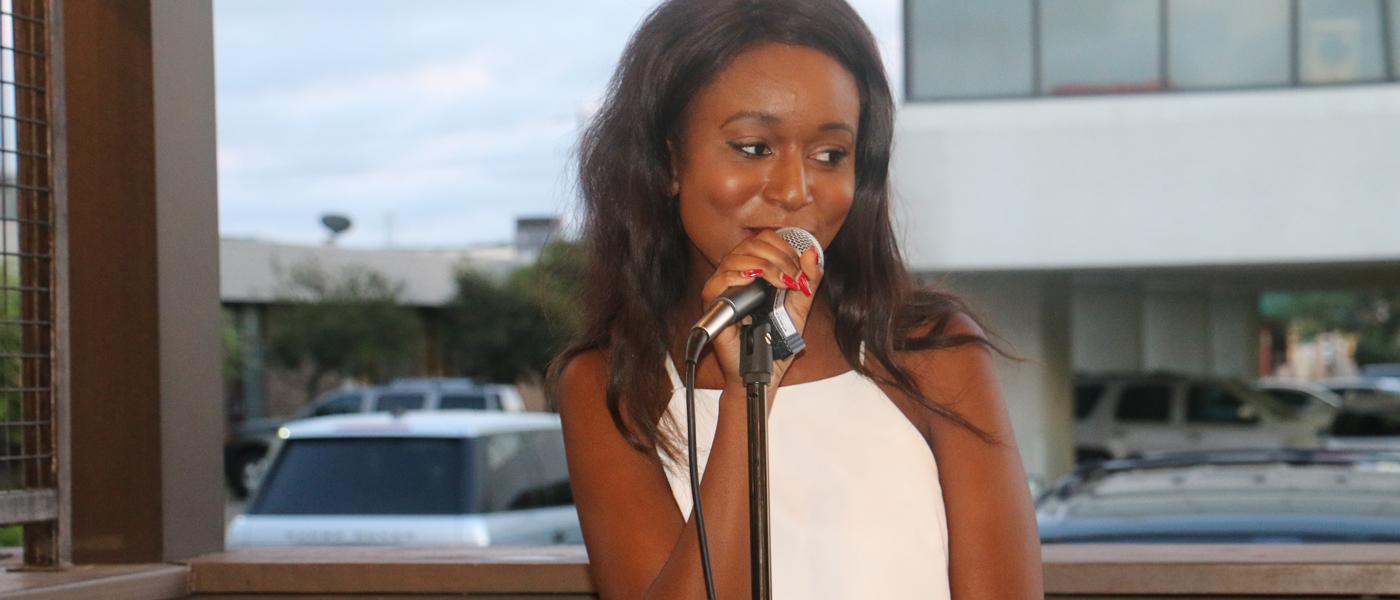 Senior Evan Miller performs for restaurant-goers as part of the day's festivities. 
Aside from the dinner and live performances by senior Evan Miller and St. Mark's senior Will Clark at Village Burger Bar from 6-9 p.m., the Day of Promise consisted of donated breakfast foods–coffee from Starbucks and donuts from Inwood Donuts–available for sale to the Upper School before class. For lunch, students could order a Potbelly meal for $5, and 20 percent of the proceeds made were donated by Potbelly to Promise House. Village Burger Bar donated 25 percent of its sales on Monday evening to the shelter, and also paid for all of the Promise House youth's meals. Two hundred T-shirts were sold to the Upper School, and $6 were made per shirt for donations.
Hockaday's Director of Service Learning Laura Day estimated that approximately $4,000 were made in total, all of which will be donated to Promise House.
"This day can have huge impacts. One, I think we make a lot of money for them, which is nice and then that gives them activities in the summer, but I think the night is the most special time because those kids never leave the shelter," Day said. "They've lived in foster care homes, and this is the first time they've ever eaten out; it's the first time they've ever been around kids their own age who are making them feel good."
However, Day of Promise also positively benefits students from Hockaday.
"It was neat for our kids to learn their stories, which are really hard and crazy," Day said.
Senior Allie Charlton, chair of the Community Service Board for the 2015-2016 school year, hopes that events like the Day of Promise will motivate students to go beyond the 15-hour community service requirement at Hockaday.
"I think it definitely shows that you don't have to give a lot to make an impact," Charlton said. "There's a lot of different kinds of services, and some kinds are just talking to people who have different backgrounds than you and learning from them and sharing your experiences."
Additionally, Belmarze emphasizes that it's "easy for [the youth] to feel cynical that no one cares, but it's good for them to know that somebody is giving up the most valuable resource, which is time, to spend with them," she said.
Although the program has only been around for five years, the Day of Promise has positively impacted the entire Dallas community–something that both Hockaday and Promise House hope will continue.  
"My heart goes out to these kids; they're the ultimate survivors, and they're going to be our future," Belmarze said. "My hope is that they become part of the workforce and not part of a society that is failing because there is a segment of this population that's just not doing well. We're doing our best to uplift them and make this city a great, first-class city."