Miss STEM: Successes in Science
Science Olympiad
From Friday, April 22 to Saturday, April 23, a team of 15 Hockaday students (including myself, Effie Guo, Wendy Ho, Cynthia Ji, Amy Jia, Chaucer Langbert, Lydia Li, Violet Li, Annie Lin, Clara Shi, Maggie Ying, Sharon Zhang, Elizabeth Zhou, Vivian Zhou and Lucy Zhu) accompanied by Upper School science teachers Leon de Oliveira and Dr. Jen Fore competed at the Texas State Science Olympiad competition at Texas A&M University. The team qualified for this state-level competition after performing well at the regional level at Tarleton University.
At the Texas State Science Olympiad, we had two top four finishes in individual categories. Our Disease Detectives competitors, me and Effie Guo, finished in first place and our Chemistry Lab competitors, Lydia Li and Elizabeth Zhou, finished in third place.
Here is a recounting of our experiences at the competition with several "journal entries" along with a few photos:
Friday
4:37 am: Elizabeth Guo
We are at Hockaday right now, about to leave for College Station!
10:46 am: Vivian Zhou
It's Day One of Scioly state, and we're currently watching the Electric Vehicle engineering event. It's almost our team's turn to go, so I'm excited to see how well our car does. Everyone's a bit tired (and also maybe a little delirious) right now because we had to meet at Hockaday at 4:15 am this morning in order to drive over. we have lots of goldfish and cookies, and with Mr. D constantly cracking bad jokes at us, spirits are high.
Update–our team just ran the electric vehicle twice, and it performed really well! Hopefully this bodes well for the rest of the weekend 🙂
11:28 am: Wendy Ho
We just finished competing in Air Trajectory and I'm really proud of how we are doing. It's so cool to come and see not only the engineering events that your team is part of but also see other teams awesome engineering projects. It's embarrassingly nerdy but also so cool! Looking forward to more engineering events and the academic and lab events tomorrow.
2:14 pm: Effie Guo
Yay! We took a short trip to Torchy's Tacos and Raising Cane's to pick up some lunch. 😛 As of right now, I'm lounging on the bed typing away; digesting my 4-finger Raising Cane's combo and listening to some old tunes (jammin' to Hannah Montana). So excited for tomorrow's events ;).
7:54 pm. Elizabeth Guo
We are eating Italian food at the Cenare Restaurant, yum! I had shrimp rustica with spinach, house salad and chocolate cake. Afterwards, we walked back to the hotel in the sunset which sounds cliché, but was really very fun. Looking forward to more competing in more events tomorrow!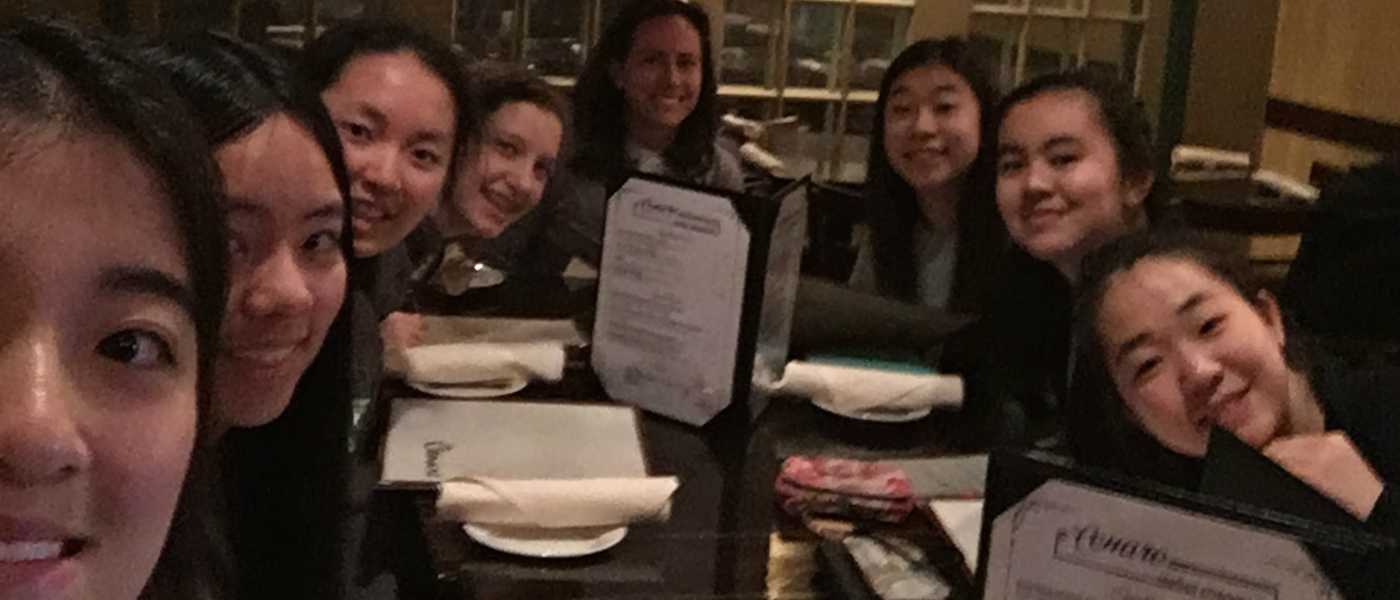 A selfie at dinner. Photo provided by Violet Li.
9:08 pm. Chaucer Langbert
I'm just chilling in the room. Our bathroom is tiny but the shower is good and the shampoo smells nice. I'm reading a book right now even though I probably should be studying for my events but I have less than fifty pages. Hopefully we do well tomorrow 🙂
Saturday
8:03 am. Elizabeth Guo
We are waiting in our home room now for another day of competition! Today we'll be competing in the written test events.
3:20 pm. Elizabeth Guo
After a busy, test-filled day we are on the bus and on the way home! It's been another amazing SciOly experience, and I am already looking forward to next year!
Our team photos — one serious and one silly. Photo provided by Elizabeth Guo.
Tests of Engineering Aptitude, Mathematics and Science (TEAMS)
Both the Hockaday 11/12 team and 9/10 team qualified for the National level for the TEAMS competition! The national competition will be held from June 28 to July 2 at the Gaylord Opryland Resort in Nashville, Tennessee.
We competed in the regional level at University of Texas at Dallas earlier in February. Based on the Part 1 multiple-choice test results from regionals along with the Part 2 essay and hands-on challenge results, the 11/12 team placed 4th in the state in their division and the 9/10 team placed 2nd in the state in their division.
The 11/12 team consists of Elizabeth Guo, Jasmine Jin, Violet Li, Gillian Meyer, Alexandra Randolph, Elizabeth Zhou and Vivian Zhou; and the 9/10 team consists of Kaleigh Beacham, Christine Ji, Lin Lin Lee, Mira Mehta, Elaine Nyugen, Elise Nyugen, Christina Yang and Sharon Zhang.