A Recap of Spirit Week
In honor of Spring SPC, the Upper School Student Council planned a variety of activities to get students pumped for the competition. Here is a recap of the festivities: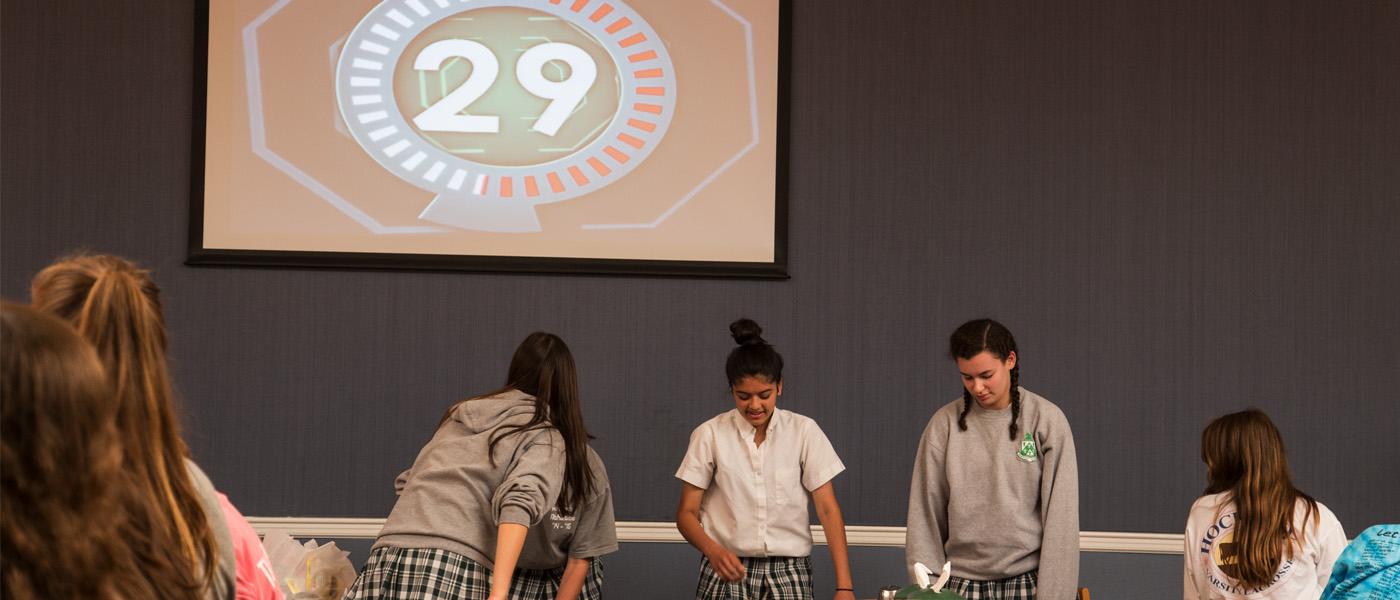 Monday, April 25
Students and faculty alike donned Hockaday athletic shirts and accessories in support of their respective green or white teams. College athletes signed letters of intent in Clements during conference, and then joined Upper School students during lunch for "Minute to Win It" games, including an eventful shoe toss and a prewrap competition.
Tuesday, April 26
Students were called to a surprise (and furtive) assembly during Form meeting. Soon enough, students were surprised by a performance by a Faculty Follies. This year's tradition, which occurs once every four years, included performances by  Fine Arts Head Chair Ed Long, History Department Chair Steve Kramer, English teachers Dr. Claire Cothern and Dr. Sarah Traphagen. In the afternoon, the  school community gathered in Penson Gym to get excited for SPC weekend and to celebrate the season's accomplishments.
Wednesday, April 27
Festivities included dress uniform for the annual spring choir concert during conference, in which choir, madrigals and show choir performed for students, faculty and staff. Lunch became an impromptu "free music Friday"and included some of the student body's favorite tunes.
Thursday, April 28
Thursday felt more like a Hockaday 2030 reunion, as students came to school outfitted in their parents clothes. Capri pants, baby bjorns and tennis outfits became a common sight throughout the Upper School halls. During lunch, students partnered up and battled it for a form point over Wii Tennis. If those swings look anything like that of the Hockaday Tennis team, we could be looking at an SPC championship this weekend.
Friday, April 29
Friday hallways became reminiscent of some of our best Middle School days, with the theme being "Fandom Day." Shouts of victory were heard from the cafeteria during lunch, where Upper School students battled it out over a game of fandom kahoot.
---
Mary Claire Wilson- Sports and Health Editor