Dressed for Less: 2 Outfits Under $40
With a minimal high school budget, finding affordable yet stylish clothes can be a challenge. Outfits can rack up to easily over $100 when you shop at popular stores like Urban Outfitters or Free People. That's why Buffalo Exchange, a vintage clothing thrift store on Lower Greenville Avenue, is your dream come true with their wide range of used but great condition clothes, shoes and accessories. When I made a visit to see what the store had to offer, I was able to put together two outfits under $40. Buffalo Exchange doesn't disappoint on how you can dress to impress but for less.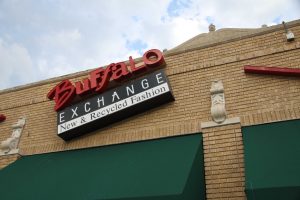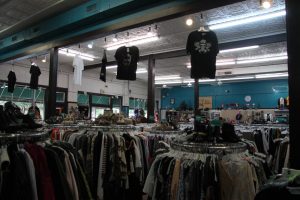 Outfit #1
Top: $9, Jeans: $20, Shoes: $10
This outfit is perfect for a night out on the town for dinner with friends or family, but it's also a great transition piece from summer into fall. While the price tag is surprisingly low for all three items, the white blouse is actually from Madewell, and the jeans are Burberry. I don't know about you, but I'll take designer jeans for $20 any day.
Outfit #2
Dress: $20, Shoes: $10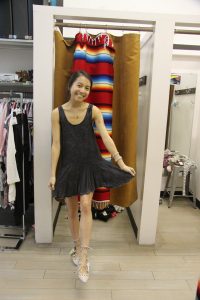 I borrowed the shoes from the last outfit to pair with this cute, grey distressed dress to make a perfect combo for both casual and more dressy occasions. The dress is great on its own or layered under a light sweater when the temperature gets cooler.
Without breaking the bank, Buffalo Exchange proves to be an ideal fashion destination for cute and affordable clothing. Go put in on your Dallas bucket list, your wardrobe and bank account will be thanking you!  
3424 Greenville Ave, Dallas, TX 75206