Hockaday Announces New Head
She has crossed the equator by land, air and sea. She has run three marathons and climbed Half Dome in Yosemite National Park and she will be the graduation speaker at The Hockaday School's 103rd Commencement.
Meet Dr. Karen Warren Coleman, Hockaday's 13th Eugene McDermott Head of School effective June 1, 2017.
The Search Commences
At the close of the 2014-2015 school year, after the resignation of former Eugene McDermott Head of School Kim Wargo, the Hockaday Board of Trustees embarked on a mission that would continue until November of 2016: to search for the next Head of School. In July 2015, Michelle Neuhoff Thomas '83 was named the Chair of the Head of School Search Committee. Her job, then, was to form a committee that would spearhead the search efforts.
"One of the things I felt was important was to ask the Board [of Trustees] members who they thought were good potential search committee members," Thomas said. "It was important to have Board representation on our committee, but I also wanted to make sure I had a variety of constituents."
Accordingly, in order to ensure a solid representation of Hockaday constituents that had a broad grip on the school, Thomas scouted out parents from every division, alumnae from various decades, faculty members and trustees to form the Head of School Search Committee. The Committee was finalized in September 2015, when the members met for the first time to start the search process.
And so, every two to three weeks, the Committee convened in the Board of Trustee conference room on the Hockaday campus to discuss and interview candidates. As the process continued, the Committee met more and more frequently so that when fall 2016 arrived, they would often meet multiple times a week.
Over the year, the Committee worked closely with consultant firm Carney Sandoe & Associates, which conducts head of school searches as well as searches for other administrative positions for independent educational institutions. This was the first time Hockaday worked with Carney Sandoe.
"We had two very strong consultants," Thomas said. "One was Rayna Loeb, a former Hockaday parent. Aggie Underwood was the other consultant; she was the head of two girls' schools, Garrison Forest and then National Cathedral. She retired from being a school head and went into the consulting business."
To begin, the two consultants published Hockaday's Head of School position statement on the Carney Sandoe website and sent it individually to potential contenders in independent schools and higher education. The position statement was a document describing Hockaday and the speci cs of the job.
"When a candidate would receive the position statement, their first step in the process was to contact our search consultants," Thomas said. "There would be an interview on the phone and in person with a search consultant. If the consultant thought the person was a good fit, the applicant would set up a phone call with me."
Thomas then spoke with potential candidates over the phone about Hockaday, also asking why they thought they were good fits for the school. If Thomas thought the candidate was worthy to come before the full committee, the Search Committee would invite the candidate to come to Hockaday for a day to day-and-a-half interview on campus.
The Committee began meeting these candidates in February 2016. From an overall pool of about 150 candidates, the committee met with about 25.
"We had very good diversity in our pool in a lot of different ways," Thomas said. "We had both men and women. We had candidates who were what we called rising stars, so people who had not been heads of school before but were aspiring to. We had candidates who were sitting heads of school. We had a wide variety of representation in terms of different types of school, from all-girls' schools to co-ed schools."
Eventually, the Committee narrowed it down to six finalists.
"We were looking for somebody who was passionate about education and particularly girls' education," Thomas said. "We were looking for a strong leader who was both collaborative and liked working with colleagues, as well as someone who was a good decision maker."
During the 2015-2016 school year, the Committee had decided to extend Interim Eugene McDermott Head of School Liza Lee's term for the 2016-2017 school year to ensure the quality of the search process.
"We knew that it would be very ambitious to try to identify a Head of School just in a one-year time frame," Thomas said. "[Lee] was very generous when we asked her if she would consider two years to give us more time to find the best candidate."
The entire process from start to finish took 18 months. By September 2016, the Committee had found the right candidate.
Finding the One
In the late summer of the 2016-2017 school year, search consultants Loeb and Underwood spotted Dr. Karen Warren Coleman, who had worked during the previous school year as the Vice President for Campus and Student Life at the University of Chicago.
"We often identify strong candidates through our firm's extensive network," Loeb said. "A recent Carney Sandoe appointment, head of [Harpeth Hall School], had worked with Dr. Coleman, and enthusiastically suggested we call her for Hockaday. This woman also came from higher education, and had met her through their doctorate program together at the University of Pennsylvania."
After their first conversation, Loeb was immediately struck by Coleman's authenticity and transparency.
"My first impressions of Dr. Coleman are affirmed each time I speak with her, or share time with her," Loeb said. "She is incredibly astute and impassioned about the education of girls."
In September, Coleman came before the Search Committee members, who were similarly impressed by Coleman's vast experience in education as well as engaging personality.
"There are so many things that we felt like Coleman had to offer to Hockaday," Thomas said. "She has all the personal characteristics that we felt were important. She really is a connector with people, and she has a real enthusiasm for education. I think she will be able to move Hockaday from a great school to an incredibly great school."
After Coleman's first meeting with the Search Committee in early September, the Committee continued to meet with her as well as check her references. For Thomas, it was important to solidify her initial impressions of Coleman.
Although Lee did not have a formal role in the search process, as the Interim Head of School she met with the six finalists—including Coleman—to answer any questions they had about Hockaday. These interviews took place throughout the summer and into the fall, and Lee's final interview in late October was with Coleman.
"I instantly liked her. I can't explain it," Lee said. "She asked wonderful questions about the job. She asked questions that nobody else had asked, so I loved that about her."
Lee recalled that Coleman asked about the great strengths of the school and ways to get involved in the greater Dallas community. The two also discussed subscribing to the Dallas Morning News in order to familiarize Coleman with the city. However, there is one memory of Coleman that distinguishes itself in Lee's mind.
"It just so happened, the day that I was interviewing her was a OneHockaday day, and she asked me if we could go visit one of the groups that was meeting in a classroom," Lee said. "In one classroom, there was a little girl in tears. Dr. Coleman knelt down on the floor and asked her, 'What can I do that would make you happy?' And the little girl said, 'I want to go outside.' And so, Dr. Coleman just took her hand and took her outside, and they did a little walk and then she calmed down."
After each candidate interviewed with Lee, Thomas called Lee to discuss the candidate. After Coleman's interview, Lee only had positive things to say.
"I felt she was the strongest candidate for Hockaday specifically. For this particular school, she was just ideal," Lee said.
The final decision to hire Coleman was made at the end of October, two months after meeting Coleman for the first time. The decision was first voted on by the Search Committee; then the Executive Committee, a subcommittee of the Board of Trustees; and lastly, the full Board.
"We looked around the room and knew she was the one," Thomas said. "The [Search Committee] vote was unanimous."
On Thursday, Nov. 10, 2016, Hockaday officially announced Dr. Karen Warren Coleman, as the 13th Eugene McDermott Head of School.
A Life of Education
Throughout her life, Coleman feels that her calling has always been in education.
Coleman grew up in New York City where she attended Stuyvesant High School, a specialized college-preparatory science, technology, engineering and mathematics-focused liberal arts school. In elementary school and junior high, Coleman played the clarinet and played soccer, and in high school, she was very involved in the theater department.
After her graduation, Coleman earned a bachelor of arts in psychology from the University of Massachusetts, Amherst, graduating cum laude; a master's in education from the University of Vermont; and has now completed her doctorate in education from the University of Pennsylvania.
"It has been especially satisfying for me to apply and adapt my classroom learning to my career as an educator and an administrator," Coleman said. "Every day, it is a privilege for me to work with young people and understand their perspectives about our world and help them become their best selves."
Indeed, Coleman has worked in numerous positions of leadership at higher education institutions. Early on in her career, she held student affairs positions at the George Washington University, the University of Vermont and Hobart and William Smith Colleges. Afterward, she served as Associate Dean of Students at the University of California, Berkeley.
"In this role, I focused on helping students navigate the campus and connecting them to educational and leadership opportunities to enrich their personal and intellectual growth," Coleman said.
Most recently, Coleman served as the Vice President for Campus and Student Life at the University of Chicago. As an officer of the University, Coleman was responsible for several campus departments, which included 350 staff members and an $80 million budget.
"[This meant] that I led the strategic direction for the division responsible for carrying the core mission of the university—changing the world through the power of ideas—to all aspects of life outside the classroom," Coleman said. "At UChicago, I wore many hats."
Coleman has much to be proud of regarding her work at UChicago, which now leads the nation in first-year student retention. Coleman transformed the approach to diversity and inclusion efforts for students and was appointed a member of the President's Diversity Leadership Council. She served as the lead steward of a brand-new $180 million, 800-bed residence hall and dining commons. She also secured university approval and led an $18 million academic information system replacement and implementation. Lastly, she helped revise the student disciplinary processes for sexual misconduct and unlawful harassment.
Coleman stepped down from her position at UChicago at the end of June 2016 after seven years, though she remembers her experience as one of the most rewarding opportunities of her career.
"When I stepped down from UChicago, I had recently completed my doctorate and wanted to merge my professional experiences with what I had discovered through writing my dissertation," Coleman said.
She subsequently joined the faculty at Loyola University Chicago, where she designed a course called Leadership in Higher Education for graduate students.
"Each class was an opportunity for discovery as we examined together the course content using a critical lens," Coleman said.
Then, during the summer of 2016, Coleman first heard about the Head of School job opening at The Hockaday School through the Carney & Sandoe search consultants. She was immediately attracted to all aspects of the school.
"First and foremost, the mission of the School rings true with my own philosophy about education," Coleman said. "From the creation of the School to the traditions, to the people, to the curriculum — the limitless opportunities for learning that have been offered for more than 100 years make Hockaday an awe-inspiring institutio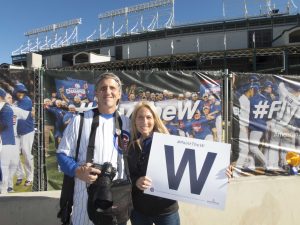 n."
After her first meeting with the Search Committee and visit
at Hockaday, Coleman and her husband Andy came to Dallas to meet more trustees, and Coleman was able to spend more quality time with individuals in the Hockaday community. Her last visit took place the week before her official Head of School announcement.
"Working with the Head of School Search Committee was a very open, warm and communicative process," Coleman said. "There are many dedicated individuals who volunteered countless hours to reviewing the candidates, and they deserve a great deal of recognition and appreciation for their commitment to this thoughtful process."
Now, Coleman is looking forward making several transitions, one of which entails moving from higher education to working in a private school.
"I wanted to work with younger children during an earlier stage in their developmental journey," Coleman said. "The learning experiences that girls have at Hockaday will shape their trajectory long after they graduate."
For Coleman, the transition from higher education also presents many similarities, some of which include cultivating diversity and inclusion, being a team builder and navigating the tension between innovation and tradition.
Coleman is also looking forward to another great transition: moving from coeducation to an all-girls' school.
"The education girls receive at Hockaday prepares them to lead extraordinary lives. This is amazing work—important work, and for me, it's a calling," Coleman said. "To do this within an environment so deeply committed to girls' education—this is what drew me in. At Hockaday, we believe there are no limits to what our girls can become."
Welcome to Hockaday
As Coleman prepares the transition into her new role, she plans to visit campus periodically during the spring and early summer of 2017 to work with Lee, the administration and the faculty. Lee hopes to aid Coleman during this process by simply sharing the job with her.
"I hope we'll just spend time in this office together and do the job together," Lee said. "It would be really fun for me to discuss things with somebody else, it would be great for her to see what day-to-day life at Hockaday is like. For example, I eat lunch with the senior class, and I want her to be at all my lunches the weeks that she is here."
In addition, Coleman will be Hockaday's graduation speaker at the 103rd Commencement in May.
"That way, the whole school can get to know her," Lee said. "It's the chance for the whole community to see her in her first ceremonial role."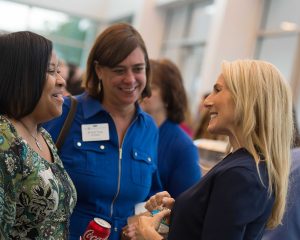 For Coleman, she plans to spend the next months getting to know the faculty, staff and students as she comes to understand the culture, curriculum and operations of the school.
"My focus will be spending time with many members of the community so I am well-prepared to carry the School's legacy forward," Coleman said.
And Coleman has already enjoyed the time she has spent at Hockaday. She will always remember her first impressions of the school, which were very positive and affirming.
"I have already been so moved by your warm and gracious welcome and for the many gifts you have already given me—from the smiling and curious faces of the youngest girls to the more in-depth conversations with the Upper School students during the Daisies and Donuts receptions," Coleman said.
Lee's advice to Coleman is simple: be yourself.
"The best way to muddle through those early months is just to be yourself, and be honest, and enjoy the job," Lee said. "And to the Hockaday community, I'd say take every chance you have to get to know her because she is an absolutely fascinating, creative, delightful, funny person."
In the short term, Coleman hopes to help students navigate an increasingly complex and uncertain world and nurture their sense of self.
"We must be astutely aware of the enormous pressure students are under and make sure students have time to develop the necessary tools to become resilient, self-assured, healthy and happy young adults," Coleman said. "As a leader and an educator, I believe that success is measured over the course of a lifetime, and not at the end of the term or academic year."
In the long term, Coleman aims to build up a strong, trusting team of educators at Hockaday.
"A leader must value, trust and engage transparently with faculty and staff," Coleman said. "By supporting talented faculty and staff, we will be positioned to deliver on the promise of our mission and demonstrate that we genuinely care about our students, in ways large and small, for generations to come."
As a lasting thought, Coleman is wholeheartedly committed to supporting an inclusive culture where each member of the community is embraced for her unique contributions.
"It is essential that we think about how we live and learn together as a community," Coleman said. "I'm eager to join the Hockaday and Dallas communities and look forward to working collaboratively with all constituents to continue to move Hockaday forward. Likewise, Andy and I are excited to explore and get to know our new city!"
---
– Elizabeth Guo – Copy Editor –