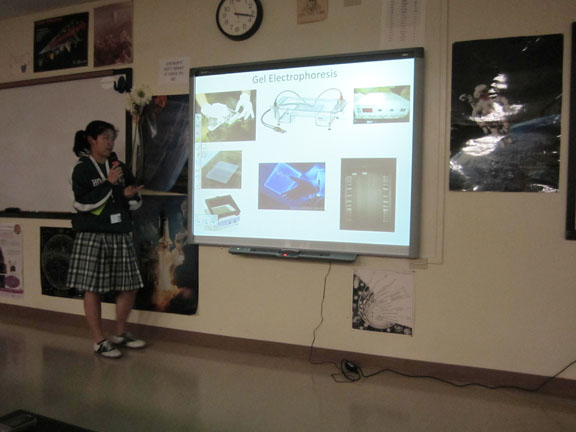 WARNING: This presentation contains superb intellect, interesting research and intense chemistry.
Twelve Hockaday Upper School students explored scientific research opportunities this past summer. On the afternoon of Sept. 12, each of the girls gave a presentation on their experiences. In attendance were the majority of the science department, Upper School Head John Ashton, Eugene McDermott Headmistress Kim Wargo and many Upper School girls interested in the science research opportunities.
In many ways, there was great diversity among the girls' summer programs. Ranging from local college labs to residency university programs to the Johnson Space Center, the programs had the potential to inspire Hockaday students with a variety of interests. The size of the programs also varied. Some girls worked with groups of high school students and others worked alone, often only with a professor and a graduate student for help.
The majority of projects involved a professor who ran a lab, along with graduate students and sometimes even undergraduate students from the university. The high school girls, though at the bottom of this chain of command, still gained experienced both the good and bad of working in a science lab.
Sophomore Catherine attended the presentations. She said she admired all the people who had done research over the summer. "I could tell that they did a lot of hard work, some of them even with intense application processes, and they all had to dedicate a large part of summer to their scientific research. They weren't even the ones who got to develop the projects, so I just admire that they did it."
Many programs also included educational portions, some before the program started or on certain days each week during the program. For example, two seniors, Hannah and Mary Francis, participated in programs through NASA, which required assignments during the spring semester of the school year that qualified them for the summer program. Others, such as Kay's project at SMU, featured longer summer programs with weekly or biweekly meetings alongside articles as homework.
In the end, senior Jennifer said, "I realized that I could imagine myself doing this in my life. Knowing that what you can do is making some impact on science is really great."
– Emily