Christmas is only a couple of days away. You don't have your gifts yet, and you can't order the things you hearted on Amazon because it's too late. But, it's ok. Don't panic. We came prepared with a last minute gift guide stock full of items that won't break the bank and can be found at stores around Dallas.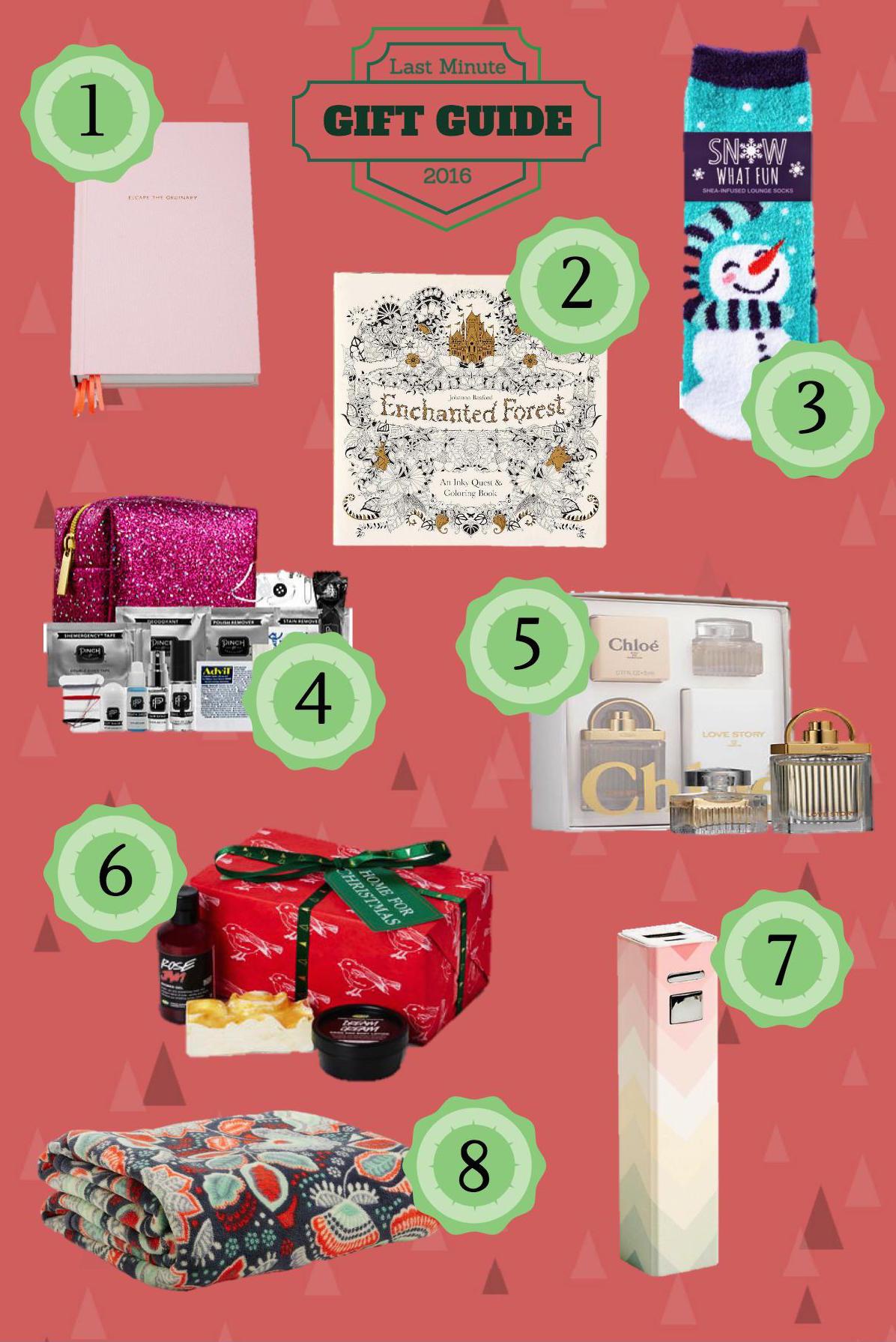 1. Notebook: A pretty journal or planner is perfect for any friend or family member that loves to doodle, write, or is just super forgetful. You can buy a nice notebook at your local Target or Office Depot, but I recommend checking out Lilly Pulitzer, Kate Spade or Paper Source at North Park for a nicer quality if you have a higher budget. Price range: $5-20
2. Coloring Book: Pair an adult coloring book with some colored pencils for a great artsy gift. You can find this coloring book and many other variations at Barnes & Nobles and Paper Source. Price range: $15-20
3. Fuzzy Socks: Socks, pajama pants and other cozy clothing is a great unisex gift and can be personalized for every recipient. For a large variety of patterns from Christmas to Winnie the Pooh and a low price, go to Walmart. Price range: $10-20
4. Pinch Emergency Kit: This little pouch comes with every girl's essentials: from Advil to hairties to breath spray. You can find this and tons of other quirky gifts at Francesca's and Paper Source. Price range: $15-30
5. Chloé Perfume Set: This mini set is a great steal for your fashonista friend or mom. To get this and other beauty sets, go to Sephora or Ulta. Price range: $20-50
6. Lush Gift Set: Lush has some really great packages of bath bombs, creams, fizzers and face masks galore. The best part is that the gift sets range in size/price, so you can find the perfect match for your budget. This can be a unisex gift for anybody that could use some relaxation. Price range: $15-65
7. Portable Charger: Perfect for anyone with a phone or portable device, this charger is such a necessity when you are on the go. Find this at Target, Walmart and Urban Outfitters. Price range: $15-20
8. Blanket: A good fuzzy blanket with a cute pattern is a really nice gift that can be given to anybody. Find a variety of designs at Walmart and Target for a low price, and check out Vera Bradley and Anthropologie for a higher quality feel. Price range: $10-40
If none of these work or you just can't bear the long lines at the mall, you always have the trusty old gift card to get you through the holiday season. Happy shopping!