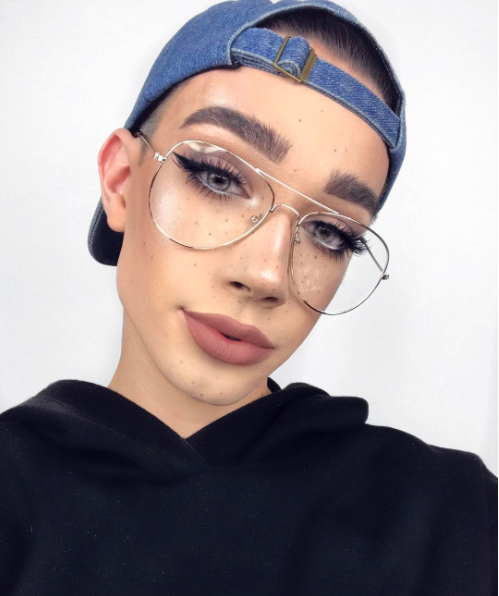 Recently, men makeup bloggers have started to become prominent in the makeup industry. In October 2016, James Charles, a 17-year-old self-appointed makeup artist from New York, was announced to be CoverGirl's first male spokesperson. Since then, Manny Gutierrez, also known as Manny MUA on YouTube, was chosen to be a brand ambassador for Maybelline along with fellow YouTuber Shayla Mitchell.
James Charles, a senior in high school, made history by being named as the first-ever male ambassador for CoverGirl. He hails from Bethlehem, New York and only began applying makeup one year ago. He first made his first big debut on social media by donning a full face of makeup in his senior photos. He has already shot a commercial with celebrity Katy Perry and is now helping represent CoverGirl's new "So Lashy" mascara.
MY EVERYDAY EASY GLAM tutorial on this look is now LIVE on my YouTube channel! ? I've been traveling so much lately as you guys know so I've only had time to do some easy glam! this has been my go to look lately so if you wanna know how I created it, check it out! ____ #laurasboutique clear aviators & denim hat (use code JAMES for 10% off) #benefitcosmetics precisely my brow pencil #morphebrushes bronze mocha palette (code JAMES for 10% off) #houseoflashes iconic lashes #occcosmetics white pencil #ofracosmetics blissful highlighter (code JAMES for 30% off) #katvondbeauty bow n arrow liquid lip #desioeyes creamy beige contacts
In an interview with ABC News on Nov. 1, 2016, James talked about how the makeup industry is gradually become more androgynous, starting with CoverGirl.
"CoverGirl has always embraced diversity and pushed the boundaries," James said during the interview. "I think having a male ambassador really takes it one step further and just expresses inclusivity for all. Makeup is kind of becoming a more genderless concept, which is so cool and something that I'm all for."
Twenty-five-year-old Youtuber Manny Gutierrez has amassed over 2 million subscribers, and uploads videos under the screen name Manny MUA. He dropped out of medical school to pursue a career in beauty, and his follower count started drastically rising once meeting and befriending fellow YouTuber Patrick Simondac, also known as Patrick Starrr.
In June 20, 2016, Manny was interviewed by Teen Vogue about his past and why he chose to pursue the career of a makeup artist, spurred by his two decade long obsession with makeup.
"I have always been fascinated with it," Manny said. "As a child, I would watch my mom get ready for work and just sit there for hours watching her transform. However, it wasn't until much later on that I really started to dabble in makeup myself."
?Serving Eggplant Farmer REALNESS? Eyes – #morphebrushes 35P palette (use code MANNYMUA to save money on Morphe!) Brows – #anastasiabeverlyhills dark brown brow definer and chocolate brow gel Lips – #maccosmetics kinda sexy lipstick with myth lipstick on top Face – #hourglass vanish stick foundation with #marcbeauty tantric bronzer and #tarte #tartecosmetics stunner highlighter Brushes used – all #morphe as always 🙂
The last few years I have watched the slow rise of "boy beauty bloggers," and with Charles and Gutierrez being named the new boy ambassadors for two big makeup companies within months of each other, we could be seeing more diversity in makeup companies.
Some may say this is too drastic a change— after all, most makeup companies don't even carry enough variety of foundation shades. But Charles and Gutierrez's new jobs as brand promoters could be perceived as more than just an opportunity to make money— it could be the start of acceptance and even promotion of men wearing makeup.
– Ponette Kim – Staff Writer -