Toasted Coffee + Kitchen
5420 Ross Ave. Suite 180
Dallas, TX 75206
Mon. – Fri. 7 a.m. – 9 p.m.
Sat. – Sun. 8 a.m. – 9 p.m.
It's amazing how a slice of bread topped with various spreads, shmears and spices stole the hearts of foodies in 2016. Toast was one of the most Instagrammable food trends that made popular appearances on breakfast and brunch menus across the nation, including those of various Dallas restaurants like Ascension Coffee and Local Press + Brew. However, Toasted Coffee + Kitchen on Lower Greenville, as suggested by its name, offers the most extensive and creative toast options. Alongside a full coffee bar and other specialty soups, salads and sandwiches, Toasted's toast combines simple ingredients to create hearty pieces of gourmet bread.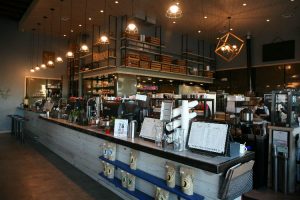 Adorned in a industrial minimalistic style, the restaurant itself is spacious with a sufficient amount of seating for the weekend morning brunch bustle. High ceilings, wire and wooden light fixtures and a giant toast mural made of puzzle pieces on the far wall creates a relaxed ambience. With plugs scattered throughout the shop, Toasted, especially with their intimate upstairs hang-out, is an ideal study space for students to procrastinate while procaffeinating.
They have a team of patient and helpful staff members who don't judge if you're the kind of person who stands on the seat to get the full table overhead shot (as pictured above). On a lightly crowded Sunday morning, my coffee arrived within five minutes and my toasts within 10 minutes.
To start of my Sunday morning breakfast, I got my daily caffeine fix with their French Toast latte whose flavor surprisingly resembled that of actual french toast. While this may be the ideal sugary drink for those who prefer their coffee extra sweet, the latte was a little too overpowering for nine in the morning.
In terms of their toast, priced from $6 to $7 a piece, the overall menu has a little something for the sweet and savory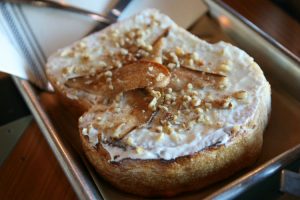 lovers. To try a sweet toast, I went went their best-seller the Toast Ma Goats, a house bread topped with sweet goat cheese, thinly sliced pears, honey and chopped pecans. The crunch of the perfectly toasted bread and pecans with the creaminess of the goat cheese created an impeccable combination that made me take bite after bite until it was gone. With the additional sweetness from the pears and honey as well as the nuttiness from the pecans, the Toast Ma Goats's flavor perfectly satisfied the morning sweet tooth.
Although their sweet toast thoroughly impressed me with the creative combinations and execution, my savory toast pick fell short. Ordering an avocado toast seemed like a given even before I walked into the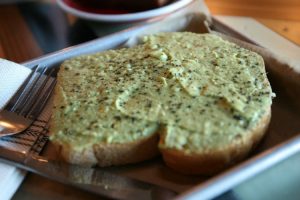 restaurant since it is one of the most popular toppings for toast, as suggested by the 50,000 followers of @avocadotoast on Instagram. Toasted offers two different variations of avocado toast: the Avo-Ca-Damn, which includes avocado slices and sriracha, and the Don't Be Salty, which pairs avocado spread with coarse sea salt and black pepper. Not a big fan of sriracha, I decided on the Don't Be salty; indeed, it was tasty, but with its basic ingredients and no unique addition, there was no wow factor.
Besides toast, they also switch out different pastries on their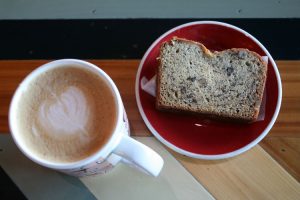 front counter, and I was lucky enough to grab a slice of banana bread. As a baked bread enthusiast, this banana bread with walnuts and plenty of spiced seasonings had to be one of the best I have ever had.
The overall ambience, setting, employees and food lived up to the hype of an all toast kitchen, but some aspects unfortunately did disappoint. However, if you are in the Greenville area looking for a quick breakfast or midday pick me up, Toasted Coffee + Kitchen should be your next stop. Skip the avocado toast and go for one of their more unique options. Next on my try list is the Cocoa Nanner that tops country bread with bananas, chocolate and sunflower sauce.
---
– Aurelia Han – A&E Editor –