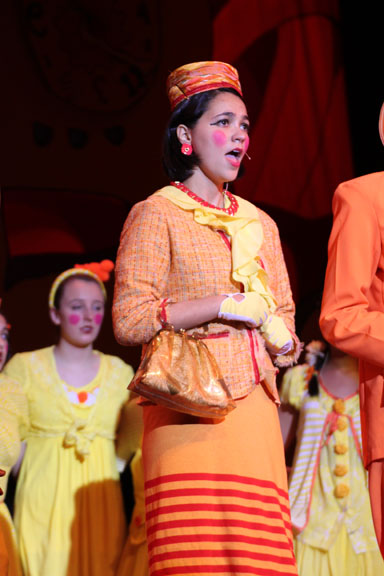 With the fall play roles cast for Pride & Prejudice and after school practices already begun, naturally, the Fine Arts Department is preparing for the Upper School winter musical, Fiddler on the Roof.
Musical veterans, seniors Regen and Kate say these tips have aided them in their past musical auditions.
Be open and willing to do whatever is asked of you.
Don't be afraid to really go for it. No one is judging you.
Be confident and don't let nerves get to you.
Always come back and try again.
Smile! Because at the end of the day, the audition is fun, regardless of how you did.
Unlike the fall play auditions, the musical requires girls to show their skills in three categories, instead of solely in acting.
"It's best to be good at all three areas, but obviously, that's very rare," says Kate. "It's not as intimating as it sounds. They're just looking for people with natural energy. Anyone can learn the notes and dance moves, but you need stage presence."
Students are asked to either audition on Monday, Sept. 19 at St. Marks or on Tuesday, Sept. 20 at Hockaday. After an information session and background on the musical, the students are then split up into various groups and will move through the three sections.
In dance, Performing Arts Chair Beth Wortley teaches choreography that will eventually be included in the show. Usually for auditions, she chooses a large group number.
For singing, students will receive a packet of music and the entire group will sing in a chorus after being taught the song. Often, students may be asked to sing by themselves.
"Underclassmen still should go ahead and sing for a character if you're confident in that area, but do not expect a huge role.  There is a seniority system for the musical, just like any varsity sport," said Regen.
For acting, students will read from a section of script given by drama teacher Rod Blaydes and can request to read for a character.
Regen says, "If you're not the strongest dancer, etc., but you're strong in other areas, try your best regardless and the teachers will see that."
– Katie