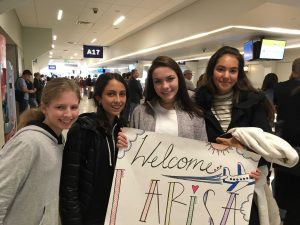 Meeting new people. Learning a new language. Experiencing a different culture. These are things that most people only dream about. However, Larisa Preibisch and Clara Vazquez from Buenos Aires, Argentina, made this their reality.
The pair are exchange students at Hockaday from Colegio San Esteban in Bariloche, Argentina. Preibisch stayed with sophomore Sara Grace Aldis and Vazquez stayed with sophomore Parker Hawk from Jan. 17 through Feb. 10.
Hawk found this experience particularly rewarding.
"I've hosted exchange students before but never anyone who was the same age as me," Hawk said, "We've done a lot of things which I wouldn't usually do, like going to the rodeo."
International Program Coordinator Gary Stollar is the liaison between Hockaday and international schools and programs. He helped facilitate the exchange between Hockaday and Colegio San Esteban and handles the logistics of exchange students' stay.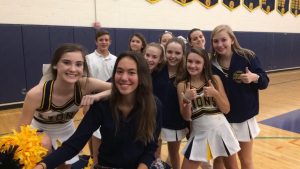 Both Vazquez and Preibisch have found their time at Hockaday to be one filled with new experiences and they said there are some differences between Hockaday and their school in Argentina.
"The schedules are really different. We have seven subjects in one day and we don't have Y period or conference time. We usually stay in the same room all day," Preibisch said, "The grades and the school is a lot smaller. It's also co-ed."
Although the girls are excited to go home, they're going to miss several things about Hockaday.
"I think we're really going to miss having classes like Studio Art and Ceramics that we don't have at our school," Preibisch said.
While Preibisch will miss the academics offered at Hockaday, Vazquez will miss something a little more appetizing.
"I will miss lunch," she said, "We have to take our own lunch to school and I'll miss the food here."
The girls not only enjoyed their time in the classroom, but also had a good time exploring Dallas. Vazquez credits the exchange program with allowing her the opportunity to visit the city.
"I never would have come here if it wasn't for the exchange program because it's not really a touristy place," she said, "It's been really cool to get to know the city."
While both Preibisch and Vazquez leave on Friday, it won't be long before their hosts visit them in Argentina. The two Hockaday students that hosted the pair will be completing the exchange for a month this summer and will attend school with Preibisch and Vazquez.
"I'm really excited to go to Argentina this summer, learn more about the culture and improve my Spanish," Hawk said.
Stollar is happy to play a part in facilitating what he believes is a life changing experience for students. He believes that studying abroad improves confidence and leadership skills.
"The experiences students have when they're abroad impact their lives forever and they never forget," Stollar said. "It broadens their world view, it gives them deep knowledge of another culture, and it makes the world a smaller place because of the human connections that are made."
---
– Ashlynn Long- Asst. Views Editor –