And the Oscar Goes to…
We laughed. We screamed. We cried. And we believed in love again. TV personality Jimmy Kimmel will host the 89th Academy Awards on Feb. 27, which will celebrate the best movies and the masterminds behind these movies from 2016. From first-time nominees to Oscar veterans, the competition is high to take home the most prominent awards in the film industry. Here are my picks for who will win big.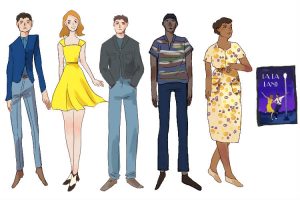 Best Picture
"Arrival"

"Fences"

"

Hacksaw Ridge

"

"

Hell or High Water

"

"Hidden Figures"

"La La Land"

"Lion"

"

Manchester by the Sea

"

"Moonlight"
"La La Land"
How? That is the question I constantly asked myself when watching "La La Land." From the surreal backdrops, Ryan Gosling's surprising piano dexterity, impeccable choreography by Mandy Moore and countless catchy songs, "La La Land," directed by Damien Chazelle, captured the hearts of moviegoers and evidently, the Academy. With 14 nominations, "La La Land," rightfully so, is joining movie classics "Titanic" and "All About Eve" for the most nominations by the Academy for a single film. Set in the middle of Los Angeles, "La La Land" delves behind the glitz and glamour of Hollywood to follow the boy-meets-girl romance story between Mia (Emma Stone), a struggling young actress and Sebastian (Gosling), a passionate jazz pianist. We follow along as they find love while tap-dancing below sunsets, waltzing amongst the stars and dreaming about finding success in a city of endless possibilities and hopeless dead ends. As their third movie collaboration together, Gosling and Stone invigorate their on-screen chemistry established in "Crazy, Stupid, Love" and "Gangster Squad." In addition to the leading stars, John Legend brings more musical talent to the film, and J.K. Simmons and Rosemarie DeWitt add flares of sarcastic humor. While "La La Land" is the predicted frontrunner for Best Picture, "Moonlight" and "Hidden Figures" are heavy favorites as well.
Best Director
Denis Villeneuve, "Arrival"

Mel Gibson

, "Hacksaw Ridge"

Damien Chazelle, "La La Land"

Barry Jenkins, "Moonlight"

Kenneth Lonergan, "Manchester by the Sea"
Damien Chazelle, "La La Land"
At only 32 years of age, Damien Chazelle is on his way to becoming the youngest recipient to win Best Director at the Academy Awards. Last year, his movie "Whiplash" earned three Oscars, but Alejandro González Iñárritu took home the best director honor for "Birdman." Produced over a span of six years but filmed within 40 days, "La La Land" shows off a Spielberg level of expertise from the young director. Chazelle, who took home the 2017 Golden Globe in this category, effortlessly combines jazz, dance and Old Hollywood cinema into a truly magical musical movie. From the very opening traffic dance scene to the insight of an alternative ending, Chazelle packages an artistic masterpiece within two hours and eight minutes. It's not a matter of if but when Chazelle claims his well-deserved Oscar.
Best Actress in a Leading Role
Emma Stone, "La La Land"

Natalie Portman, "Jackie"

Ruth Negga, "Loving"

Meryl Streep,

"

Florence Foster Jenkins

"

Isabelle Huppert, "Elle

"
Emma Stone ("La La Land")
This category proved the biggest challenge for me to pick a predicted winner as all of this year's leading ladies presented spectacular, Oscar-deserving performances. Amongst the five nominees, Meryl Streep, long-time queen of the Oscars who earned her 20th nomination for "Florence Foster Jenkins," and Natalie Portman for her role of the late First Lady in "Jackie" are favorites in the running. Carrying along with the movie's predicted success in the Best Director and Best Picture category, I ultimately believe Emma Stone for "La La Land" will bring the year's most coveted film yet another Oscar. Bringing her Broadway musical experience from her 2014-2015 role as Sally Bowles in "Cabaret," Stone proves to audience members that she's more than just the funny and cute girl one may know her from "Easy A" or "Crazy, Stupid, Love." This movie proves that Stone is the three-in-one package that can do it all: she can sing, dance and act. So, kudos to Stone for effectively capturing the reality of life as a Hollywood hopeful; an Oscar is on your way.
Best Actor in a Leading Role
Casey Affleck, "Manchester by the Sea"

Andrew Garfield, "Hacksaw Ridge"

Ryan Gosling, "La La Land"

Viggo Mortensen, "Captain Fantastic"

Denzel Washington, "Fences"
Casey Affleck, "Manchester by the Sea"
With recent allegations arising against Best Actor nominee Casey Affleck for sexual and verbal harassment, there has been controversy on whether the Academy should have presented him with the honor. However, in the pure assessment of Affleck's part as Lee in Kenneth Lonergan's "Manchester by the Sea," he remains the favorite to win. Certainly, "Manchester by the Sea" is not your feel-good movie as it explores life's grief, anger and unexpected moments, and Affleck plays Lee, a janitor exiled from his hometown who must return home when his brother Joe (Kyle Chandler) suffers from a heart attack. However, in a movie filled with unspeakable tragedies, Lee misses the chance to say goodbye to his brother, and in the wake of death must take on the new role as a guardian to Joe's son Patrick (Ben O'Brein). Affleck's riveting performance and ability to portray the surges of anger makes viewers feel the anguish of a narrative with no clear-cut happy ending or closure. Although he acquired his first Oscar nomination in 2007 for Best Supporting Actor in "The Assassination of Jesse James by the Coward Robert Ford," this year's nomination is the moment Affleck has been waiting for to get an Oscar of his own.
Best Actress in a Supporting Role
Viola Davis, "Fences"

Naomie Harris, "Moonlight"

Nicole Kidman, "Lion"

Octavia Spencer, "Hidden Figures"

Michelle Williams, "Manchester by the Sea"
Viola Davis, "Fences"
Last year the #OscarSoWhite controversy led to backlash against the Academy's choices for only white nominees in the top categories, but this time around, nominations were more diverse  with six actors or actresses on the ballot. In the Best Actress in a Supporting Role category alone, three African-American actresses, including Octavia Spencer for "Hidden Figures," Naomie Harris for "Moonlight" and Viola Davis for "Fences," received nominations. Davis, the only black actress to receive three Academy nominations and my pick to win, is no stranger to this awards show as she was nominated for best actress in 2011 for "The Help" and for best supporting actress in 2008 for "Doubt." This 2017 film adaption of "Fences" marks the second time Davis plays the role of Rose Maxson, a wife who sacrifices her own dreams for family, as the 2010 Broadway revival earned Davis a Tony Award. In fact, I argue that her superb ability to create a portrait of a matriarchal beacon of strength who endures through life's utmost disappointments and family secrets merits her a spot in the Best Actress in a Leading Role category. However, with the Best Actress category crowded with audience-favorites like Stone and Portman, Davis has to settle with the Supporting Actress nomination.
Best Actor in a Supporting Role
Mahershala Ali, "Moonlight"

Jeff Bridges

, "Hell or High Water"

Lucas Hedges, "Manchester by the Sea"

Dev Patel, "Lion"

Michael Shannon, "Nocturnal Animals"
Mahershala Ali, "Moonlight"
"Moonlight" also scored big this year with eight nominations, including first-time nominee Mahershala Ali for his supporting role as Juan, a drug dealer from Cuba who takes a young, bullied boy under his wing. Ali flawlessly executes the layers of this multi-dimensional character, who is tough at first sight but tender in his care of the child. A step away from his widely known characters of Remy Danton on Netflix original "House of Cards" and Boggs in "The Hunger Games," this role in "Moonlight" gives Ali his biggest challenge yet. Already honored as the Palm Springs International Film Festival's Breakthrough Performance of the Year, Ali exceeded my expectations and establishes himself as a worthy recipient of the Academy Award. Other likely candidates for this category are Dev Patel for "Lion" and Lucas Hedges for "Manchester by the Sea."
---
Aurelia Han – A&E Editor