Talk to Me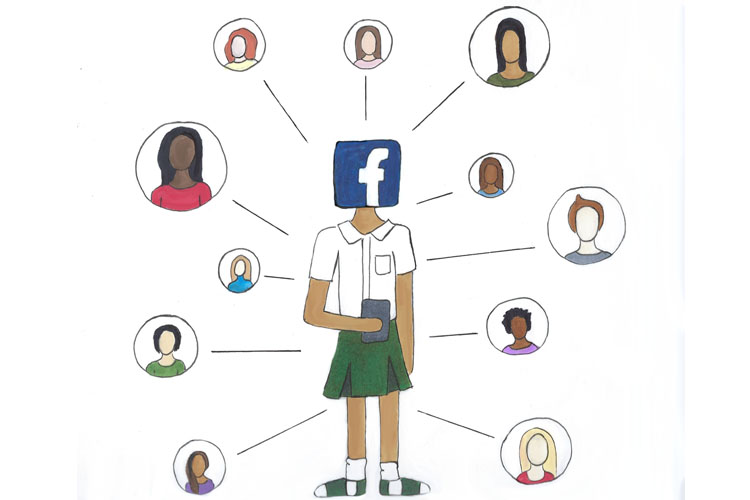 Three years and thousands of posts into its existence, the Hockaday Class of 2017 Facebook has collected a pastiche of uniform memes, exclamation-point college acceptance statuses and buy-and-sell postings for items ranging from Girl Scout cookies to English textbooks.
The seniors, juniors and sophomores all have them: class-specific Facebook groups have long provided a forum for grades both to spread school-relevant information and to form bonds outside the Hockaday hallways.
For time-sensitive information about ongoing Hockaday events, senior Isabel Smith points to the usefulness of Facebook in sharing instant news.
"If something quick was happening in Tarry House that you wanted people to come to, no one would be constantly checking their email. The Facebook group gives you a notification when something in the group has been posted," Smith said.
Indeed, the class-wide Facebook page can amplify voices at an instantaneous pace, shaping a platform for the rapid dispersal of information with a buzzing phone as its attention-grabbing outlet. But ramifications exist, and Form IV Dean Rebekah Calhoun views inclusivity as a significant one.
"On Meals on Wheels day, seniors started running late, and I was one of the last ones getting back. It would've been really helpful for me to be able to contact the whole group of seniors and say, 'Do this, go here.' But I can't post on Facebook, which is a big disadvantage because it's an in-the-moment kind of medium," Calhoun said.
Facebook groups also allow a versatility in information shared. While students often use the page to galvanize excitement for a choir assembly or an activity they're involved in, they also can use the group as a space to express their own humor and personalities.
Junior Olivia Naidu has seen an upsurge in engagement in the juniors' Facebook, especially as the class progressed through the JRP in the winter.
"Memes have definitely been an unifying force in our grade," Naidu said. "A lot of us began posting funny things on the Facebook group about the JRP, so I definitely feel like our grade has become a lot closer this year because of that. Because a lot more of us have started posting, we're interacting with each other a lot more outside of school."
Even beyond school announcements and memes, Smith utilizes Facebook to connect with her class through vlogs. When she doesn't think that a text post can accurately convey her energy, Smith resorts to video instead, which she describes as "sort of a Facetime conversation personalized for the class."
Opening the videos with a customary "Hey guys!" or "It's your girl," Smith chatters away, reflecting on a number of topics—advice for the grade, her own personal life updates or a virtual holiday greeting.
"Aside from the fact that I want to be a low-key vlogger, I'm a nostalgic person and I feel like I'm going to miss our grade so much. I'm super reflective sometimes, and I think about how [the seniors] are my people," Smith said. "I would regret it if I was like, 'I wish I had gotten to know these people more.' In my vlogs, I kind of just want to leave it all out there for everyone, and just show everyone who I am, because I want them to know me before we leave."
According to Naidu, the Facebook page can also don an identity of itself that reflects the personality of the grade.
Citing multiple Facebook posts about a T.R. Hoover service project over the summer, Naidu emphasized the giving spirit of her class's page. "It's really cool to see all those projects on the Facebook group, and I think that reflects how our grade especially is really invested in community service," Naidu said.
Smith characterized the seniors' Facebook group as charismatic. "If someone, like an outsider, were to read our Facebook, they would see all of the charisma and energy," Smith said. "We're a really fun grade and it shows who we are. Even during bad weeks and times when people are getting rejection letters, people are still supportive of one another and having fun."
In the array of club meetings and open babysitting jobs in the senior class Facebook, Smith described her vlogs to have one primary function: to empathize with other individuals of her class. "I care about everyone's well-being and I just want to talk to everyone and make them feel happy if they're down," Smith said. "Facebook is the way to do that."
---
– Jenny Zhu, Editor-in-Chief