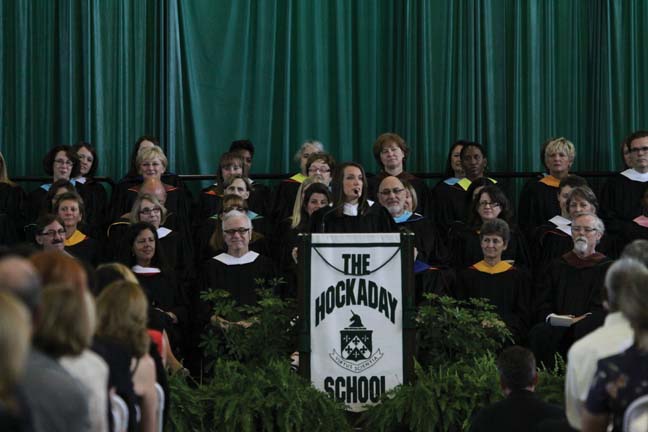 Wargo leads school into its second century with openness to innovation and balance for students in mind
Girls don't fly under the radar at Hockaday. Hockaday teachers expect their girls to give the best, and they do," said Wargo at her installation on Sunday.
"I've been here for three months of what I hope will be a lifetime of experience," she said. "In that time, I think I've figured out the 'it factor' of Hockaday….we are never content to sit and bask in our achievements."
As expressed during her installation, Eugene McDermott Headmistress Kim Wargo plans to lead Hockaday into its second century with the goal of pursuing excellence, while maintaining balance in students' lives and striving for openness to rapidly evolving technology and innovation.
But before Wargo finalizes her plans for Hockaday, she hopes to dive head first into the school's community, making it a priority to get to know the students, the teachers and their values.
Wargo has already begun learning the Hockaday culture, focusing on being "out and about" by attending faculty meetings, greeting students in the mornings and roaming the halls. As she gets to know the school, Wargo hopes to establish the terms of her role at Hockaday.
"I do not think of the head as being something different than being a teacher," she said. "It is just teaching in a different way. I am teaching the board, I am teaching myself about what we should be learning and I am teaching kids, I hope."
Wargo plans to offer each teacher and staff member a chance to meet with her individually. She also hopes to start every day by spending time with students.
"Honestly, it is selfish," she said. "When I do that, it puts me in a good mood. It puts a smile on my face. I feel like I am starting the day remembering why I am here in the first place."
Junior Courtney hopes to see the new headmistress out on the athletic fields, as she enjoyed seeing Wargo at the field hockey game last fall when she came to visit the Hockaday campus.
"I thought it was pretty amazing that she just took off her shoes and began running up and down the field after the girls," said Courtney.
While students and teachers have already enjoyed chances to visit with Wargo during class retreats, on sports fields and in hallways, many believe Wargo can best get to know the community through the classroom, the foundation of life at Hockaday.
"I would love for her to pop into the classrooms," said Director of Health Curriculum Rebekah Calhoun. "I think that would be really cool, because that is where students are and that is what girls do 90 percent of the time they are here."
Aside from the daunting task of getting to know the Hockaday community, 1,086 students and 300-plus faculty and staff, Wargo is making it a priority to "think the big thoughts."
One "thought" is her focus on maintaining balance in her own life and teaching students to do the same. Wargo says she could, admittedly, work every day from 7:30 a.m. to 11 p.m., never come up for air and still not get everything done.
"I think part of what you have to get comfortable with in life, and I know students can sympathize with this, is that you cannot do everything always 100 percent," she said.
Students will hear Wargo speak throughout the year on reducing stress by balancing the many priorities in life and accepting the idea of a "splendid failure."
"I am going to make mistakes this year," Wargo said to the faculty and staff the first time she met with them as a whole.
While acknowledging that mistakes are inevitable at times, Wargo does believe, based on her research on the subject, that if people do not give themselves time to sleep, think and play, they will not be at their best.
"It does not matter how much we try to cram in," said Wargo. "It is just not going to come out in the way that is best, that is most productive."
Hockaday faculty reflects Wargo's hope for achieving more balance in the lives of students.
Middle School math teacher Terry Bourek hopes that the Hockaday community will look into how to alleviate students' stress and help them achieve a happy medium.
"It is hard to tell kids not to do their best and give it their all," she said. "But at the same time, there has to be a balance."
Aside from a school dedicated to balance, Wargo envisions a Hockaday community transitioning into its second century by welcoming progress and innovation with open arms.
"I want to make sure that Hockaday is staying forward thinking, not afraid to change, not afraid to try something new, because that is what we want our girls to do," said Wargo. "Just like we would not close ourselves off to scientific discovery and teaching something new in our science classes, we need to stay open to technological discovery and innovation."
Senior Kaavya is excited about Wargo's progressive outlook in embracing the next wave of innovation.
"I think it is extremely beneficial for Mrs. Wargo to always think about what we should be improving next, what should become more modern, as she leads the school from its past to its future," she said.
Bourek says that while she "loves" the technology program currently in place, she too wishes for even more progress. She notes that teachers are just now starting to see the tip of the iceberg of what technology can do.
"It just explodes," she said, "And it is just mind boggling to think of all the things you could do."
Even though new ideas and innovations are both welcomed and sure to present themselves with a new headmistress, the Hockaday community also expresses a desire to maintain traditions and even re-implement old ones.
Seniors are excited that Wargo is restarting Ela Hockaday's tradition of senior teas, a group of approximately 16 seniors at a time having tea with the headmistress in her office a few times a year.
"Hockaday is so steeped in tradition," said senior Ellen, "And I think that it is great to continue with past ones as we move into the future."
Hockaday Parents Association President Cindy McGeoch expressed tremendous faith in Wargo to use the Hockaday students' needs as the guiding light to transition the school into its second century.
"I think her openness, her warmth and her approachability is going to help her. I always know she is going to make a decision using the girls as her benchmark," said McGeoch. "I am the biggest fan of Kim Wargo. I will tell you I think that she is positive, open, smart, approachable, and she is a great person to lead Hockaday up to the centennial and beyond. She is a terrific choice, and we are lucky to have her."
As Wargo leads the Hockaday community in the commitment to strike balances between achievement and "just being" as well as between innovation and tradition, she hopes to remind students, teachers and parents of Hockaday's purpose as an institution.
"My vision for Hockaday is that it continues to be all about excellence, helping girls to reach their potential," she said. "We are always thinking about how we can do things that will really prepare girls for the world they are going to live in."
– Hailey