After I get home from a long day at school, all I want to do is wind down with some quality comfort food. Ever since I was a kid, I have always loved my mom's spaghetti, so I was ecstatic to find a healthier version of the classic pasta dish that uses spaghetti squash. Not only does it take only about an hour from start to finish, this recipe only requires a few simple ingredients, many of which you might already find in your pantry.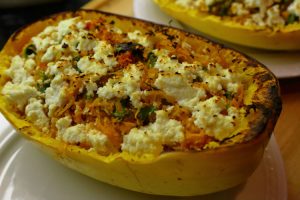 Ingredients
-1 medium spaghetti squash
-1 tablespoon of olive oil
-salt
-pepper
-1 cup of marinara sauce
-1 cup of spinach
-½ cup of ricotta cheese (I used a vegan version from Kite Hill)
-parmesan cheese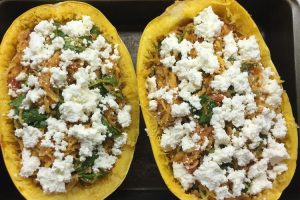 Directions
Preheat oven to 350 degrees.

Slice spaghetti squash in half, scoop out seeds, brush with olive oil and season with salt and pepper.

Place spaghetti squash in oven for 40 minutes.

Separate strands of the spaghetti squash with a fork.

Mix spaghetti squash strands, marinara sauce, spinach and ricotta cheese in bowl. Place back into the spaghetti squash boats.

Put it back into the oven on the broiler setting for around five minutes. Be careful! Keep a close eye on it so it doesn't burn.

Top with extra ricotta cheese and sprinkle with parmesan.

Enjoy!! Like any great pasta dish, it pairs great with a side salad or soup. 🙂
Thank you to Eating Bird Food for the recipe!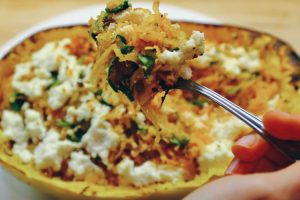 ---
Aurelia Han – Editor-In-Chief