Community Service Board Plans Sixth Annual Day of Promise
On April 10 during conference period, Day of Promise sold 200 Day of Promise T-shirts, donuts for advisories and Steel City Pops' popsicles to raise money for Promise House, an independent organization that has strived to support homeless youth through five different programs in Dallas since 1984.
The event, which sold-out T-shirts and popsicles, was planned by 2016-2017 Community Service Board Chair Emma Paine and the 2016-2017 Community Service Board.
"Community Service Board likes to go out on limbs when we make t-shirts and sweatshirts," Paine said. This year's Day of Promise t-shirt featured Director of Service Learning Laura Day's face on each character in "Full House."
In its sixth year, Day of Promise, which started when Day started to work at Hockaday, raised about $3,000  which will help fund Promise House's summer programs for the kids staying at the shelter during the summer.
"[This] money is going to help try to fulfill [Day of Promise kids'] summer to make it somewhat near what [Hockaday students'] summers look like," Day said.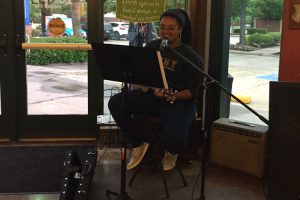 Additionally, the Community Service Board collaborated with Potbelly, which donated 25 percent of all sales from 6-9 p.m. on April 10 to Promise House. At Potbelly, dinner was accompanied by live music from seniors Joy Nesbitt, Tori Gudmundsson, Elinor Sachs and Sara Held; junior Grace Olson and sophomore Sara Grace Aldis.
For the past four years, the Community Service Board has invited kids from Promise House to eat dinner at Potbelly with Hockaday students as well as paying for their meals.
"[The Promise House kids] get to hang out, be kids for a second and not have to be in a shelter," Day said.
Besides Day of Promise, Hockaday helps Promise House through opportunities to volunteer at Promise House, the funds from the Middle School "Holiday Bazaar" and a program run by Meghna Jain, in which first grade students are decorating art for the halls at Promise House.
---
– Maria Harrison – Features Editor