Longtime Hockaday Fixtures Retire
MARCELA GERBER
Whether wearing a traditional flamenco dress, dancing on tables or leading a conga line, Lower School Spanish teacher Marcela Gerber never goes through a day without spreading her vivacious spirit and enthusiasm for the Spanish language and culture. After 35 years of teaching at Hockaday, Gerber announced her retirement this year, but her impact on the Hockaday community will not fade in her absence.
With a strong belief in the school's mission, she knew she had found her home away from home when she arrived to teach at the school in 1982.
"I went to an all girls school in Buenos Aires, Argentina so I have always believed in all girls education," Gerber said.
Gerber always knew she wanted to teach. She describes Lower School students as sponges, hoping to soak up everything they can possibly learn. With this kind of enthusiasm from her students, Gerber fell in love with teaching at this grade level.
"My main focus is to develop a love for language, a love for learning and the curiosity to continue investigating and learning about languages and the world around us," Gerber said.
When alumna and Head of Lower School Randal Rhodus '97 thinks of her time at Hockaday, most of her memories involve Gerber. Rhodus still remembers cooking paella at Gerber's house and sitting around with her classmates listening to Gerber sing and play the guitar.
"Spanish ended up being one of my majors in college because of the love of languages that I developed from Señora in the classroom," Rhodus said.
However, Gerber was not only her teacher, but also her friend and mentor. After earning her education certificate from Duke University, Rhodus turned to Gerber for advice for her first teaching job.
Rhodus is not alone in relying on Gerber's mentorship. When Middle School Spanish teacher Leslie Box arrived at Hockaday in 2006, she worked in the Lower School Office until Gerber encouraged her to get involved in teaching.
"She mentored me, encouraged me and inspired me to do what I'm doing now, so I am so grateful for her," Señora Box said.
According to Box, Gerber is always planning how to bring the faculty together, whether it is a Cinco de Mayo celebration with mariachi bands or another "fiesta."
"We are a big family, and I want that family to come together" Gerber said.
In addition to her impact on the faculty, Gerber initiated several programs that have grown to represent big parts of the Lower School, including Happy Happenings, a lower school after school program; Return to Your Roots, a program for seniors to look back on their time in lower school; and Hockaday's annual summer camp. Gerber has also put Hockaday on the map by teaching language under the Foreign Language in the Elementary School's immersion language program.
"She is known across the country for furthering language education for younger children," Box said.
Gerber hopes to stay connected with Hockaday and support the Lower School language program after her retirement as a substitute teacher. She will miss the challenge that her students bring her on a daily basis but is looking forward to spending more time with her grandchildren. "I am who I am because of Hockaday," Gerber said. "Being from another country, Hockaday has been my family."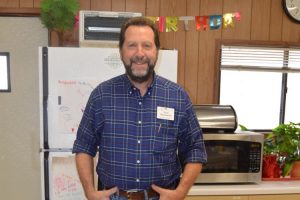 MARK BUSCHARDT
On any given day, one can hear someone down the hallways humming "Blueberry Hill" or singing at the annual faculty Christmas party. Facilities Manager Mark Buschardt's voice is one of his many talents. For 22 years, Buschardt has dedicated himself to ensuring the wellbeing of every corner of the Hockaday campus and will leave a lasting legacy with his retirement.
Buschardt helped oversee the recent construction of the new Nancy A. Nasher and David J. Haemisegger Family Center for the Arts, Science Center and residence renovations along with improving the efficiency of Hockaday's operation systems. He also has held an important role in planning and executing the annual Commencement ceremony.
"I'm going to miss the people I work with and taking pride in watching the graduation ceremony go off without a hitch," Buschardt said.
His extensive knowledge of the campus and its mechanical systems makes his position a 24/7 job when spontaneous campus malfunctions arise.
Chief financial officer JT Coats relies on Buschardt's humor and uplifting attitude to brighten a bad day. She admires him for his dedication to his job and considers him not only a coworker, but also a good friend.
"He has an eye for detail and really cares about this campus," Coats said. "He recognizes that its his job to help make sure that our students have a place where they love to come everyday to learn."
Coats believes that the standard of care for our facilities established by Buschardt will continue as a Hockaday tradition. He is also leaving behind a great maintenance team, which he has grown to respect for their hard work, ingenuity and dedication.
"He knows this campus inside and out. There is a lot of value in that," Coats said.
Maintenance Administrative Assistant Kathy Perry also recognizes Buchardt's 24/7 dedication and enthusiasm for the school.  
"He's my co worker, my boss and my friend," Perry said. "I'm going to miss his humor and  his knowledge of the operations of this school."
However, with this new chapter in his life, Buschardt plans to move to a blueberry farm in Missouri with his wife.
"It's been the best job I've ever had," Buschardt said. "It's very demanding but rewarding at the same time. I'll really miss the challenge of working here."
SOCORRO MARTINEZ
After working at Hockaday for 30 years, housekeeper Socorro Martinez retired on March 31. She is currently in Mexico caring for her mother and spending time with her granddaughter and newborn grandson.
During her time at Hockaday, she was responsible for keeping the offices south of Hoak Portico along with the common areas in the Upper Morgan residential area in good order.
Director of Housekeeping Carolyn Hoke has been Martinez's supervisor for the past 16 years. Hoke describes Martinez as a hard worker, always willing to step in when asked. She also notices Martinez's efforts to get to know the boarding students.
"She really enjoyed meeting the girls each year, interacting with the residents on her floor and watching them grow and develop over the year," Hoke said.
The Board of Trustees recognized Martinez's dedication to the school before she left for Mexico. Hoke believes that Martinez will leave a legacy of hard work and commitment to her job.
"She was happy to do what she needed to do for everyone to benefit," Hoke said.
---
Amelia Brown – Sports and Wellness Editor