On Aug. 25, Hurricane Harvey became a Category 4 hurricane as it was about 45 miles from Corpus Christi. Later that day, with winds near 140 mph, Harvey came ashore between Port O'Connor and Port Aransas and continued inland to Houston. On Sept. 2, Hurricane Harvey's death toll hit 45.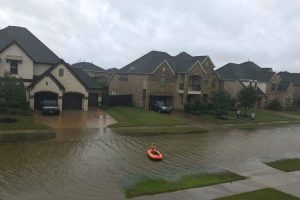 Senior and boarder Cheryl Hao's family lives in Katy (a Huston suburb).  Although her family's home wasn't affected by the hurricane, her friend's house, which is five minutes from her home, was flooded.  That family had to evacuate their damaged home for at least two weeks.
Hao felt anxious about being away from her family.
"When people started texting me asking me if my parents were okay, I was confused because I didn't really understand the severity of [Hurricane Harvey]," Hao said. "Not being there or experiencing it with my family is really strange."
Fellow senior Anna Glasgow, who has family and a house in Rockport, a city hit by Hurricane Harvey, was also surprised by Hurricane Harvey and its impact.
"I heard that a storm was coming, but tropical storms blow through [Rockport] all the time and then usually divert somewhere else," Glasgow said. "But the night before, the storm blew in and my friend told me that it was headed straight to Rockport. My stomach dropped."
As Glasgow and her family watched the news, they saw their house in the distant background. Her dad got out a magnifying glass and scanned the television to see if their home was still there. And it was.
Although Glasgow's family was able to evacuate safely, Hurricane Harvey damaged many homes and boats in Rockport. Glasgow's mother traveled on Aug. 29 to check out the devastation and found that their home had broken windows, a torn roof and water damage. This, according to Glasgow, was lucky compared to her neighbors.
In response to Hurricane Harvey, Director of Service Learning Laura Day invited students and faculty to have a conversation on Aug. 30 about the hurricane and disaster relief. She talked about the aftermath of a disaster such as Hurricane Harvey and ways in which the Hockaday community could offer support and help.
"Once water goes away or the disaster releases, you're left with a community that's missing a lot of things," Day said. "I want to challenge you to ask someone or try to figure out what you can do to help."
To participate in helping the communities and people affected by Hurricane Harvey, students volunteered at Trusted World, a non-profit organization that receives clothing and food donations and then ships these resources to those who need these items. Volunteers organized the donations into boxes to be sent to areas that needed the different supplies that included things like baby food, deodorant and feminine products.
"At the volunteer center, it was great to see how involved and dedicated everyone was," Hao said. "Everyone was running around, and it was so hectic, but all of it was going to one cause."
Besides displacing many people from their homes, Hurricane Harvey forced several oil refineries in Texas to close, causing a spike in gas prices and a widespread panic about gas shortage in southern states and especially Texas.
"It's important to keep in mind that people in Dallas are worried that they don't have gas, but people in Houston are worried that they don't have homes," Hao said.
Some ways you can help:
---
Maria Harrison – Features Editor