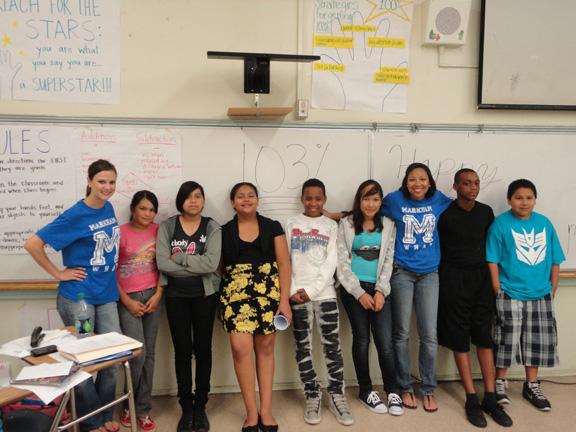 Seven Hockaday classmates spend two years teaching underprivileged kids all over America
Allison Hayes, Kather­ine Novinski, Maillil Acosta, Olivia Tre­vino, Blakely Hull, Bess Miller and Kat Morgan graduated Hockaday together in 2007 and now all seven of them are working for the Teach For America program.
Only 11 percent of 4,800 ap­plicants were accepted to Teach for America this year, according to DePauw University. "It is a great honor to have seven girls from one class get accepted by TFA," Headmistress Kim Wargo said.
Hull said that these seven never really talked about doing TFA together; it was really all a coincidence.
"I think the fact that so many of us were accepted this past year is due to the common interests and values that unite most Hockaday girls," Miller said.
Miller had a more difficult time picking Teach for America as her career after college than  the rest of her classmates did. Majoring in History and Plan II Honors, Miller was torn be­tween being a lawyer or a teach­er. However, teaching at TFA "felt right."
As a student at Hockaday for six years, she realized how privileged she was to get such a good education and felt like it was her "duty to try to give the opportunity that I had to kids that deserve just as much as I did."
Although she felt like it was her duty to teach at TFA, it was one of the hardest things she has ever done. "This job also deserves the most dedica­tion that I've ever given to any­thing." For a Hockaday graduate that is hard to imagine, but she says that her motivation is her 150 students.
Hull '07, located in Los Angeles, California, is teach­ing for her first year at a school in Echo Park. She has always loved to teach and thinks that TFA will prepare her for jobs she may want in the future. She says that TFA is "a leadership program, not just a teacher program." She does not know how long she will be teaching, but "[is] just taking it one step at a time and enjoying this experience with [her] students."
TFA is a non-profit orga­nization that runs like a cor­poration in the private sec­tor. Once accepted to work for TFA, the employee spends five weeks at the Teach for America Institute in Phila­delphia, Penn. There, the new teacher attends classes, cre­ates lessons plans and learns how to manage a class. No­vinski '07 said "the staff who supports each of us and our development as teachers is exceptional and the training we have received in the short time we have been here has been strong."
Wargo is pleased with the commitment and dedication these seven alumni have shown by helping with TFA, believing it "speaks highly of the corner­stone, character." These girls teaching at TFA shows that "something in their experi­ence they had here that helped them go and help others." Wargo adds that she wants to have some of these girls come and talk about their experience with TFA, hoping that it will help other high school girls who want to look into teaching there after college.
As a volunteer at KIPP Truth Academy in South Dal­las, junior Sarah is in­trigued with TFA because it is "a network of teachers who are ready to serve their communi­ty." She sees benefits in having alumnae role models at TFA, "learning from someone who started out similarly to you is the absolute best way to pre­pare for the future."
Sarah would like to teach with TFA because "teachers are essential to success and have a profound impact on a young child's life."
– Gretchen