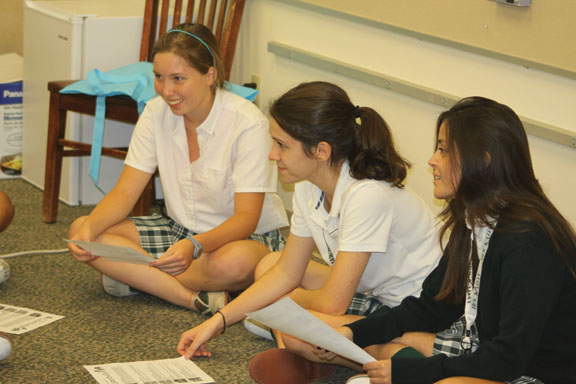 Girl Talk expands to two new schools
Recounting her experi­ences with Girl Talk, senior Kendall, lead coordinator of the program, smiles often as she recalls the girls whom she mentored at Thomas C. Marsh Middle School. The enthusi­asm in her voice escalates as she talks about the group's expan­sion into two new schools, Ewell D. Walker Middle School and George B. Dealey Middle School.
Girl Talk, started in 2008 by Hockaday alumna and Marsh Middle School attendee Lauren Callahan '10, consists of a group of Hockaday girls that meets regularly to mentor elemen­tary school girls. The program is an amalgam of mentoring, leisurely chatting and sharing aspects of participants' lives.
Kendall believes that each Hockaday Girl Talk member tries to "give [the girls] an ex­ample of 'Hey, we may seem older and more mature, but we go through the same things… we're here to help you guys out and be a friendly face.'"
"The best part about having high school girls mentor them is that we're really not too far from them in age," Girl Talk mem­ber and Form IV student Erin said, "We all remember what we were like back then."
However, the Hockaday volunteers aren't the only ones who benefit from the program. Carissa Sherwood, the coun­selor at Dealey Middle School, is excited about Girl Talk com­ing to the school and believes that the students are eager for the program to start as well. Af­ter Sherwood sent out flyers for the program, she received inter­est from seven girls less than a week later. "You know how mid­dle school students are; it usu­ally takes them a while to turn things in if at all. That shows they are obviously excited about it. I expect many more to come in next week," says Sherwood.
The Girl Talk volunteers are excited that the girls at Dealey and Ewell will be added to Girl Talk's mentoring list. Girl Talk member and sen­ior Brooke is eager to start conversations with girls at the new schools because of the program's success in previ­ous years. She is "very excited to see how other schools will react to [their] discussion prompts."
Erin looks forward to seeing the good changes that will come out of the expan­sion and wants to spread her and other Girl Talk members' message to Middle School students that "you survive anything that happens and you come out better for it."
Although Sherwood tried to put together a similar pro­gram at Dealey a while ago, the group was not as successful as she had hoped. "I am most ex­cited about the opportunity for our girls to have that opportu­nity to talk about these tough subjects with positive role mod­els…that's why I think this for­mat will be more successful."
While Kendall believes that this year will be more compli­cated due to the addition of two new schools to Girl Talk, she thinks that "once we get a good rhythm going, it'll work out."
– Ansley