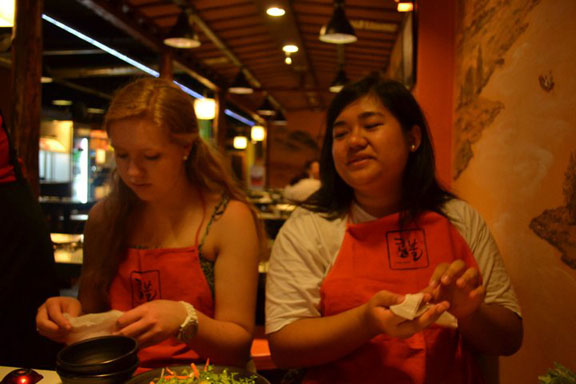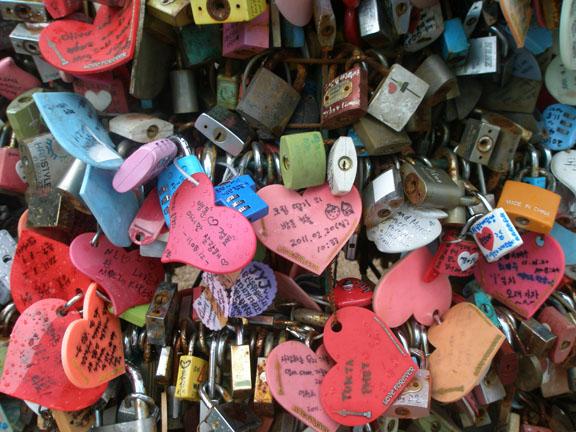 Two Hockaday girls immerse themselves in the culture of Korea
Torrential rain hammered down on the streets of Korea on Aug. 11, 2011, battering down on the umbrellas of hundreds of anxious fans waiting outside the gates of a recording studio, rendering the man-made water shields useless. As soon as the metal entryway opened, seniors Abigail and Caroline swept in with the crowd into a stuffed concert room. As they stood on the sidelines of the stage of Inkigayo, a Korean music program, amidst the shrieks of fan girls, they caught glimpses of real-life Korean idols—but this was just the beginning.
Each year, the National Security League Initiative for Youth program gives scholarships to a select group of high school applicants who are willing to study for six and a half weeks in a country with a less commonly spoken foreign language. For Abigail and Caroline, their destination was Seoul, South Korea.
Originally, both girls were interested in Korean bands such as Big Bang, 2PM and Super Junior and dramas such as Boys Before Flowers and City Hunter.
"I really liked the language, and for my Junior Research Paper, I studied North and South Korea," Caroline said. "This program was just the next step I thought of."
Students in the program study Korean for four hours every afternoon at the local Sogang University as they learned the basics of the language.
"We started with the alphabet, but then we did these awesome mouth exercises," Caroline said, stretching her mouth to demonstrate. Classes are designed to teach students how to speak Korean, learn new phrases and vocabulary and practice their fluency and pronunciation.
Abigail recalls the phrase "chincha?" or "really?" that is commonly used in day-to-day life, while "chom moshisseoyo" or "very cool" is a highlight phrase for Caroline.
Despite the requirements of attending classes, the girls got the rest of the day off to explore the streets of Seoul and visit tourist hotspots such as N Seoul Tower, Gyeongbukgong Palace, and if they were lucky, Inkigayo as well.
"I went out pretty much every day with friends. We would meet up and go all over Seoul," Abigail said.
On one of her outings, Abigail recalls eating a live octopus. "It was, like, squirming on the plate."
But it was all part of the cultural experience as Abigail and Caroline chowed down authentic homemade Korean foods such as kimchi, bean sprout soup and kimchi stew, were laughed at by waiters as they attempted to order food in Korean and navigated through a foreign country in its extensive and sleek subway system.
Aside from their daily expeditions in Seoul, Abigail and Caroline got a behind the scenes look at Korean lifestyle during their stay with their host families.
"You always hear how Korean high schools are so hardcore, and I actually got to see if that was true," Caroline said. "This program got me more interested in international politics and business, and it also just made me grow up a lot more."
Abigail affirms the merits of the program. Both girls want to continue learning Korean in the future, and for Caroline, learning Korean could lead to a future international political career. Perhaps these two girls will once again find their destination to be Korea.
– Kathy