Mother-Daughter Bonds Bolstered by Athletics
PICTURED ABOVE: Junior Adoette Vaughn goes for an afternoon jog while her mother Glenys Quick gives advice from the sidelines. Photo by Aurelia Han. 
---
Living in the heartland of football, it is easy to see that the most commonly celebrated familial bond when it comes to athletics is that between a father and son. If you need any more proof, watch out for the three generations of Jones men presiding over the next Cowboys game.
The stereotypical father and son bond, however, is not the only valuable relationship between parent athletes and their kids. As society has become more accepting of female athletes, a bond between mothers and daughters in sports has become more visible.
Director of Physical Education and Interscholastic Athletics Tina Slinker has witnessed this change.
"I think, as sports have gotten so much more popular [for women] in the past couple of decades, girls are getting that support from their mother that boys get from their dads," Slinker said.
Title IX of the Education Amendments Act of 1972 prohibited discrimination in any federally funded education program based on gender. This piece of legislation, while beneficial for all in that it provides full access to educational programs, was also extremely important in granting full athletic access to girls and women in school.
Athletics has always been one of Hockaday's Cornerstones, but Title IX helped girls in all schools across the country reach their full potential in sports. Slinker sees the effect of this legislation on that generation.
"Now you have a lot of moms that actually played sports in high school and maybe even college and it's more accepted now for women to continue in sport after they finish that level," Slinker said.
This athletic generation of mothers can be seen at Hockaday, and their daughters have followed in their footsteps.
Senior Fernanda Trevino-Suarez and her mother, Form II Dean and Upper School Spanish teacher Alejandra Suarez, share a love for tennis. Suarez began playing tennis as a teenager in Mexico and continued after moving to America. Although both she and her husband played tennis competitively, they did not want to force the sport on their children.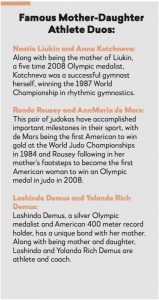 "We never asked or told our children to play tennis. When they were young we supported every sport that they wanted to do," Suarez said. "We wanted them to be happy and do something."
Three years ago, Trevin?o-Suarez decid- ed to quit gymnastics and pursue the family sport instead. Tennis soon became a passion that she shared with her mother. Although the mother-daughter duo have only played in one tournament together, they love to com- pete with one another.
"We are both very competitive, so when I beat her, it's a big deal. I brag about it," Trevin?o-Suarez said.
Suarez recently switched her focus to paddle tennis, a fast-paced game popular in several Spanish speaking countries, and her prior experience in tennis helps her to fur- ther understand her daughter both on and off the court.
"Being able to sympathize and to see when she's not doing her best, it's another way that I can be a part of her life," she said.
Suarez and Trevin?o-Suarez have been able to relate through this common athlet- ic experience, yet it does not dominate their strong mother daughter relationship.
"Honestly I think [our relationship] is bigger than just tennis. I think it's just another activity we do together," Trevin?o-Suarez said.
Similar to this tennis duo, Film Studies and Journalism teacher Glenys Quick and her daughter, junior Adoette Vaughan, share a love for running. Quick began her extensive successful running career when she was 16, setting a junior record in the 1500 in New Zealand her first year. Eventually, she traveled across America and the world to compete in marathons. Although she no longer competes, running is still a daily activity for Quick, and it has rubbed off on Vaughan and her sister, Tala Vaughan '16.
"From the time they were babies, they would see me going out for my run every day," Quick said.
Vaughan began seriously training in the seventh grade, and she has been running competitively ever since. Because Quick understands the intimacies of competitive running and training, she is able to connect with her daughter on a deeper level through the sport.
"I think the main thing is that I understand how she's feeling with racing and training, the more emotional side of it," Quick said.
Last summer, the pair attended the United States Olympic Trials in Eugene, Oregon to watch the competition and formation of the U.S. Olympic Track Team.
"It was certainly a bonding experience. It was just the two of us together for 11 days, staying in a little hotel room and sitting next to each other at the track meet," Quick said.
Like Suarez and Trevin?o-Suarez, while Quick and Vaughn have been able to connect through running, their entire mother-daugh- ter relationship does not depend on their shared sport.
"Running has been a great part of my life, and for Adoette too, but it's not the only thing in our lives. We've got other things too, but it's a lovely thing we share," Quick said.
Assistant Head of Upper School Joni Palmer spent much of her adolescence playing soccer on a competitive club team, and her mother, although not a soccer player herself, was Palmer's biggest source of support.
"She never missed a game of mine that I can remember," Palmer said.
Through her extensive travel for soccer tournaments, Palmer and her mother spent a lot of time together in her athletic pursuits.
"I had a lot of time in the car with her, I had a lot of late nights with her trying to catch up on homework," Palmer said. "She was a big supporter of my academics as well."
Palmer has a 4-year-old daughter of her own. While Palmer and her husband both played sports at the collegiate level, they do not want to put excess pressure on their daughter to participate in athletics. As of right now, her athletic career consists of a preschool tee ball team.
"I want her to be able to be excited about a sport once she gets to that point and I'm aware that these early experiences can impact the way she sees sports," Palmer said.
Soccer was an extremely important part of Palmer's life, but she understands that athletics are not the only ways in which mothers can bond with their daughters.
"She may decide that sports aren't for her and that's great," Palmer said.
Although sharing a passion for a certain sport has helped mother daughter duos like Suarez/Trevin?o-Suarez and Quick/Vaughn bond with one another, it is clear that no matter what activity their daughters choose, mothers will be eager to foster a strong relationship.
"Whatever [Fernanda] is involved in, I'll figure out a way of bonding and being in- formed," Suarez said.
---
Story by Ali Hurst – Copy Editor