Summer Updates Improve School
For many of us Hockadaisies, the place we spend most of our time is our school. This past summer, our most familiar place in Dallas—the Hockaday campus—experienced some slight but quite influential changes. Here is your guide to new Hockaday campus features:  
Flatscreens Make Our Classes Smarter
The new advanced flat screens in classrooms, including that of Upper School math teacher Karen Sanchez, makes the teaching experience easier. According to Sanchez, the new flat screens enhance her ability to teach efficiently as she can walk around the classroom freely, interacting with students while using a tablet connected wireless to her screen.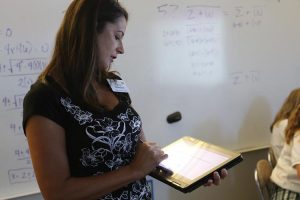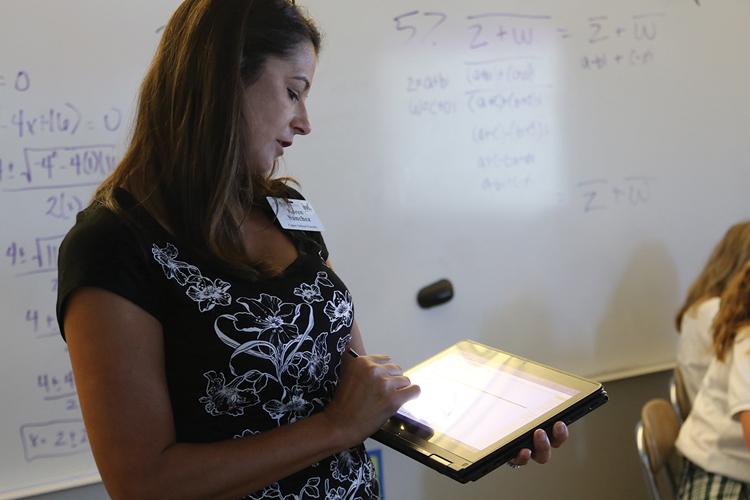 "I think more teachers should start using the flat screens," Sanchez said. "The flat screens provide two options for the teachers. They can not only use the wireless feature of it, but the tablet can also be plugged into a laptop when the wireless feature is not func- tion. Besides, the new board is a lot brighter and allows students to see more clearly."
Besides all the teaching advantages of the new screen, Director of Technology and Information Resources Jason Curtis said that the installation of the flat screens also helps the community in other ways as well.
"The new flat screens are not only more advanced but also help to save the school more money," Curtis said. "They are cheaper than the old ones we were using."
Upper School History teacher Tracy Walder views the new flat screens in her room as something that solved many of her technical issues. "It's very nice to have a board that actually works properly," Walder said.
One door creates more spaces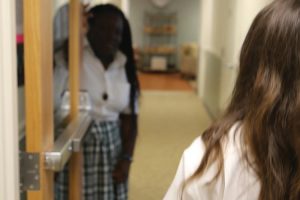 New doors to separate the boarding lounge areas from the residents' rooms were installed over the summer. The doors separate each of the four boarding halls from the bridges and living rooms.
Director of Residence Life and Global Outreach Meshea Matthews wanted to find a way to create some space between the rooms where girls typically rest and the lounges where boarders usually study and have fun.
"The new doors are also way to give the boarders a more collaborative environment so that they can bring their friends and enjoy their personal spaces," Matthews said.
Keep us updated
Being installed in one of the most convenient and obvious locations, the TV screen in front of the Upper School office will be put into use tokeep students updated with announcements and events.
According to Upper School Student Council President and senior Samantha Watson, the TV screens will mainly be used either by the different boards of the Student Council, especially the Athletic Board when they need to announce athletic events and scores.
---
Emily Wu – Staff Writer