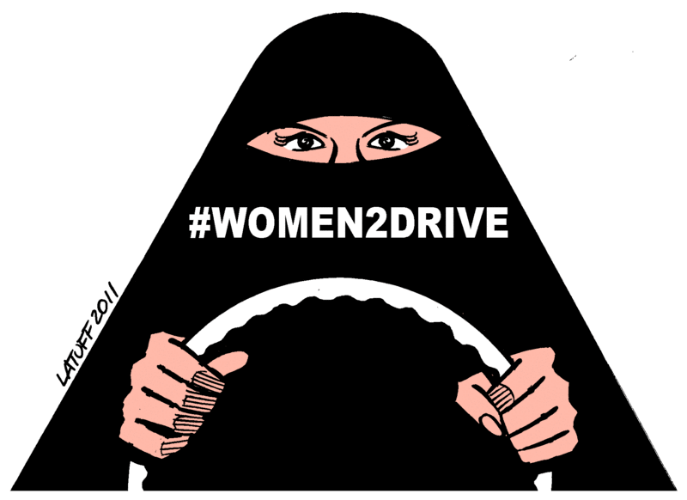 PICTURED ABOVE: The Women to Drive movement was started by Saudi Arabian women in protest of their right to drive. Photo courtesy of Wikimedia Commons. 
Saudi Arabia announced on Sept. 26 that it was lifting the ban on women driving, the official implementation of the new law will take effect on June of 2018. This new law will end the long-lasting religious restriction over certain rights, and eventually draw a forward-looking future of Saudi Arabia's social balance between religion and rationality.
As one of the four current caesaropapism nations, many of the Saudi Arabia laws are directly related to the Sharia, in which women are given very few rights.  
Hockaday senior and boarder Hibah Naviwala, who lives in both Saudi Arabia and the United States, described the lifting of the ban as something that makes her really happy to think about.
"Although I am not directly related into the change of the new policy, I think it is very exciting and wonderful to think about how the independent women finally have some support on their side," Naviwala said. "This is very beneficial, since a lot of Saudi Arabian women actually do work. If they can't drive, they can't really sustain for themselves."
While women in Saudi Arabia are only allowed to drive in the presence of their male guardians, Saudi law does require citizens to hold a government-issued license. But Saudi women can only obtain a driver's license with their guardians' approval.
With King Salman's recent announcement, the circumstances for women in Saudi seem to be transforming slowly. After declaring the lifting of the ban, women will be able to drive and obtain a legal driving document without the presences or interferences of their male guardians.
The reversal of the law, besides being convention-breaking and progressive, received positive feedback from domestic and international perspectives. Fawziah al-Bakr, a professor at a Saudi University and also one of the first 47 protesters for the rights of women driving, said in a New York Times interview that the issuing of the new law was "amazing."  She also said, "We have been waiting for a very long time."
This move has also gained international support. Heather Nauert, the spokesperson for the United States Department of State, said in a New York Times interview that the lifting of the ban was "a great step in the right direction for that country."
Naviwala is excited for the new law to take effect. At the moment,  Saudi women can't be independent, they rely on their male guardians in order to go places. The lift of the ban will provide women who want to be independent more personal and professional opportunities.
"Just the fact that it is empowering women and the fact that Saudi Arabia is where women are oppressed in the sense that they can't access certain things, whereas there is an obvious glass ceiling, I think that (the lifting of the ban), in a way, makes me feel really good and confident about women's rights being able to make certain progresses," Naviwala said.
Emily Wu – Staff Writer
Photo provided by