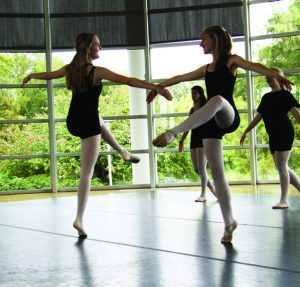 Advanced Art students and Hockadancers collaborate for Canvas in Motion joint performance
When you look at Picasso's cubist-surrealistic "Three Dancers," you don't think of pirouettes and jetes. But Head of the Dance Department Beth Wortley does.
Ten years ago during a trip to Paris, Wortley was inspired by the works of the artists and musicians of the post-WWI era who depicted dancers and composed scores for ballet. Upon her return Wortley created a small piece of choreography that combined the talents of Hockaday's artists, under the tutelage of art teacher Juliette McCullough, and her dancers.
"I felt like we had just scratched the surface," Wortley said.
This year, re-inspired by a summer trip to Paris, Wortley hopes to reincarnate that idea on a larger scale with the help of McCullough and dance teacher Christie Sullivan.
Her piece, called "Canvas in Motion", will be bigger and better than before, said both Wortley and McCullough.
The piece requires the collaboration of the five levels of Hockaday dance taught by Wortley and Sullivan as well as McCullough's advanced art class. As opposed to the last time Wortley and McCullough created a piece like this together, there will be more artists featured – expanded from just Degas and Chagall to include Matisse, Picasso, Laurencin and Lautrec.
The works of these artists will serve as inspiration for costume design and choreography, and as backdrops projected on white panels. Each dance will also be accompanied by the music of Poulenc, Satie, Stravinsky or Debussy.
The choreography will range from classical ballet to contemporary and modern, reflecting the differences in styles of the artists who will inspire each piece. Degas' ballet dancers, with large tulle skirts and satin bows, will prompt a more traditional ballet piece with choreography that mimics the classroom and backstage settings of his paintings. Chagall and his fascination with circuses will inspire a piece that incorporates rhythmic gymnastics.
Picasso's "Three Dancers," a representation of his style of violent surrealism, will inspire a modern piece that will be a special project for the Hockaday Dance Theater and advanced art students. Since both classes have 16 students, each dancer will be paired with an artist.
"My girls will be designing for an individual in a way that they weren't before," McCullough said.
This assignment generates excitement for the art students. Senior and advanced art student Giovanna said that it will be "like Project Runway," where each designer creates something unique and personalized for their model – or in this case, their dancer.
At an informational meeting about this project held on Sept. 1, the Hockaday Dance Theater and advanced art students, along with Wortley, Sullivan and McCullough, showed their ability to collaborate and work as a team – designers and dancers. They asked questions and discussed range of motion, flexibility of fabrics and the unflattering lines of a unitard.
"The artists just have to take into consideration what the dancers will be able to move in," junior Katie said.
The dancers and artists will unveil their work to the school during the Dance Assembly on Nov. 14 and to the public during an evening performance on Nov. 16.
"The biggest limitation is time," said McCullough. Artists in the real world aren't usually dictated by deadlines, and that freedom of time makes the possibilities endless. But this deadline puts the artists in a time crunch. They will spend "every minute of their class time between now and November until it's done and perhaps some extra time, too," McCullough said.
Expectations for this performance are high, as Wortley, Sullivan and McCullough promise something amazing and exciting. The audience expects living, dancing representations of classic works of art: Degas' effortlessly graceful ballerinas, Chagall's whimsy and illusion of flight, Laurencin's soft strokes and delicacy, Lautrec's vibrant can-can dancers  and the sharp angles and precision of Picasso.
– Mary Clare