Faces + Places: Hockaday Community Gives Back
PICTURED ABOVE: Community Service Board members and juniors Grace Laber and Annie Sheeder pose next to their Winter Olympics themed Scottish Rite tree that was placed in the children's ward at the hospital.// Photo by Shreya Gunukula.
---
The air is filled with the warmth of giving as the holiday season draws near. Every year, students at 11600 Welch Road are presented with countless community service opportunities to extend the spirit of service to the community. Volunteers spread joy to all of Dallas, from animals waiting for adoption to families in need.
The annual Gift Drive has been a standing service tradition at Hockaday for about 25 years. The Upper School Community Service Board plans the drive and organizes the Hockaday community in an effort to purchase gifts for children in need.
A staple of the Drive is the morning carpool advertisement. During the month of December, it is not unusual to see Director of Service Learning Laura Day and members of the Community Service Board wearing festive outfits and holding up cheerful signs advertising the Gift Drive.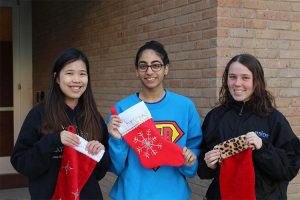 "The holiday times isn't about anything but being helpful to other people. That's what I feel motivated or called to do in general in life," Day said. "In the holiday season, it gets louder and feels bigger."
Every year, after Hockaday students purchase the gifts, members of the Upper School Community Service Board and anyone who expresses interest dress up as Santa Claus and personally deliver the gifts to the children at the T.R. Hoover Community Development Corporation, a Dallas low-income housing program, and the Pebbles Apartment Complex, where many homeless families settle for housing.
Upper School Community Service Board Chair and senior Shreya Gunukula is a summer camp director at T.R. Hoover and works closely with the organization. She will also participate in the delivery of gifts from the Gift Drive.
"Christmas and the holidays in general are supposed to be a really happy time for families, but for people that are living in lower income situations, that isn't always the case. To give them that happiness is a really special thing," Gunukula said.
The Upper School Community Service Board participates in other holiday events as well. One of them is the Holiday Tree Lighting Ceremony that kicks off the holiday season at the Texas Scottish Rite Hospital for Children.
Each year, board members decorate a tree that will help cheer up the hospital along with many other trees from other organizations. Juniors in the project committee of the Community Service Board organize the tree decorations and select the theme, which is "Winter Olympics" this year.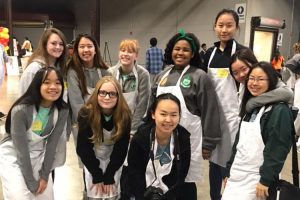 Student volunteers attend the Central Market's Feast of Sharing every year. This year, all residence students also enthusiastically attended the event. On Nov. 9, these students helped serve meals to the homeless and volunteered in events such as face painting in Centennial Hall at Fair Park in Dallas.
Apart from school-organized service events, x2VOL, a service tracking platform used by Hockaday, also outlines many service opportunities.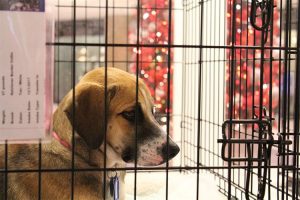 Homeless pets wait to be adopted at the Galleria in Dallas. The Operation Kindness Holiday Pet Adoption, which takes place from Nov. 17 to Dec. 31, hosts dog and cat adoption at the mall this season.Operation Kindness, a North Texan no-kill animal shelter, offers many ways to get involved in their event, including pet adoption, volunteer work, and donation.
Meanwhile, amidst the bustling crowds at NorthPark Center, volunteers in red aprons that read "Doing the Most Good" help advertise for the Salvation Army Angel Tree Program, a tradition since 1979. The program sets up "angel trees" at Galleria Dallas and Northpark Center every holiday season. These trees are decorated with tags that feature gift requests of children in need. Any shopper that walks by can take a tag and give to the community.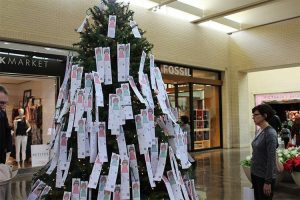 Senior Kate Fundis has been volunteering at Angel Tree for the past two years. She believes that Angel Tree is an unique way to affect the community directly.
"One of my friends was one of the 'angels' and she said it was really special for her. That made me really happy and I think the gifts definitely are very appreciated," Fundis said.
When Fundis volunteers at Angel Tree, she is able to picture the specific 'angels' that are on the tags. The personal touch sparked by this opportunity is something that Fundis especially treasures.
"There really is nothing more special than giving a kid a great Christmas," Fundis said.
---
Story by Michelle Chen, Asst. Web Editor