Boarder Line
Photo by Michelle Chen
---
We talked to boarders Alexandria Marshall and Sunny Li, and looked at a traditional event to show our readers a peek inside life in the Residence Department.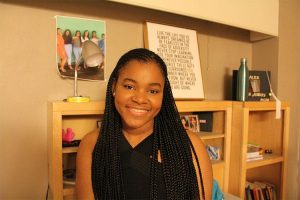 Junior Alexandria Marshall is a boarder from Jamaica who joined the Hockaday residence community this year. Although Marshall found it difficult to adjust to the rigorous schedule of a junior at first, she has settled down and adjusted to residence life.
Why did you decide to come to Hockaday?
My mother was moving from Jamaica to Florida. I didn't want to go to public school, so I decided to look for boarding schools. I researched top boarding schools in the States and I applied.
What does it feel like to come here as a junior?
It's very stressful. It's just a lot. It's a really hard transition because it's more work and the courses are di cult. There are lots of competition because you're constantly with a bunch of really smart girls. I think I've gotten used to it now.
What is your favorite thing about boarding so far?
I'm always with my friends. We just get to spend time together and if I need help they're always there.
Are you staying in the United States after you graduate?
Yes. I plan to go to college in the U.S.A. because colleges in Jamaica weren't an option for me. There are better educational opportunities here than in Jamaica.
What do you miss the most about Jamaica?
The culture. The food, really, but the culture overall. It's just something that I'm used to. It's very different. I think I experienced a bit of a culture shock. Everything's just different—socially. I don't know how to explain it.
Sunny's Favorite Dallas Spot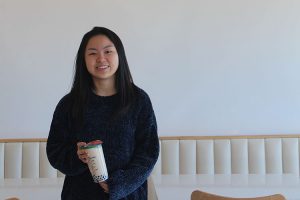 A Hockaday resident since eighth grade, junior Sunny Li is a familiar face in the Schmitz Residence Hall. Li is a known Fat Straws Bubble Tea connoisseur who's always sipping on her favorite large Jasmine Milk Tea with extra tapioca bubbles. She is a part of the Fat Straws FUNatics Loyalty Program and carries her membership card every time she joins a residence trip to the store. "Fat Straws is one of my favorite things in Dallas and it makes life at Hockaday really fun for me," Li said.
Ornament Dedication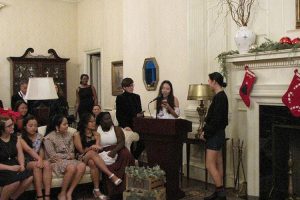 The senior ornament ceremony is a Hockaday residence department tradition that honors the love and sisterhood of residence students every year. Surrounded by antiques in the Great Hall, juniors dedicated speeches to residents of the graduating class of 2018 and hung ornaments on the Great Hall Christmas tree on Dec. 10. The emotional speeches brought tears to the eyes of many students. This year, senior Ti any Bai composed a score entitled "Joyful" and performed the piece with fellow residence students during the ceremony. The ceremony was followed by a special holiday dinner in the Biggs Dining Hall.
---
Story by Michelle Chen, Asst. Web Editor