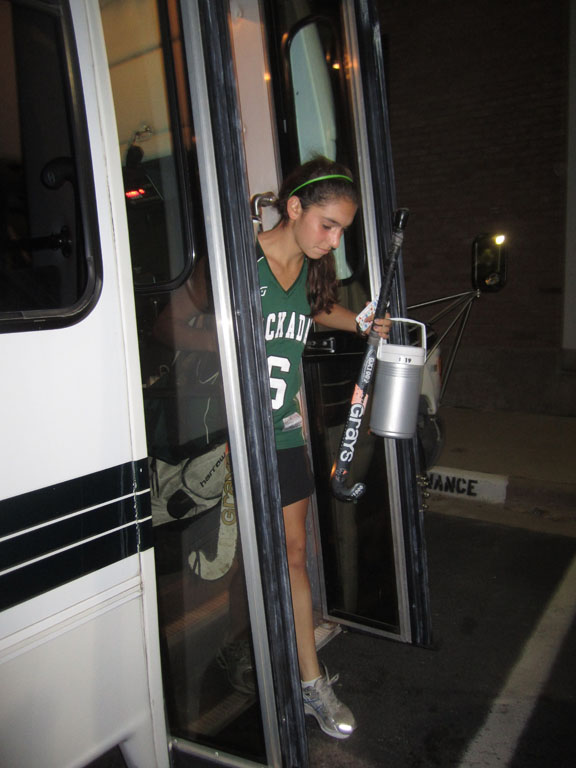 Public schools budget cuts lead to extra time on the bus
Unfortunately for fall athletes, the majority of the fall sports teams will be playing away more than they have in previous years. Budget cuts across the state means less transportation available for athletics in public schools. Hockaday, among other private schools, will therefore travel to other schools' fields more than usual.
The Varsity Field Hockey team has more than half of their games away this season, many of them as far as an hour away. This will be something the team will have to adjust to after being able to not only play at home frequently last year, but being able to play in SPC with a home field advantage.
"The energy was electric; I've never felt anything like it. I know that being at home had a large contribution to our SPC title," sophomore and varsity field hockey player Evie said.
On top of that, there are points in the season where multiple away games in Fort Worth happen in a single week, which becomes a struggle for the athletes academically.
"It can be hard to get everything done if there's a late game; there's only so much you can do on the bus," Varsity Field Hockey player sophomore Lucy said, who sometimes struggles to finish all her work when she doesn't get back home  until 9 p.m. after a late game in Fort Worth.
Another disadvantage to travelling elsewhere is fatigue and a change in environment, which can affect a team's performance. "However," Head of Athletic Department Tina Slinker said, "I do think a large portion of away game fatigue is mental, and our athletes just need to overcome it."
Because of the morale boost, fans are strongly encouraged to attend games for support.
"My girls are always more energetic at home, especially when they have fans," said Head Varsity Field Hockey Coach Jennifer Johnson.
While many away games will lack a large fan base, the home games will hopefully have a good turn out this season.
"Fans can only help our teams to succeed; I don't think a lack of them will cause our teams to not perform as well," Slinker said. "Teams love it when they get to play for a crowd; it's great when we get a good turnout—girls should come support their teams wherever and whenever they can!"
– Molly