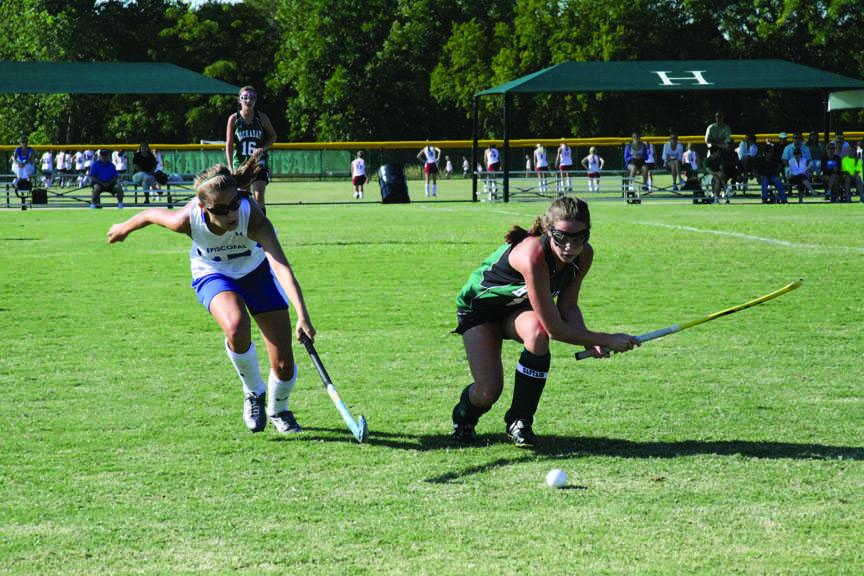 Varsity Field Hockey holds high aspirations for this season despite the loss of eight seniors.
The 2010 Hockaday Varsity Field Hockey team was not supposed to win the Southern Preparatory Conference Championship. Up against Houston's St. John's team, a top competitor known for their powerful stick skills and endurance, the final, highly suspenseful game took place at Hockaday. The score was 0-0, it was double overtime and strokes—but the Hockadaisies were able to pull through and win the Fall SPC Championship. An SPC win and a season record of 12 wins with only two losses created a reputations for the 2011 Varsity Field Hockey team to live up to.
Last year's team was comprised of eight seniors and 12 underclassmen, four of them freshmen. The seniors were able to bring the players together and enforce a powerful team dynamic.
Coach Jennifer Johnson is confident that the four current seniors will be able to lead the team as well and does not have lower expectations for this season.
The sudden decrease in the number of experienced players and increase in new players has happened before, but with more effort, Johnson said living up to last year's season is a possible feat.
"Each year, you have to treat it like a new team," Johnson said. "It can be a big deal, but since there is such a strong group of players coming back, we can contend for the [SPC championship]."
A season record to match last year's is anticipated as the Hockaday Field Hockey team won its first game against Trinity Valley, another top competitor, during the second week of school, after only a couple practices to prepare.
But the most promising indication of the upcoming season has been the players' interactions with each other.
"We haven't been playing for very long, but the communication and chemistry [at the Trinity Valley game] was really strong," sophomore Meredith said. "The more inexperienced girls are already adapting and getting used to playing varsity-style."
However, this year's team again faced the St. John's team twice at the 2011 Hockaday Field Hockey Festival in early September and lost both games.
"Although we played well against St. John's and really tried hard in the games, our mistakes and lack of experience of playing together as a team became evident during the game," Meredith said.
A team with more new members means more effort on the team in order to foster a team dynamic comparable to last season's.
There are no freshmen on the varsity field hockey team, though eight sophomores and juniors have joined.
Andrea '11 played for the varsity field hockey team last year and knows that her class made up a large part of her team in numbers, but acknowledges that the underclassmen still play a central role on the team.
"They are all so friendly, but they are so athletic that the younger girls will have great role models who love to have fun and work hard," she said.
Remaining seniors, Maggie, Claire, Kate and Reed were all chosen as captains and plan to lead the team towards a successful season and finish with an SPC win, despite their losses to St. John's.
Reed realizes her responsibility as one of the captains to lead and motivate the team. She said, "Last year's seniors did a great job leading us and encouraging us through the season, so this year, as seniors, we know how much our encouragement can affect the team."
All players, even the alumnae who played for the team last year, share a common goal for the season: to win Division I in SPC again. The 2012 seniors plan on leaving a legacy as strong as last year's graduates, though their numbers are only half compared to the previous team's.
"Our team has risen to the challenge of playing without the 2011 graduates," Kate said. "Since we do have a young team, we just need to make sure everyone is adjusting to playing at the varsity level."
– Amy